Niedereschach Touratech HQ
All information about the Travel Event can be found on this page.
0

%
The Travel Event will take place from 9 to 11 June at the Touratech Headquarters in Niedereschach once again. Niedereschach is perfectly located in the Black Forest near the border triangle (Germany, France and Switzerland), and the surroundings invite you to explore the region. There will be a colourful, three-day programme with information and action all related to motorcycle touring.
The Touratech Travel Event is one of the most important festivals for motorcycle travellers worldwide. Many thousands of motorcyclists from all over the world come to Niedereschach every year for three days with their machines to celebrate a jumbo party with like-minded people.
For this, the company grounds in Niedereschach, including the access road, will be transformed into a huge celebration mile with countless attractions. Street Food stalls will offer delicacies from all over the world, and of course cool beer and soft drinks will not be in short supply.
Test drives with the latest bikes
Travel Event 2022 Aftermovie
Opening hours Travel Event
Presentations on the main stage
Several greats from the European travel scene will be sharing their experiences on the main stage of the Travel Event. Dieter Schneider will kick things off on Friday evening. On Saturday, the legendary Joe Pichler will give a talk for the last time in his career as a motorcycle traveler.
Dieter Schneider - Fellows Ride
Life without a motorcycle is possible, but pointless
Dieter Schneider, who has been traveling all over the world on his motorcycle for eight years, tells us in words and pictures what he has learned for life on his travels. For him, the motorcycle is a vehicle for happiness and fun, but also a passion that creates suffering. You will experience an expedition into a life beyond the midlife crisis, with and on the motorcycle. Loosely based on an advertising slogan: "Make a Ride change your Life."
!!!For risks and side effects ask your dealer or screwdriver!!!!
A journey into the unknown
Pure adventure over 12,000 km: Renate and Joe Pichler roam the north of South America on their KTM. What starts on Colombia's Andean tracks ends after a hot ride through the Amazon region on the coast of Brazil... and a huge backpack full of uncertainty as a faithful companion always with them. Where do we go from here? Which borders are open to us? A real odyssey: exciting and respectful.
Apropoees end: After 376,000 km on the ROAD, 92 months in the motorcycle saddle and unbelievable 35 years on stage, one may also slowly think of an end. Or in other words: This lecture is the last one - but of course the most worth seeing!
More travel lectures on Friday
About Iceland to the end of the world
A Journey from the North Atlantic to the South Pacific
Imagine you are a canary in a comfortable and safe golden cage.
You have figured out how to open the door and you could fly out, into the unknown, into danger but also into adventure.
Renata and Dieter have dared exactly that. They left their comfort zone behind and traded it for a life of adventure on a motorcycle with daily challenges.
The two want to take you not only on the first part of their world trip from Iceland to Tierra del Fuego, but also on their inner life journey.
In the evening, the stage becomes a hot spot when live bands get the motorcyclists up to operating temperature with groovy music. At the campfire there is the opportunity to get into conversation with like-minded people.
"ME'N`SA acoustic", that is MiS woman power. Melanie & Saskia present honest, passionately played acoustic music from rock & pop. As a duo they present well-known pieces in their very own way. The individual voice colors of the musicians and the instrumentation reduced to the essentials result in this very special live flair that characterizes ME'N'SA acoustic.
An exciting mix of strong instrumentalists and a front woman with a curly head and a power voice: that's the Spacek-Paglia band.
The formation of these five promises great musical cinema and an extra portion of fun on the journey through rock history.
Acoustic Breeze are five accomplished musicians who bring their experience from partly different music genres. What more do they need to present old songs in a new guise and new rock and pop in their own sound.
With polyphonic vocals, two guitars tuned to each other, an earthy bass, groovy drums and a wide repertoire, they provide a concert with earworm guarantee.
Look forward to many exhibitors at the Travel Event
Aprilia · BMW Motorrad · Ducati · Harley-Davidson · Honda · Indian Motorcycle · Moto Guzzi · Royal Enfield · Suzuki · Triumph Motorrad · Yamaha
Black-T Suspension · Edelweiss Bike Travel · Enduro Center Mammutpark · Enduropark Hechlingen · Explo-Tours-JZ · GARMIN · Gravel Travel · Hollisters MotorCycles · Horizonte Tours · Metzeler · Monkey47 Schwarzwald Dry Gin · Motor-Bike Tours · MOTORRAD Actionteam · OVERCROSS Abenteuer & Reisen · Reifenwerke Heidenau · REV'IT! · SBVTools · SENA · Stadler · Syburger Verlag · Touratech Sales Partner · Touratech Suspension · Zebrafari Motorbike Adventures
The motorcycle manufacturers' show trucks are real eye-catchers, and they have brought a broad line-up of their latest models for test rides. Numerous motorcycle equipment suppliers, including renowned tyre manufacturers, will also present their products and will be available for in-depth technical discussions.
Lectures and workshops will take place on all three days of the event. Travellers will report on their adventurous expeditions and experts will pass on their knowledge to all interested parties in small groups. During the day, numerous smaller lectures will take place in the building, and on Friday and Saturday evenings speakers will take to the large open-air stage with their multivision presentations.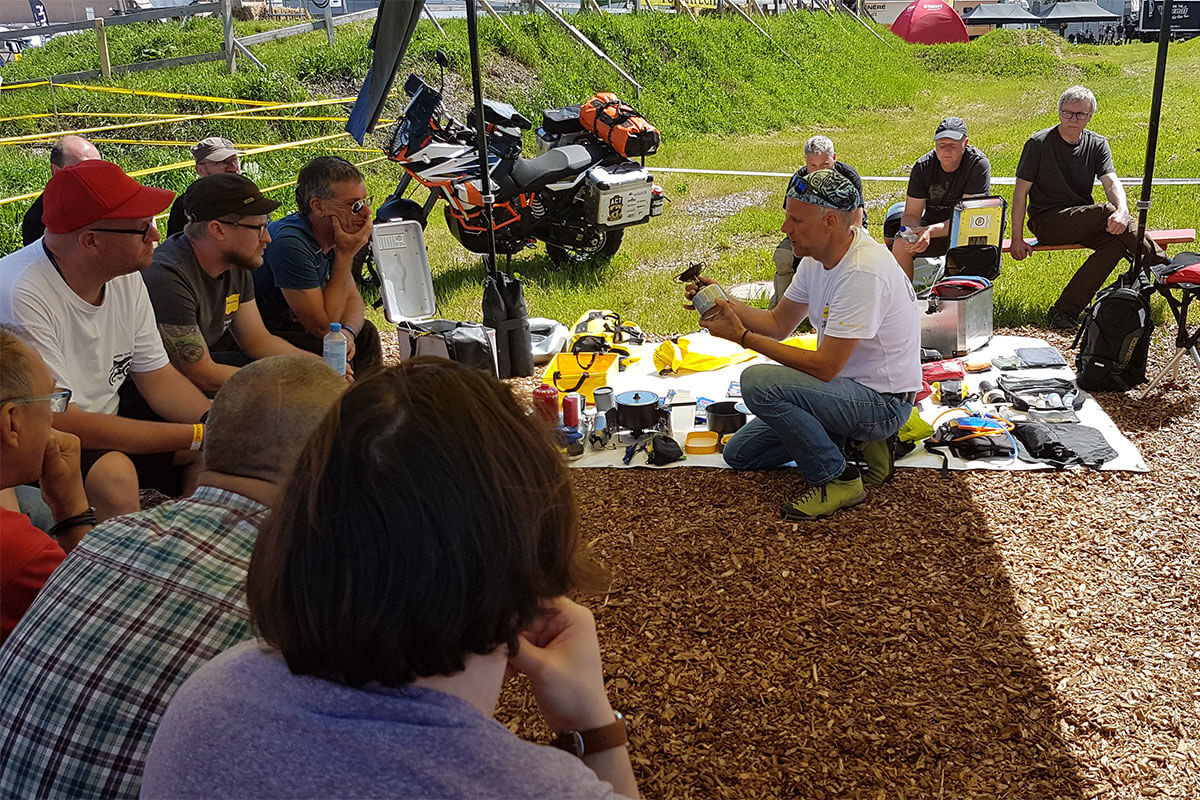 The open-air stage under the large polygon tent, surrounded by beer sets, will be the centre of this Travel Event. In addition to the multivision shows, motorcycle presentations will take place throughout the day, and casual talks on interesting novelties in the motorcycle travel scene will be given by numerous experts. And in the evening, the stage will be the hot spot when live bands get the motorcyclists up to running temperature with awesome music. There will also be the opportunity to talk to like-minded people around the campfire.
The Travel Event also offers a unique opportunity to look behind the scenes at Touratech. During the factory tours, you'll be able to see first hand how Touratech products are created, tested and packaged, and how they are finally sent on to the customer via the huge and highly modern logistics centre.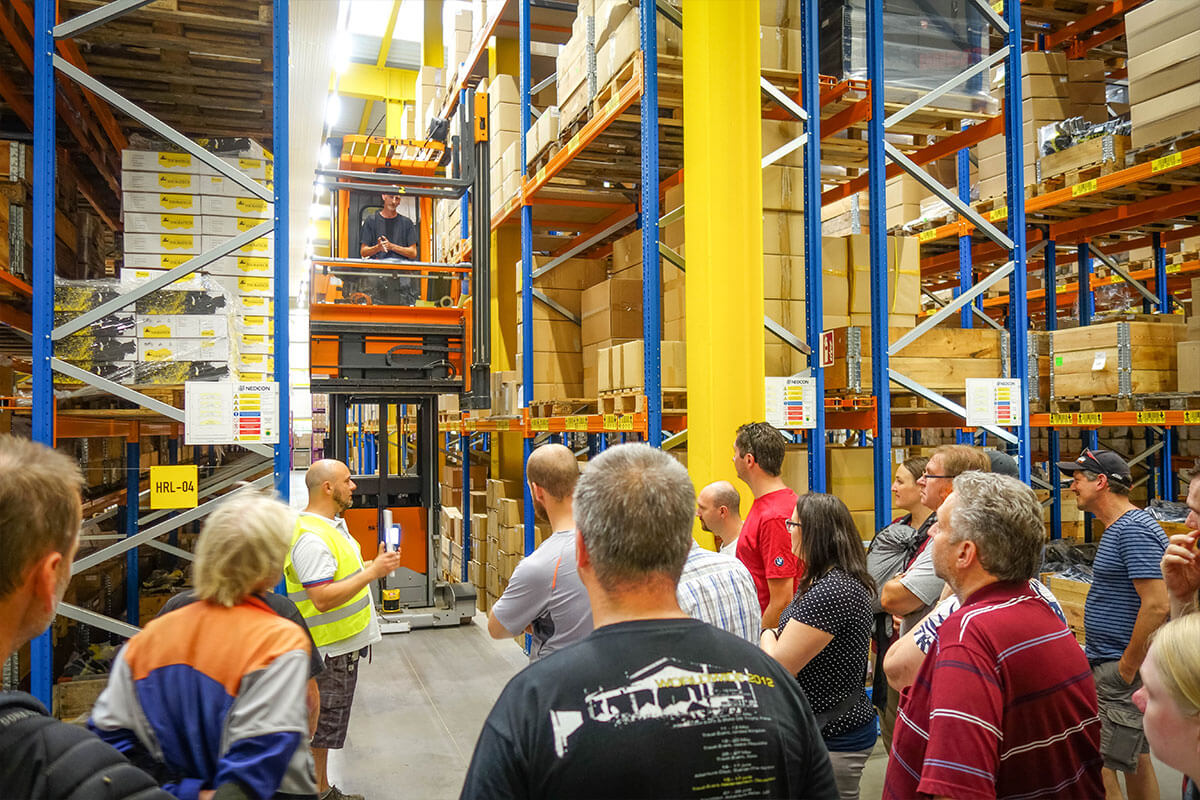 Nothing is better than riding a machine yourself
Since nothing is better for motorcycle travellers than to ride a machine themselves, there will be plenty of opportunities to ride at the Touratech Travel Event. Of course, bikers can simply join forces spontaneously and go for a spin through the hilly landscape around Niedereschach. But if you want to get to know the real insider tips from the locals, then you should join one of the guided tours.
Experienced Black Forest guides are looking forward to riding their favourite routes and sharing delicacies, home trails and insider tips with you again. Each tour lasts between 4 and 5 hours in total, small breaks are planned, but no major stops. However, your tour guides are so flexible and so familiar with the area that they are sure to be able to fulfil any wishes for a Black Forest cake stop or a cuckoo clock photo.
Exclusive guided tours with MOTORRAD and RIDE will also take place.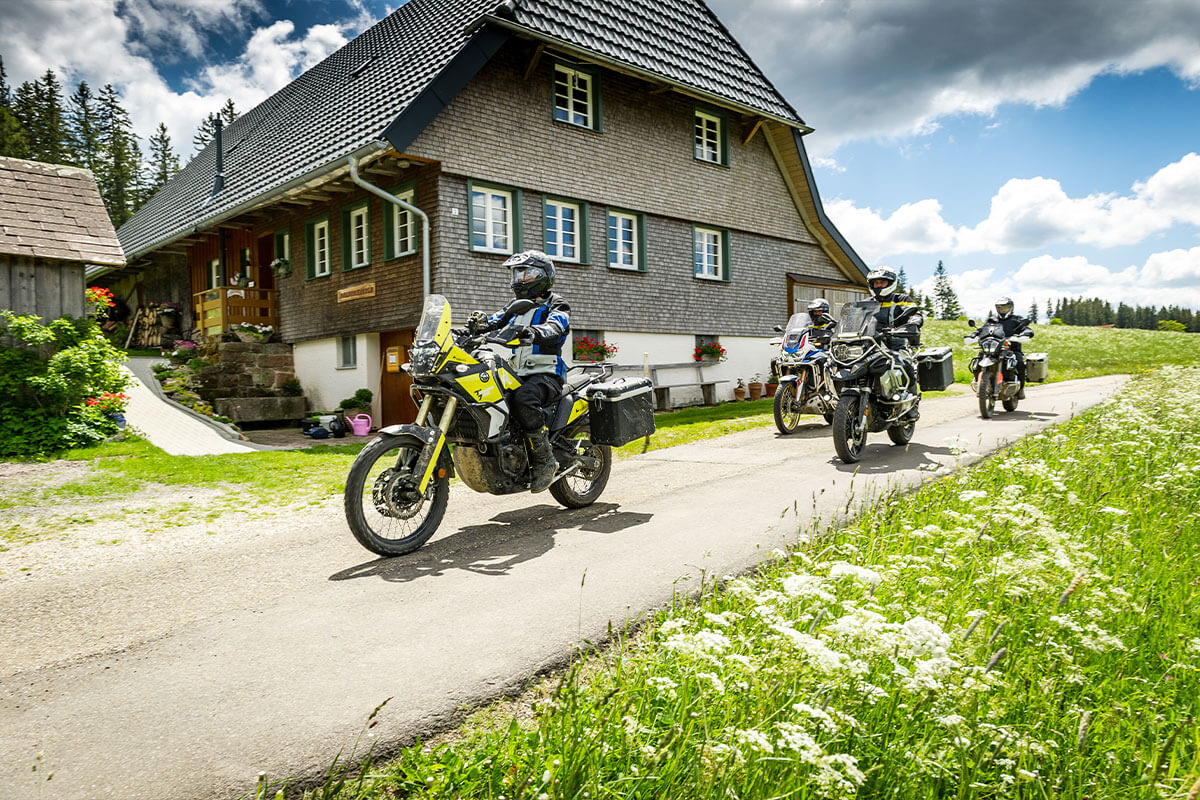 Experienced instructors are looking forward to starting with you in Niedereschach, first negotiating a short course of bends and soon progressing to the nearby offroad terrain. Of course, the focus is on good vision skills, a favourable posture on the bike, balance as well as sensitive but also full braking.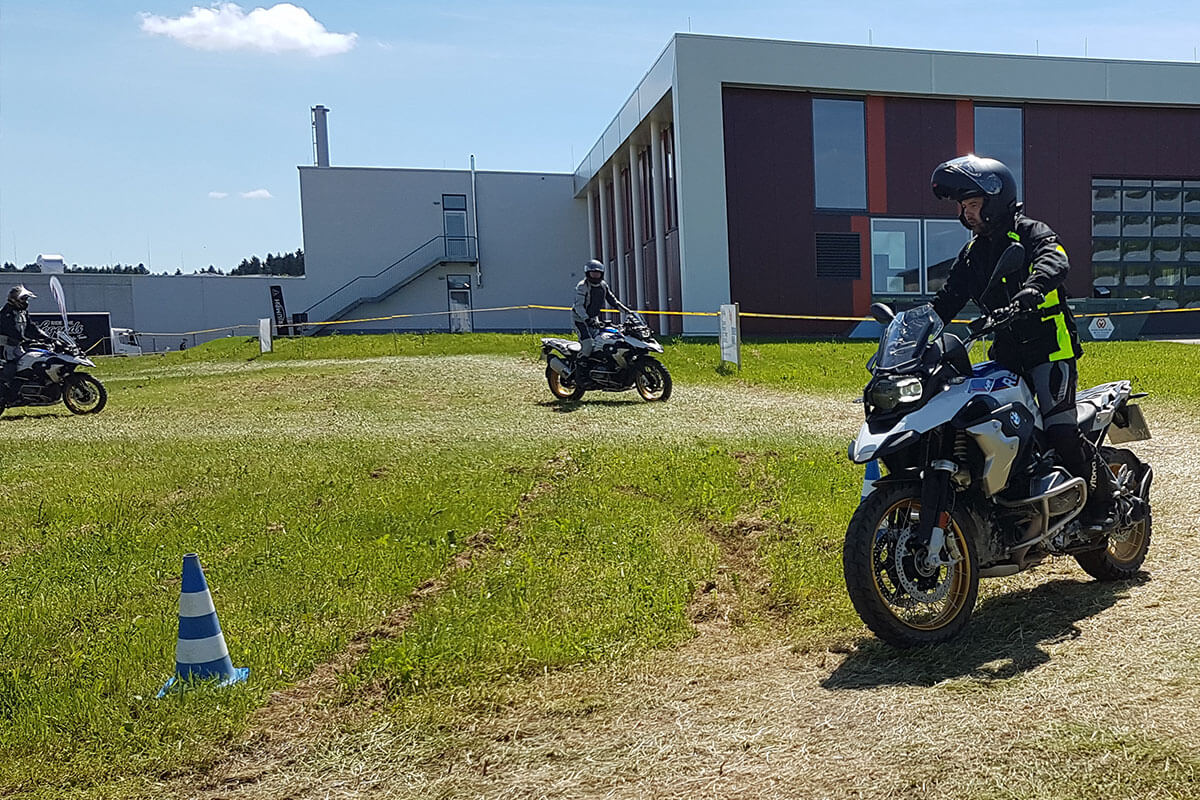 Attractive offers at the 2nd choice sale
As with every travel event, the store team has prepared lots of exclusive offers at the 2nd choice sale. Numerous products are available exclusively at attractive special prices.
In keeping with the event, motorcyclists will have the option of camping for free on the campsite for the entire three days.
The campsite is designated and there you can easily stay overnight without registration.
Free camping from:
Thu. 4 pm - Mon. 9 am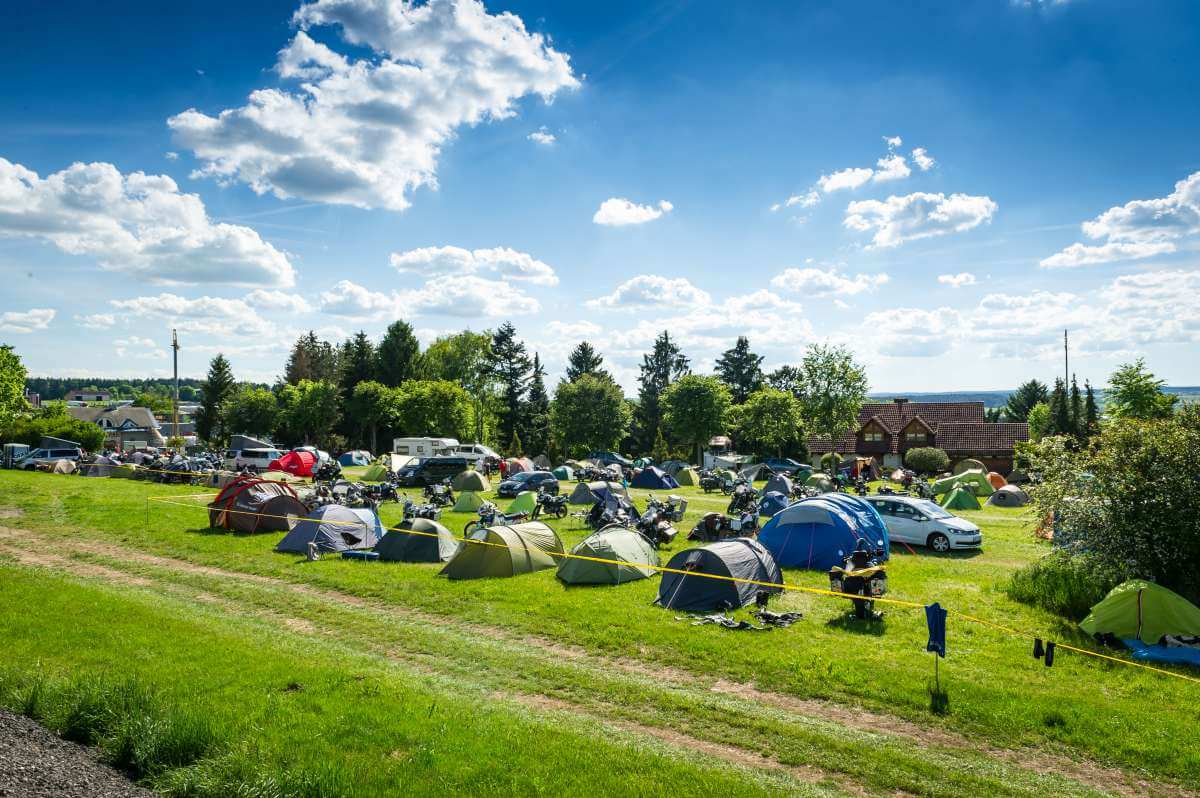 Saturday & Sunday you can look forward to a rich All You Can Eat breakfast buffet for a small price.
Sat. & Sun. 7 – 10 am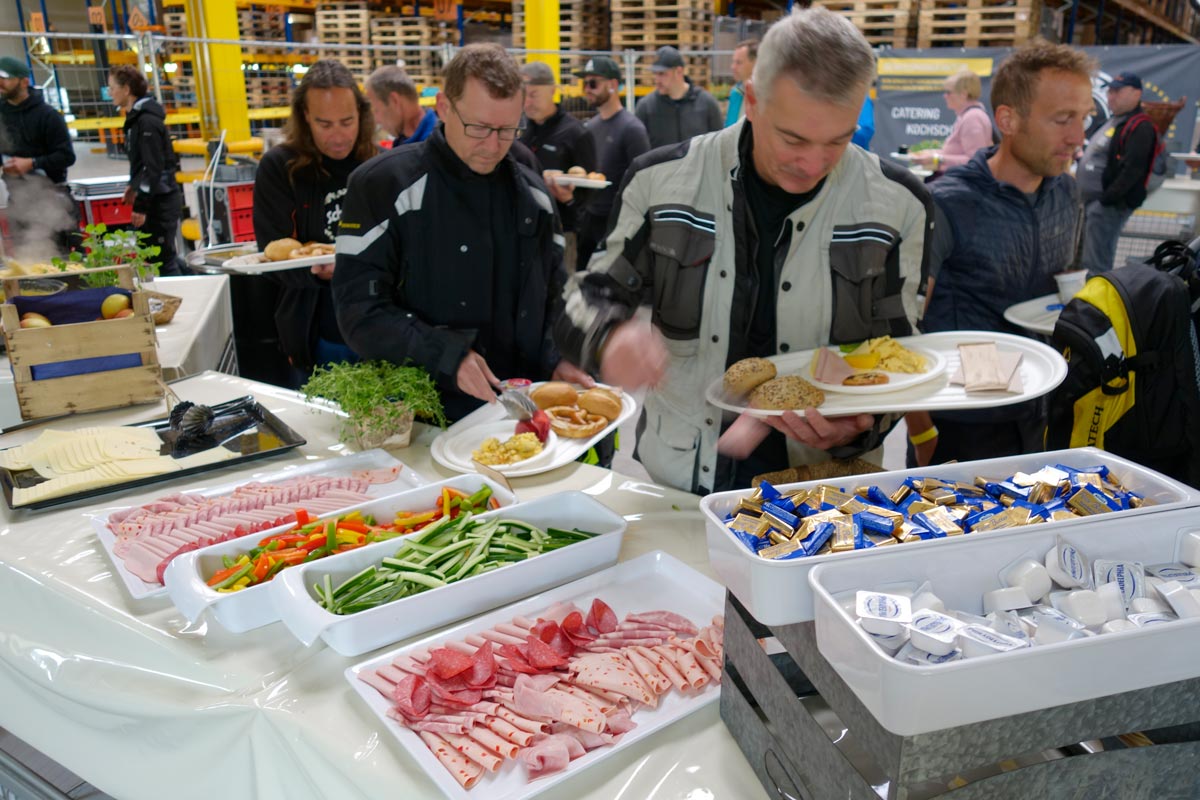 News around our Travel Event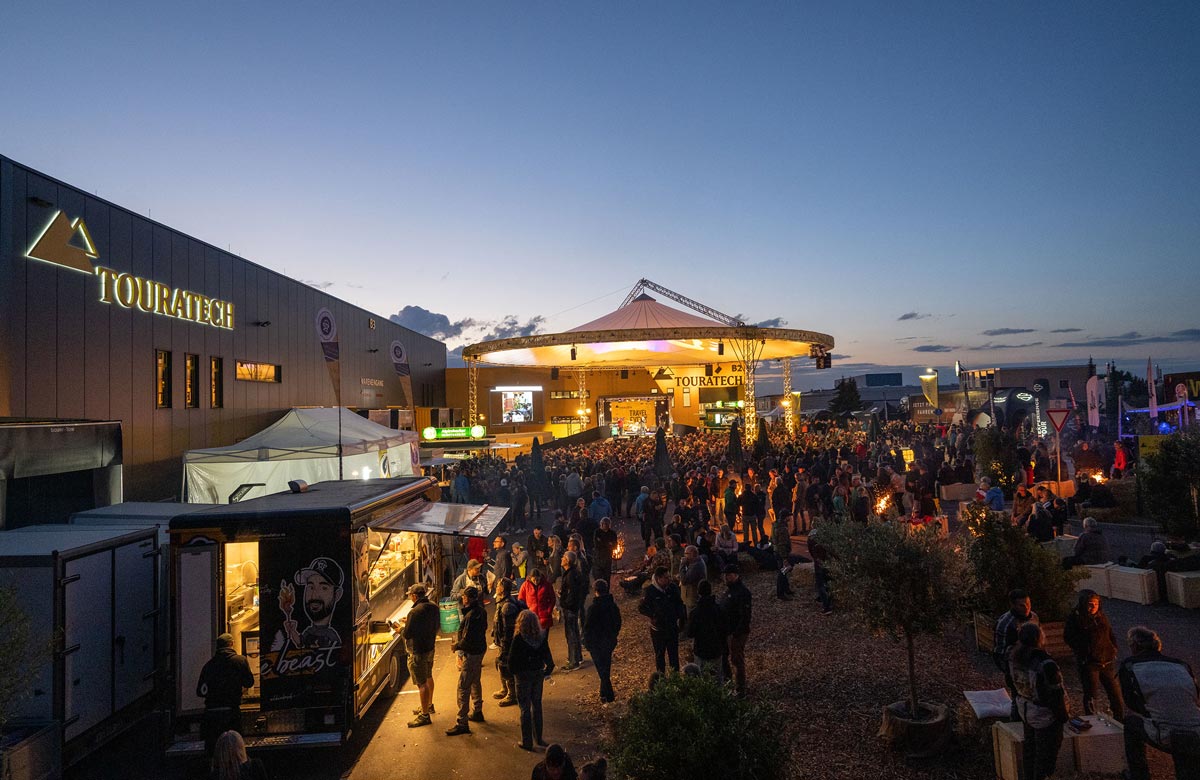 The Touratech Travel Event will take place for the 18th time from 9 to 11 June 2023. Many thousands of motorcycle travellers from countries around the globe are expected to attend this mega spectacle, taking place around the headquarters of the motorcycle accessories manufacturer in Niedereschach, Germany.
What started with goose bumps, during the season launch in May at the Touratech Travel Event, in front of 2,500 enthusiastic spectators, led to a season with four successful Fellows Rides in Wolfsburg, Tyrol, Würzburg and the Odenwald, where 800 riders flew the flag for depression relief and mental health.