For more than 30 years, Touratech has been manufacturing high-quality motorcycle accessories in Germany.
Demanding motorcycle travelers from all over the world appreciate the quality of the robust parts.
The complete accessories for your bike at a glance with the Touratech Bikefinder.
You will find a Touratech importer in over 50 countries
Latest news in the magazine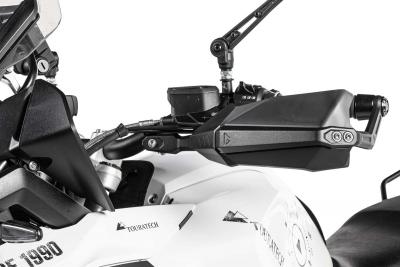 The ultra-robust Touratech Defensa hand protector enters the stage with a new design variant in rich black. The Defensa Black underlines the brawny look of many current adventure bikes.
What started with goose bumps, during the season launch in May at the Touratech Travel Event, in front of 2,500 enthusiastic spectators, led to a season with four successful Fellows Rides in Wolfsburg, Tyrol, Würzburg and the Odenwald, where 800 riders flew the flag for depression relief and mental health.
Even if you do not want to ride the complete Panamericana from Ushuaia to Prudhoe Bay on your Harley, you will certainly appreciate the benefits of the new comfortable seat offered by Touratech.