With a heavy heart, in October already brings the motorbike season to an end for most riders. To avoid nasty surprises when the next season begins, so that the first tour can begin full of anticipation and without long delays, Touratech presents tips and tricks for making the motorbike winter-ready.
When the end of the year brings an increasingly uncomfortable fall, it's time to get your bike ready for winter.
The very brave simply park the bike outside after the last ride - perhaps even without a cover. It's easy to imagine what the bike will look like after a few months. And it's about as likely as winning the lottery that the bike will be running smoothly at the start of the next season. But even if you leave your bike in the garage for the winter without taking a few preparatory measures, you could be in for a shock next spring: stiff levers, rust everywhere, and the bike reacts to pressure on the starter with a tired rattle and then silence.
Bikers can choose from a wide range of care products and lubricants in the Touratech webshop for making their bikes winter-ready. There is the right quality product for every application.
Oil change: Before Winter or afterwards?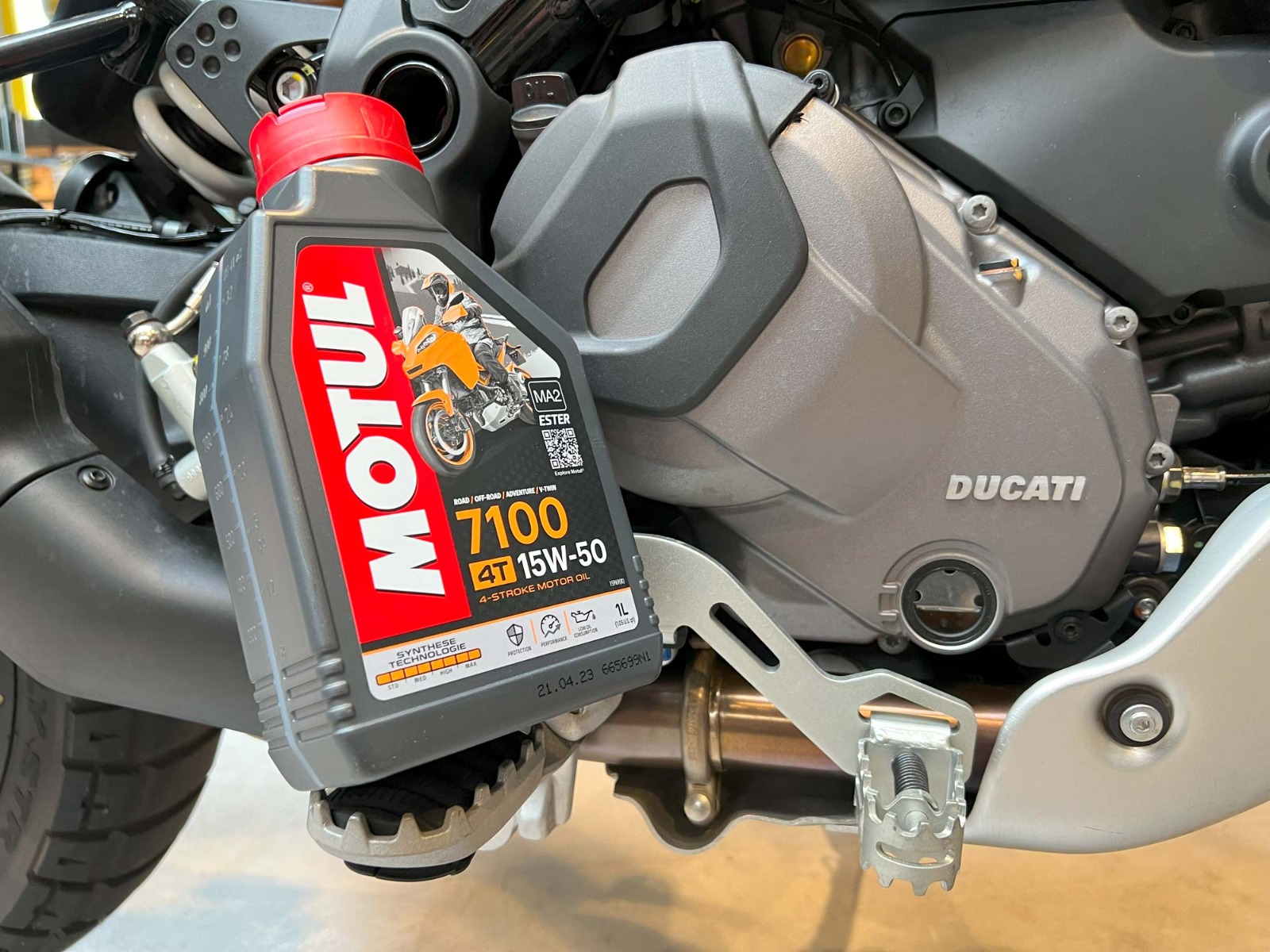 Anyone who wants to make their motorcycle ready for winter is faced with the age-old question: change oil before winter or not? We recommend changing the lubricant and oil filter in any case before winterizing. The reason for this is the substances bound in the used oil, such as acids, water and dirt, which can lead to corrosion in the engine. The infrequent driver can now carry out the annual oil change and the frequent driver, who has to change the oil several times a year due to the high mileage, can plan the oil change accordingly.
Tank and fuel: Preparation for winter
Winter is also a good time for grumpy motorcyclists to overcome their inner resistance and reach for various cleaning and care products. But before you start washing, you should increase the air pressure of both tires by around 0.5 bar and, above all, fill up the metal tanks. This will prevent the inside of the tank from rusting over the winter.
Cleaning the Motorcycle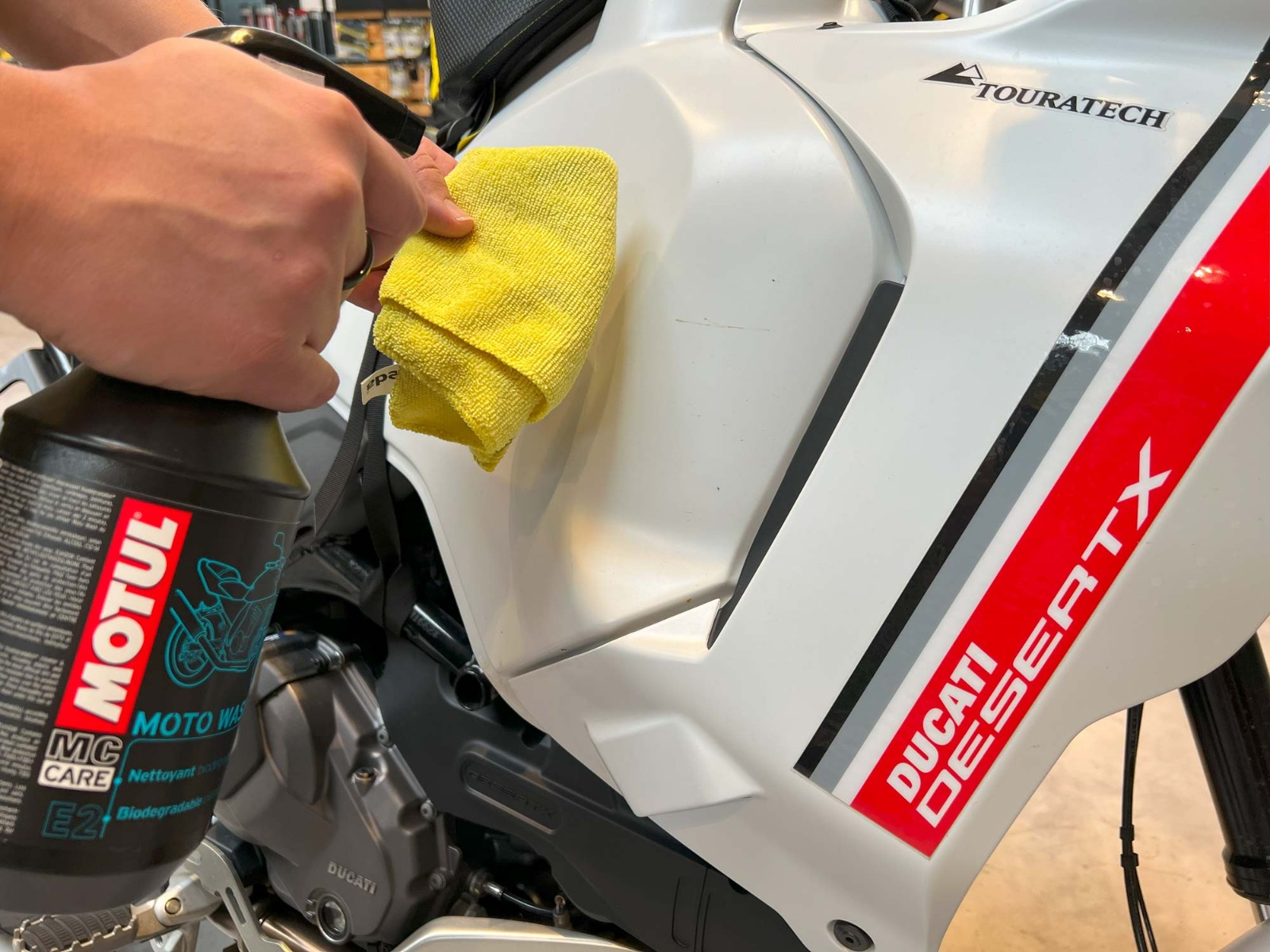 It makes no sense to try to treat components completely encrusted with dirt with lubricating oil after an off-road ride, the coarse dirt has to come off first. The only thing that helps here is lots and lots of water and, if necessary, a steam jet. It is then advisable to clean the motorcycle with a special cleaner. This special cleaner for motorcycles is simply sprayed onto the dry and cold machine and rinsed off completely with water after a maximum of five minutes. Thanks to their high cleaning power, they also remove stubborn dirt such as insects, brake dust and tar stains. However, such cleaners should not be used in direct sunlight.
Battery care in winter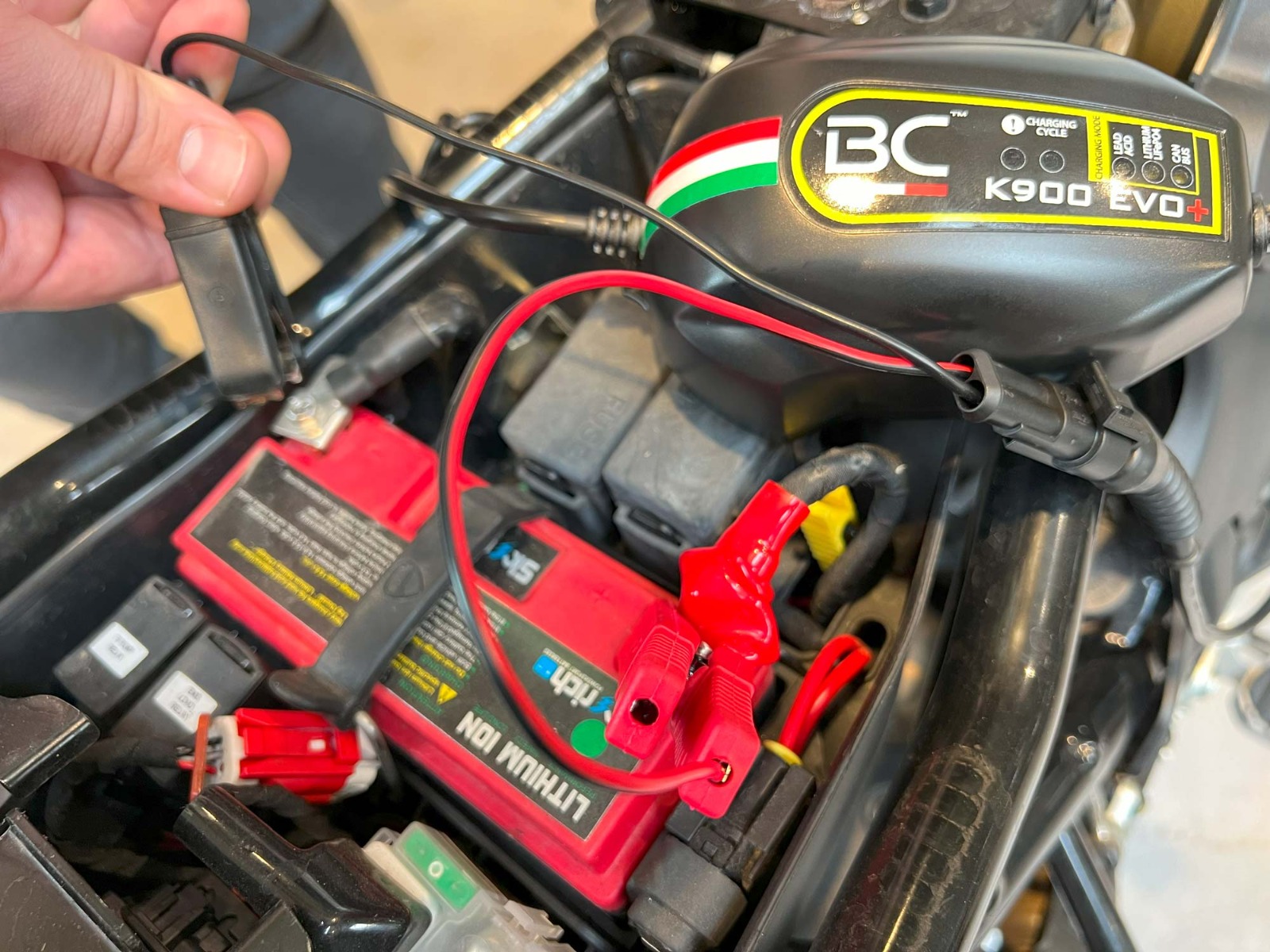 For all further work, the machine should also be dry, i.e. it should be well polished with a chamois and - if available - blown out with compressed air to remove moisture from inaccessible areas. Before lubricating the moving parts, you can first take care of the battery so that the bike still has time to dry out completely. To do this, disconnect both battery terminals - the negative terminal first so that there is no short circuit if you accidentally touch a metal part with the positive terminal - and clean with a cloth and fine sandpaper. Then screw the battery terminals back on tightly (positive terminal first).
As many motorcycles have continuous electrical consumers such as a clock or alarm system, it is advisable to disconnect the negative terminal in winter. If you winter your motorcycle in a detached garage where temperatures in double figures below zero are not uncommon, you should remove the battery and store it in a dark place in the cellar. It is also a sensible investment to purchase a preservation/charging device, which extends the service life of the battery and keeps it ready for use again next spring.
Maintenance of Linkage, pinion and drive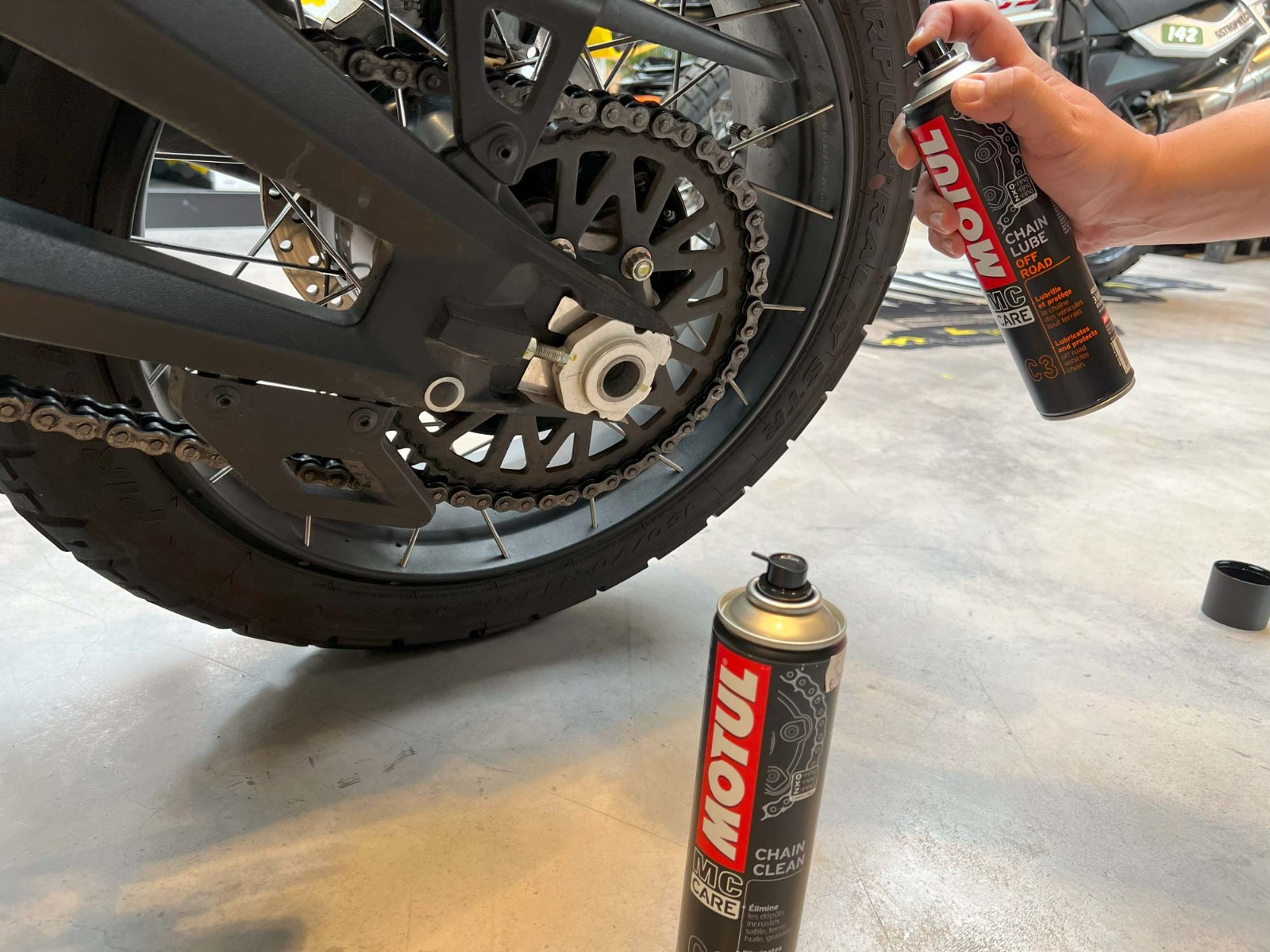 Now we come to linkage, pinion and drive. When carrying out this work, it is advisable to place a large piece of cardboard or something similar underneath the bike to avoid soiling the floor. Coarse grease residues are best removed mechanically with an old cloth or brush. Then spray the chain and chainring and - if easily accessible - the sprocket with a chain cleaner and allow the grease remover to take effect. If necessary, you can help with a brush. Then wipe off the dissolved grease residue with a cloth and spray the chain with chain care spray. This is relatively easy on motorcycles with a main stand, but motorcycles with a side stand require a little manoeuvring if you are riding alone.
Lubricating and care for moving parts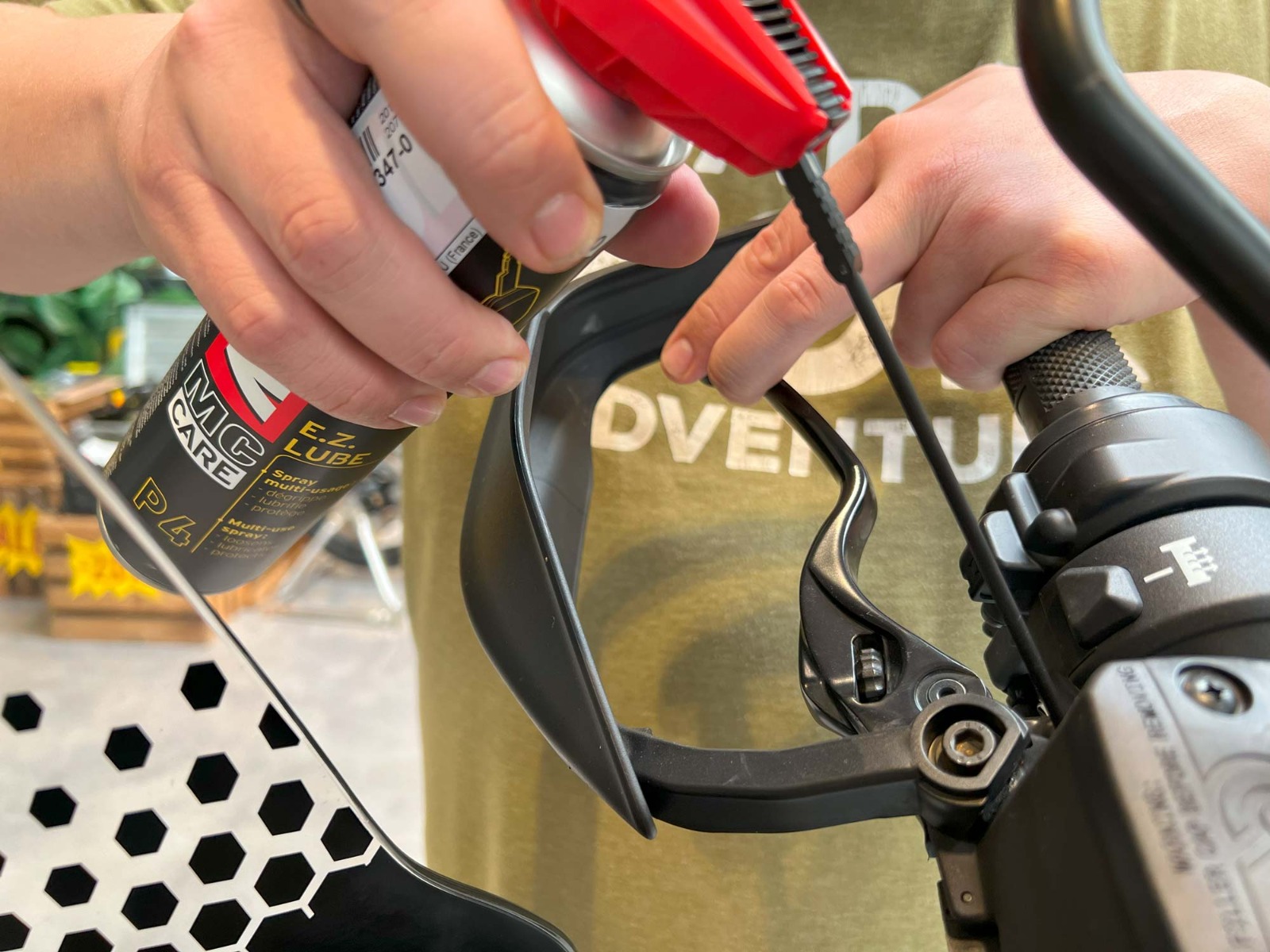 Moving parts and joints must be lubricated. A universal lubricant that infiltrates and displaces moisture and leaves a highly effective protective film is recommended for this purpose. Which parts are affected in detail depends on the motorcycle model. For this reason, only parts such as the main and side stands, joints of the gearshift, shift linkage and foot brake, hand levers, moving connections on mechanically operated clutches and throttle valve adjusters on the carburetor are mentioned here. The ignition lock, seat bench lock and helmet lock also benefit from a drop of oil. Caution is advised when oiling cables. If these are self-lubricating and coated with Teflon, spraying oil on them would destroy this effect.
Protection and care: Motorbike and rider's equipment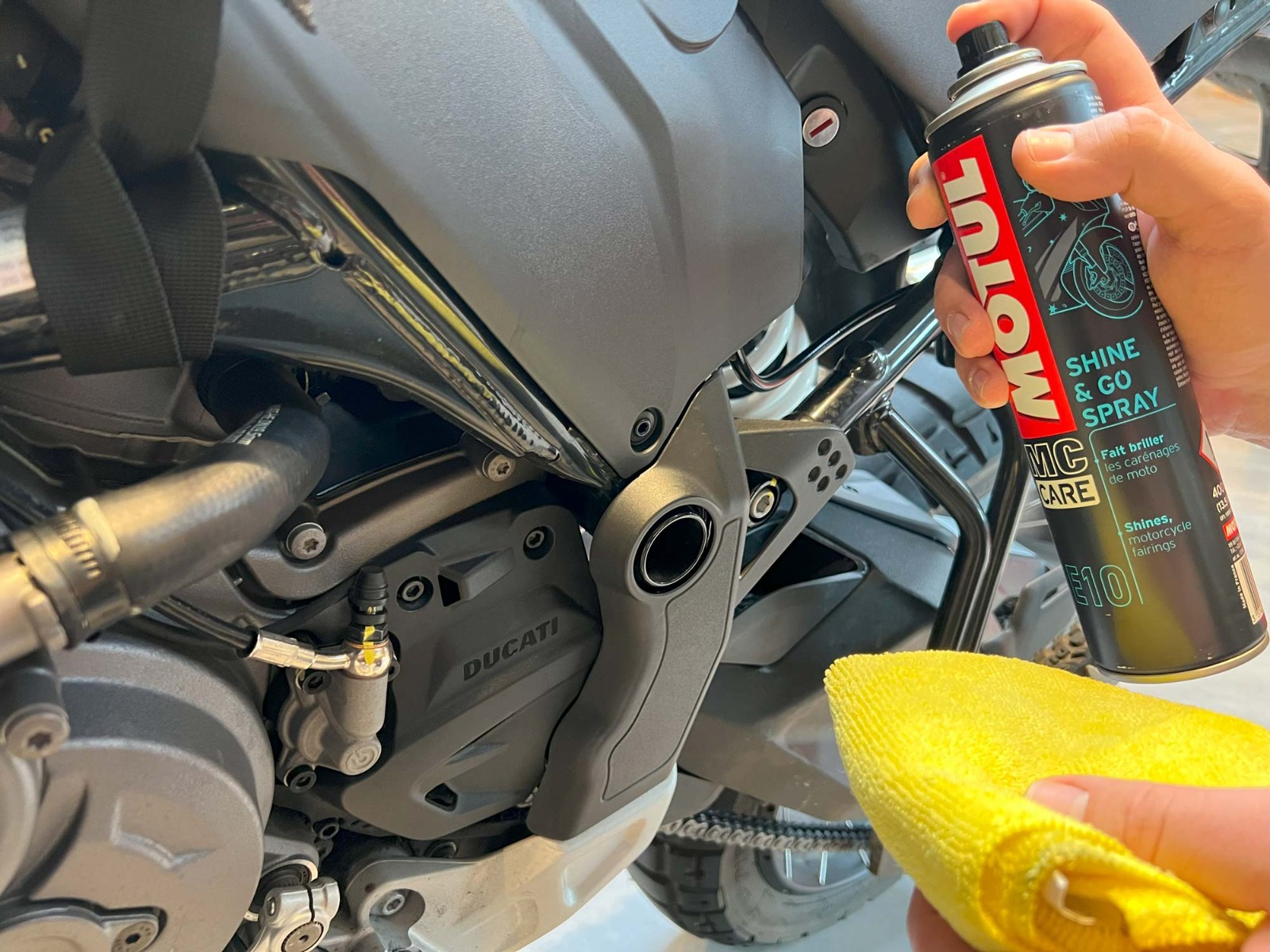 Once the bike is technologically prepared for winter, it's time to take care of its appearance. Painted surfaces, chrome and metal parts can be treated with a care spray: Spray the parts, leave to act briefly and wipe off with a clean cloth. Care sprays that are oily should not be sprayed onto handles, seat or tires. The surfaces are protected from corrosion by a light film of oil, which can be easily removed the following year using suitable products.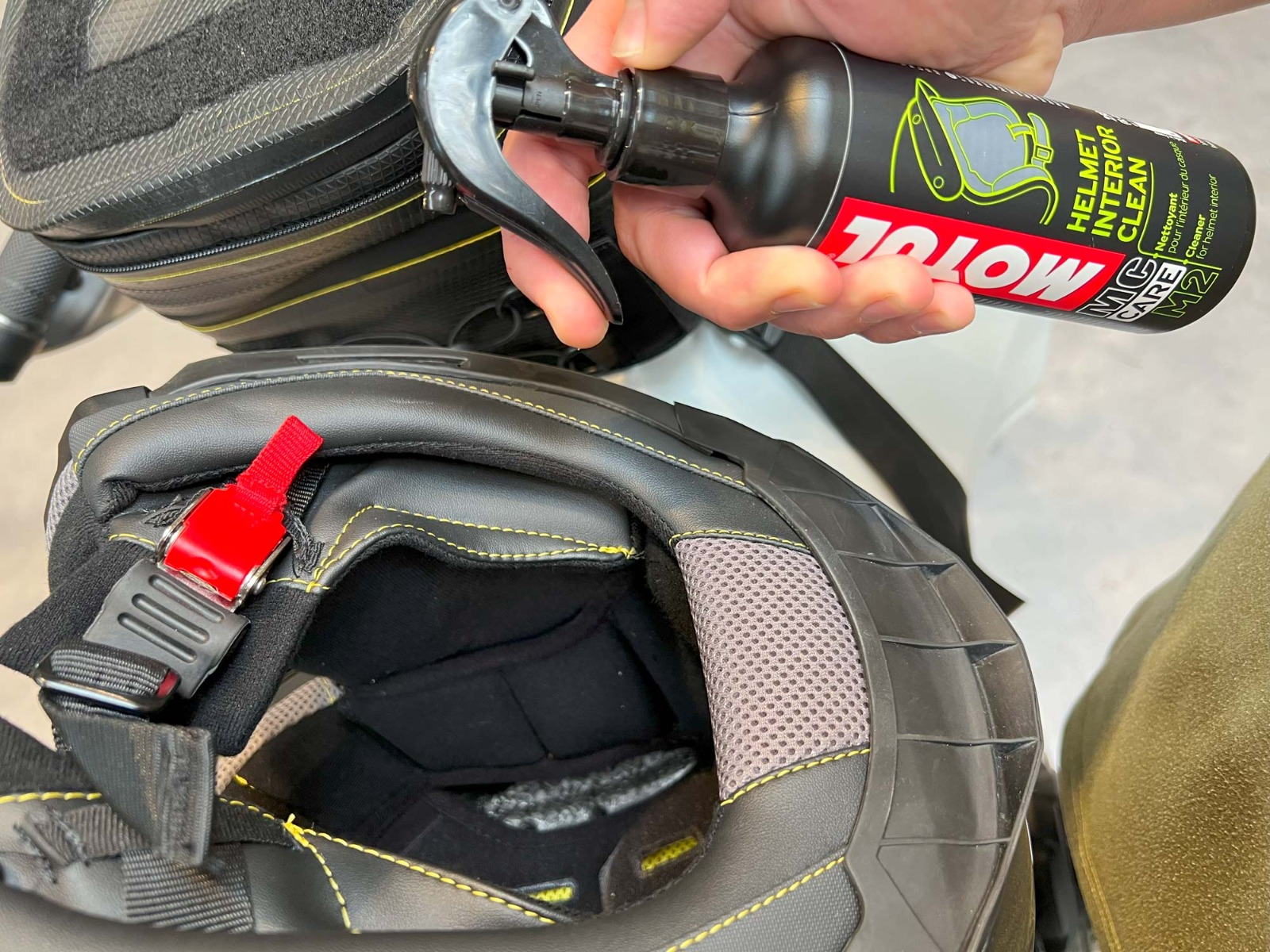 Leather seats and saddlebags should also be waterproofed. Rider equipment such as boots, jackets and pants should also be re-impregnated before winter. The instructions of the impregnating agent manufacturer and the textile combinations must be followed exactly.
Final tips
Finally, there is the question of a cover. If the motorcycle is kept in a dry spot during the winter, a simple sheet will certainly suffice. However, if the motorcycle is to spend the winter outdoors, there is no getting around a waterproof tarpaulin. Breathable tarpaulins are somewhat more expensive but have the advantage that moisture which evaporates under the tarpaulin can escape again. If you opt for a simpler tarpaulin, you should ventilate it from time to time to prevent moisture from collecting under the tarpaulin permanently.