A Touratech team set off with five of the latest adventure bikes for the traditional season opener in Andalusia. The programme included intensive test rides with the new accessories and an extensive photo shoot. BMW R 1250 GS, BMW R 1250 GS Adventure, Harley-Davidson Pan America, KTM 890 Adventure R, Yamaha Ténéré 700
Harley-Davidson Pan America

The newcomer in the test fleet with which we set off for the mountains of southern Spain in March is the Harley-Davidson Pan America. This is certainly the machine being observed most closely by both the adventure scene and the trade press. Which is, of course, no wonder. With the PanAm, the time-honoured Motor Company is, after all, deliberately venturing into unpaved terrain for the first time in the company's 119-year history.
The drive is powered by the new Revolution Max 1250 engine, with a peak output of 152 hp at 8750 revolutions. In offroad use, the type of power delivery is much more important than this almost dizzying value. And that's where the PanAm hits the nerve of the trail rider. The maximum torque of an impressive 128 Newton metres is available at 6750 revs, and even below this mark, the 60-degree Twin is bursting with power. In combination with the two offroad driving modes, this ensures effective propulsion even on low-traction surfaces.
With a comparatively long wheelbase, somewhat less manageable than our two mid-range adventure bikes from KTM and Yamaha, the PanAm impressed us with directional stability and traction on fast gravel tracks, of which there are more than enough in Andalusia.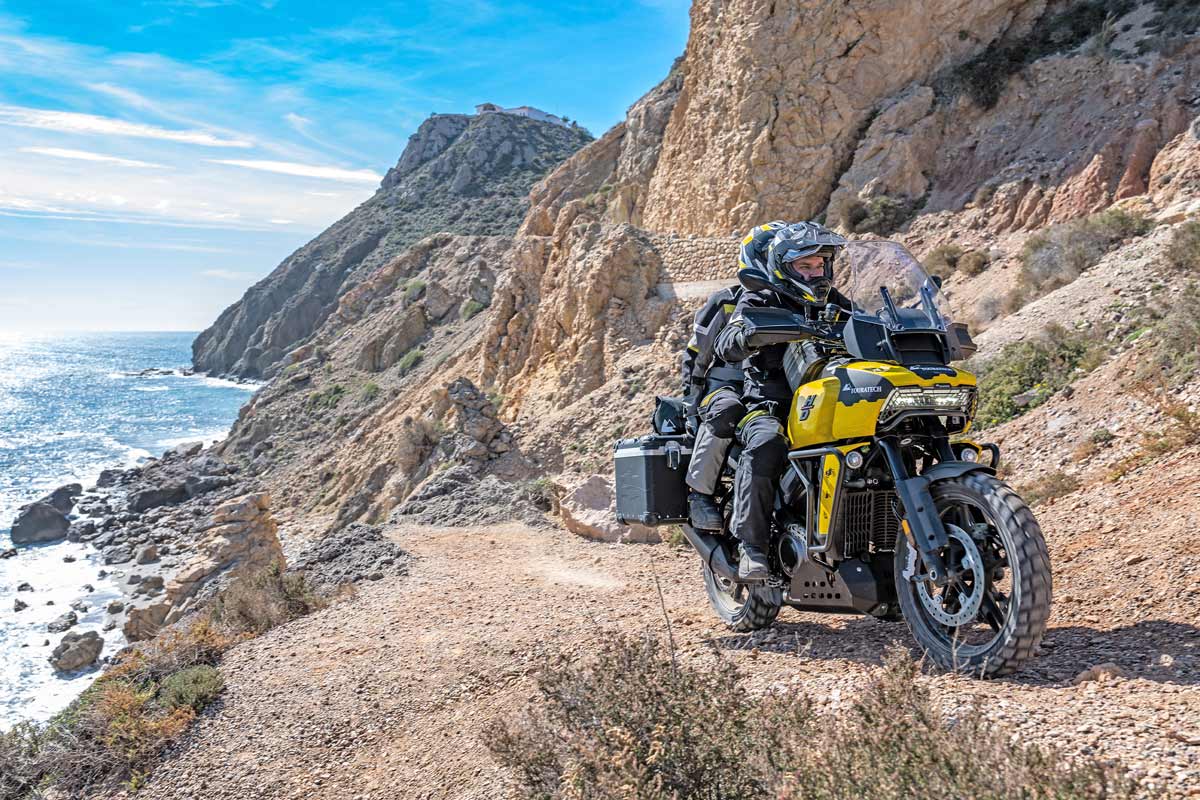 Vehicle equipment
We gave the Pan America a lot of storage space by fitting a "Premium Edition" ZEGA Evo X special system. The recess in the exhaust-side rack and pannier gives the rear a nice symmetrical look, and the overall width remains within a range suitable for trail-riding despite the large pannier volume. Additional luggage can be stored in the indestructible EXTREME Edition series rack pack – in size L, of course, in keeping with the massive appearance of the PanAm. To adequately protect the Revolution Max engine, we opted for the "Expedition" engine guard, an indestructible construction made of folded, four-millimetre-thick aluminium. Additional protection is provided by the solid crash bar made of stainless steel tubing and the protectors for the radiator and manifold. The Defensa hand protectors are particularly effective due to a forged aluminium bracket, bolted together from two components, that completely encloses the handlebar fittings from the clamping blocks to the end of the handlebar. This provides the best possible protection for your hands and levers.
Statement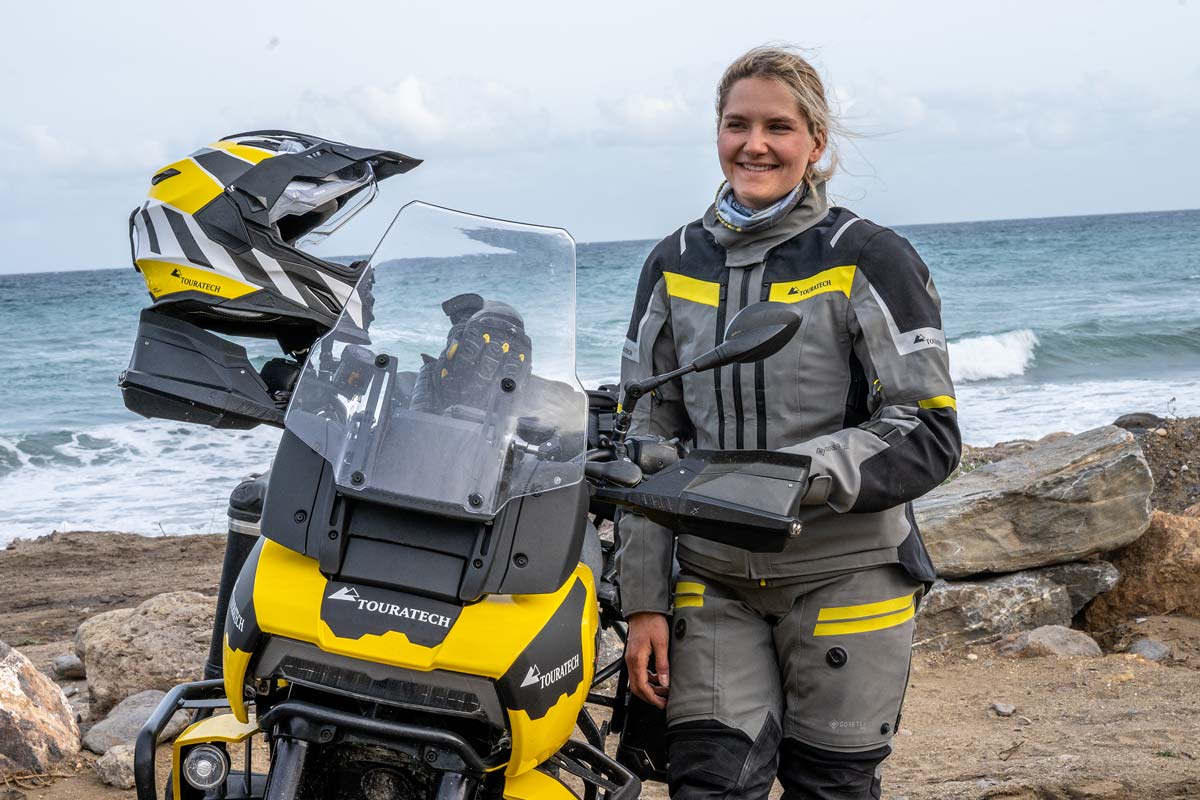 The Pan America is easy to handle and demonstrates surprising stability onroad as well as offroad. I have a special fondness for this motorcycle, having learnt and managed to handle a few short drifts with the Harley.
Margaux Nycz, Product Manager, Touratech GmbH