After having perfect weather and timing in Scandinavia on land – was time to hit a bit more south from Norway, cross Sweden and reach Denmark and the harbor there. We knew that that country can't be counted as the 100th one visited by us and the Donkey, because actually we were in Denmark before.
More - our motorcycle adventure started exactly there, in Bornholm.
That was first weekend trip as a couple on one bike. Not sure if you know, but when we met some years ago I (Marta) was riding my own bike but only on road. An idea about riding on one GS was dictated by the fact that it was more multipurpose when we talk about off-road and some different terrain. My Kawasaki wasn't a good idea to take for a trip like this. So I jumped on a GS as a pillion and it stuck like that for a while. After these 4 days we knew we will be traveling long on one bike only.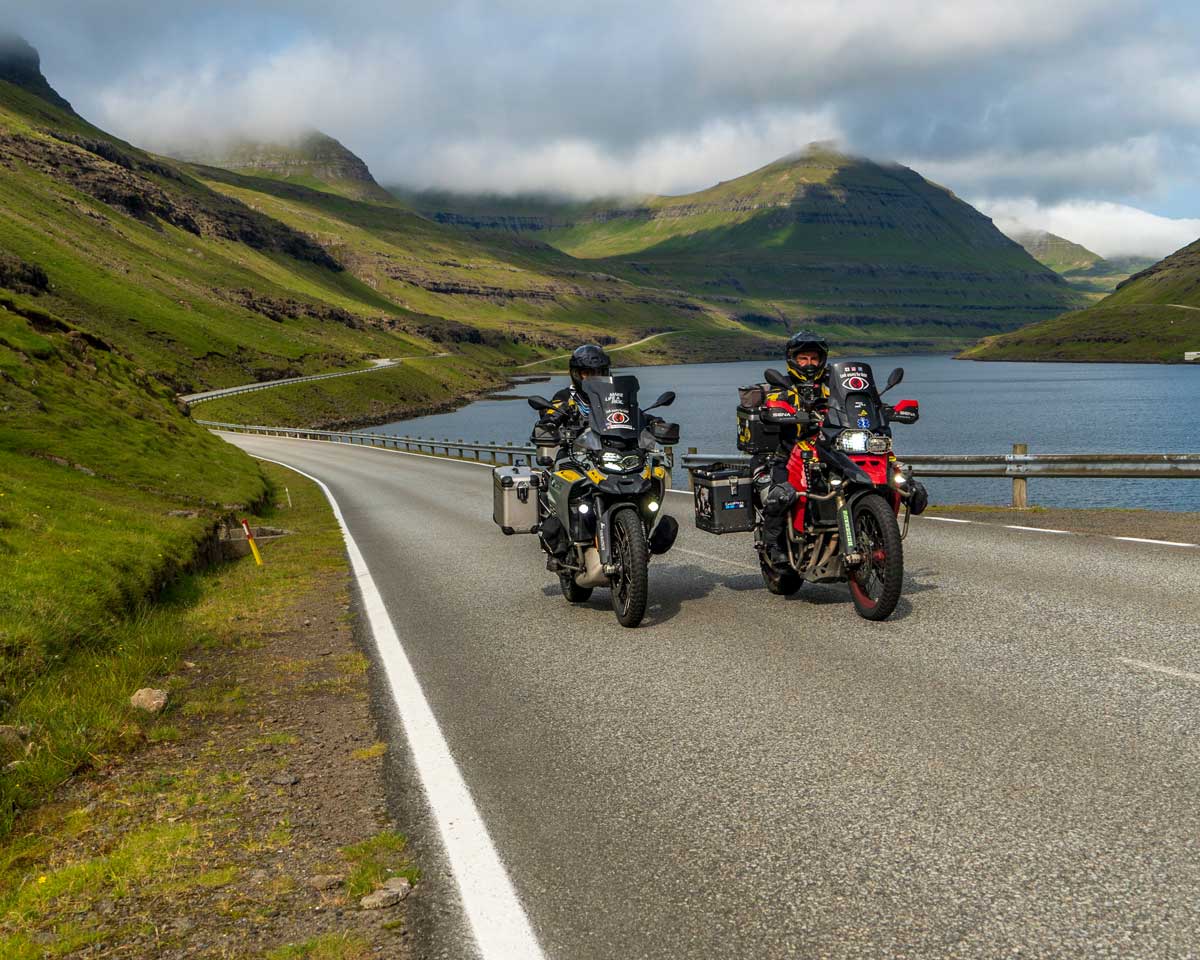 The country number 100 which was planned to be reached by bike by us were Faroe Islands. To get there with your own mean of transport – there is only one way – take a ferry from Hirtshals in the north of Denmark. Usually the main destination from there is Iceland, but our plan was to stop first in Faroe to discover and as we were laughing check if there are sheep as the name suggest and then after 6 days continue the trip to get to Iceland. Today will be about Faroe, amazing islands far, far away from Europe.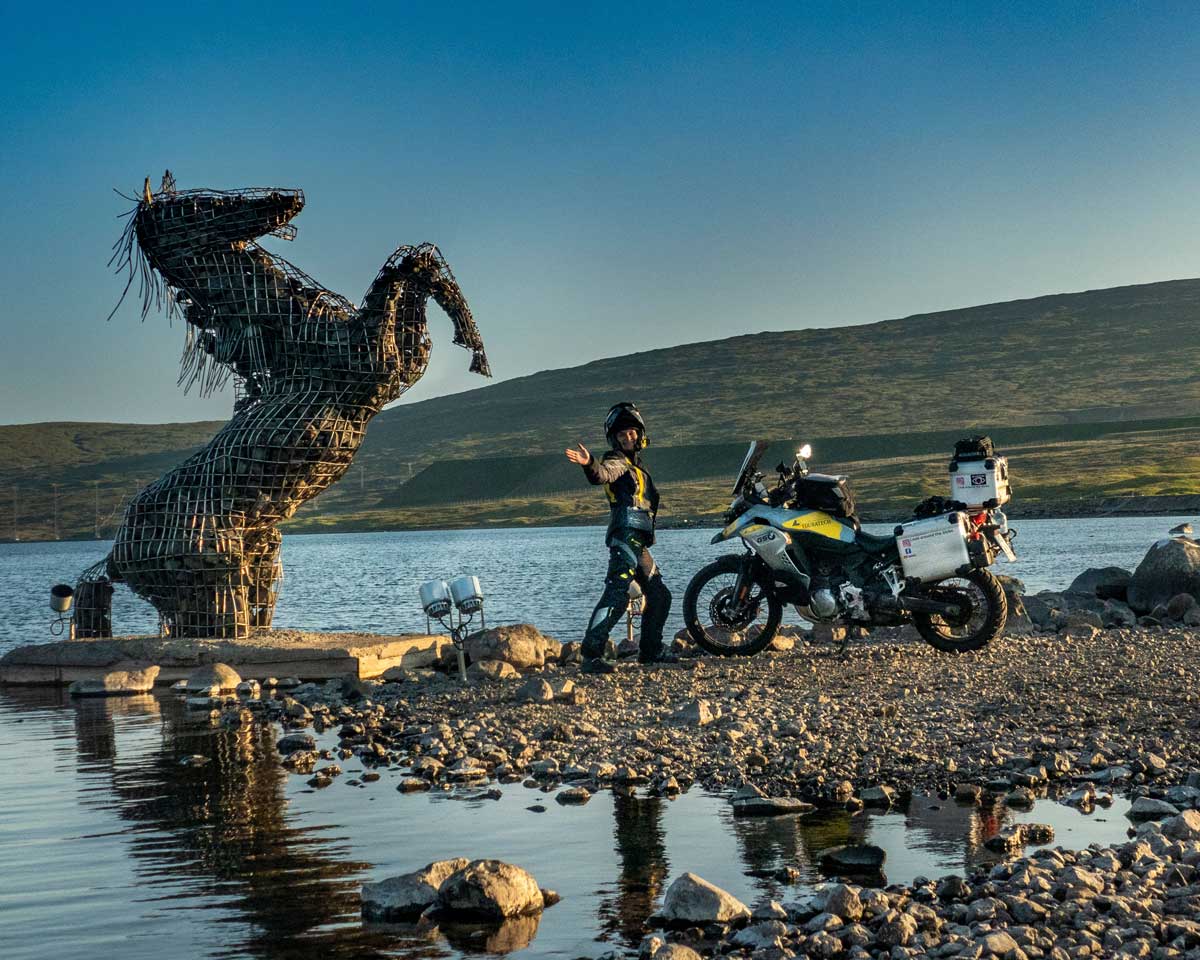 One and a half day on a ferry wasn't really tiring. The more – we knew, when we reach Faroe – it has a lot to see! People said it's a place where you have sometimes even four seasons in one day. It's so hard to predict the weather, that the forecast doesn't exist. Everything can change in few minutes and it rains more than 250 days during the year. Who cares when it lasts maybe 5 minutes! We can't confirm these 250 days at all, because first three days from the six we were staying there were totally sunny and without clouds and rain.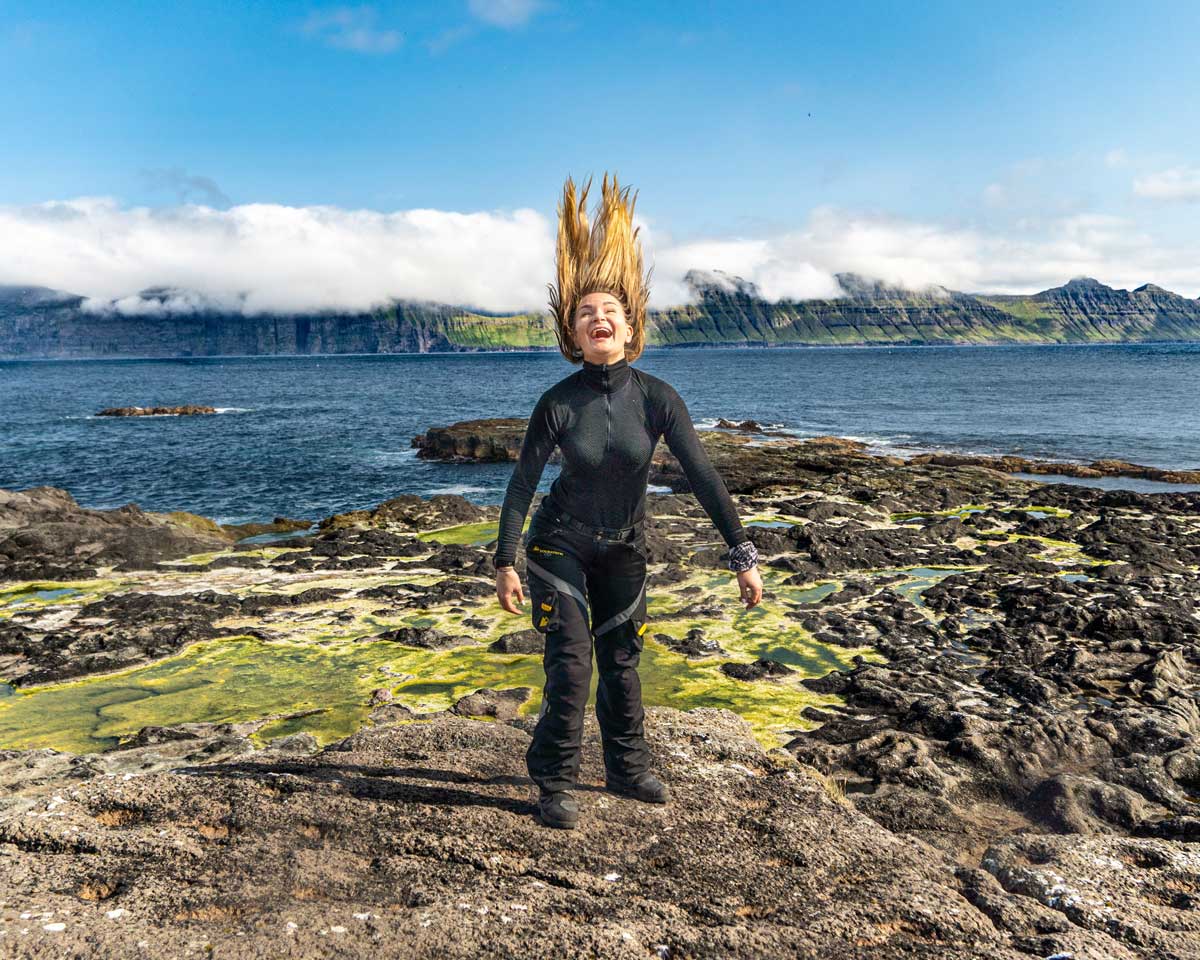 As fast as possible we visited the highest places there to see everything clearly from the top. Amazing views, blue water, green mountains ant totally zero trees around. 18 islands of that archipelago are connected by bridges and three tunnels designed under water. You ride first down, then the area started to be a bit more humid, you can even feel the pressure inside your head. And then after some time you are riding uphill. There is even a roundabout inside on the tunnel.
We visited five islands there. The biggest ones. Some smaller ones are without people in some of them live maybe few people. Sometimes in small villages you can see the sign how many people live there. Totally insane, but imagine there are two times more sheep there than people. They were present of course everywhere, they even have priority on the road.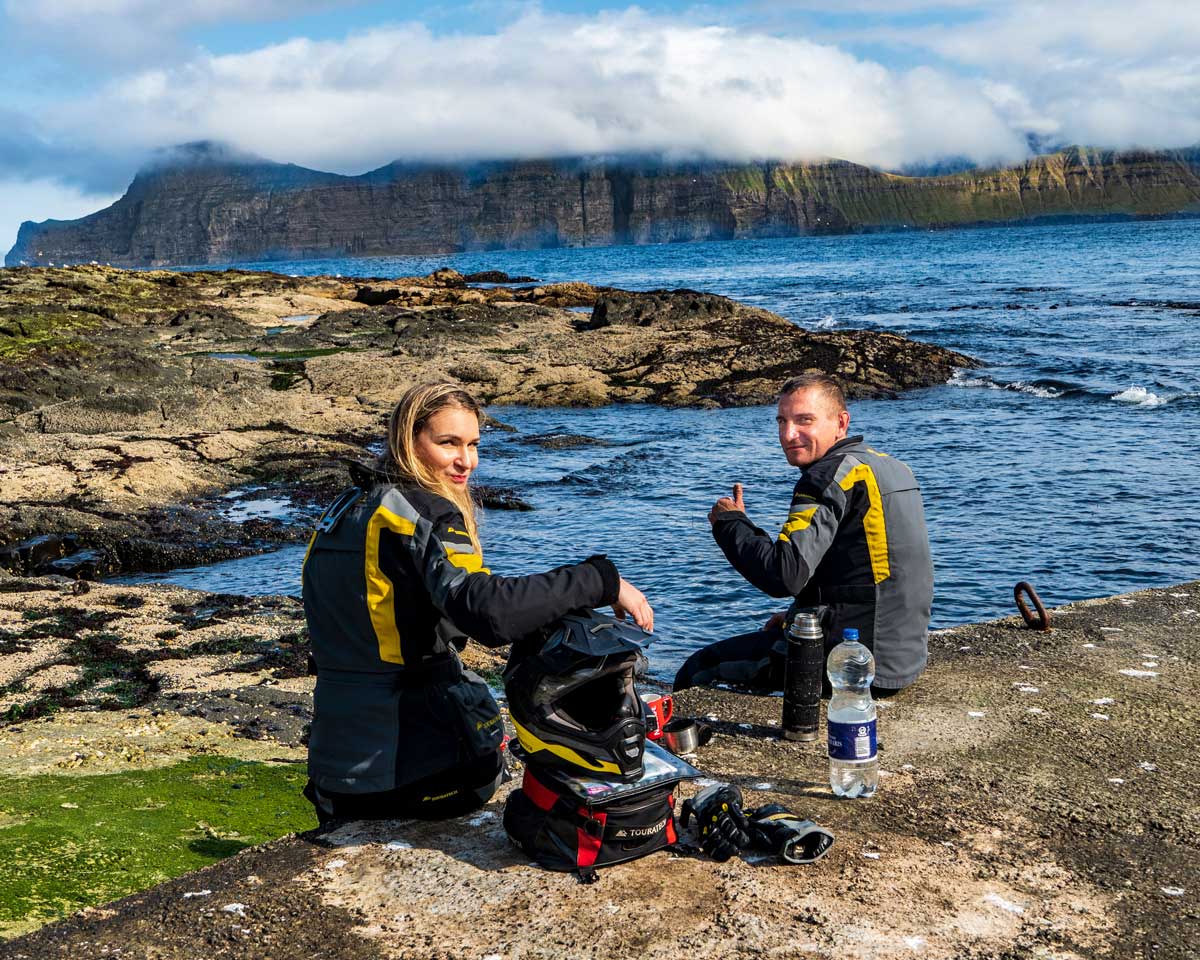 We rented a marvelous room next to the port and that was a base to start the everyday adventure there. Few times I decided to explore some areas by myself. About 7 kilometers from there, on the rocky black beach I found a horse statue jumping out straight from the water. It was an illusion lake – when you stay on a hill it is an optical illusion that one part is higher than the other one. And about the horse – I decided to have a ride on the beach to get to know the legend about it and suddenly I stopped. The rear tire was getting deeper and deeper. It took me an hour to unpack it, uninstall panniers and get it out from the sand by putting on the ground and turned it left to have a chance to ride again. I promised myself not to call Lucas for help, so the whole process took me a bit longer, but finally did it and came back home so proud and happy I am able to manage the bigger adv GS even in hard conditions.
Another time we took bikes and started riding the more north as possible to see what they have in Gjogv, the super nice place on the Eysturoy Island. Despite it was too late to meet famous birds puffins, the view we experienced totally made us breathless. Having a break in a such area, just on a cliff was the best thing what we could do. Sitting and relaxing with our red cups and flask full with coffee we spent there few hours just doing nothing and staring in front of us into the water. As was said before – sun disappeared, the small rain was coming and in a while we had a fog above us and the climate started to be murky. In another 10 minutes – the sky and air was totally clear. No wind, no waves, was just like in a kaleidoscope – somebody just turned it and changed the angle of it and weather also changed.
Next few days were full of discovering amazing places. Endless green hills around, sometimes, water around, fresh air and breeze around. That is called freedom. And the life there which was really calm and slow. People told us it's a perfect place to live. In the biggest place – Torshavn live maybe about 12 000 people. It's like a small town in Europe. Almost everybody knows each other. Most of them have a big window with the ocean view to sit and drink coffee in the afternoon.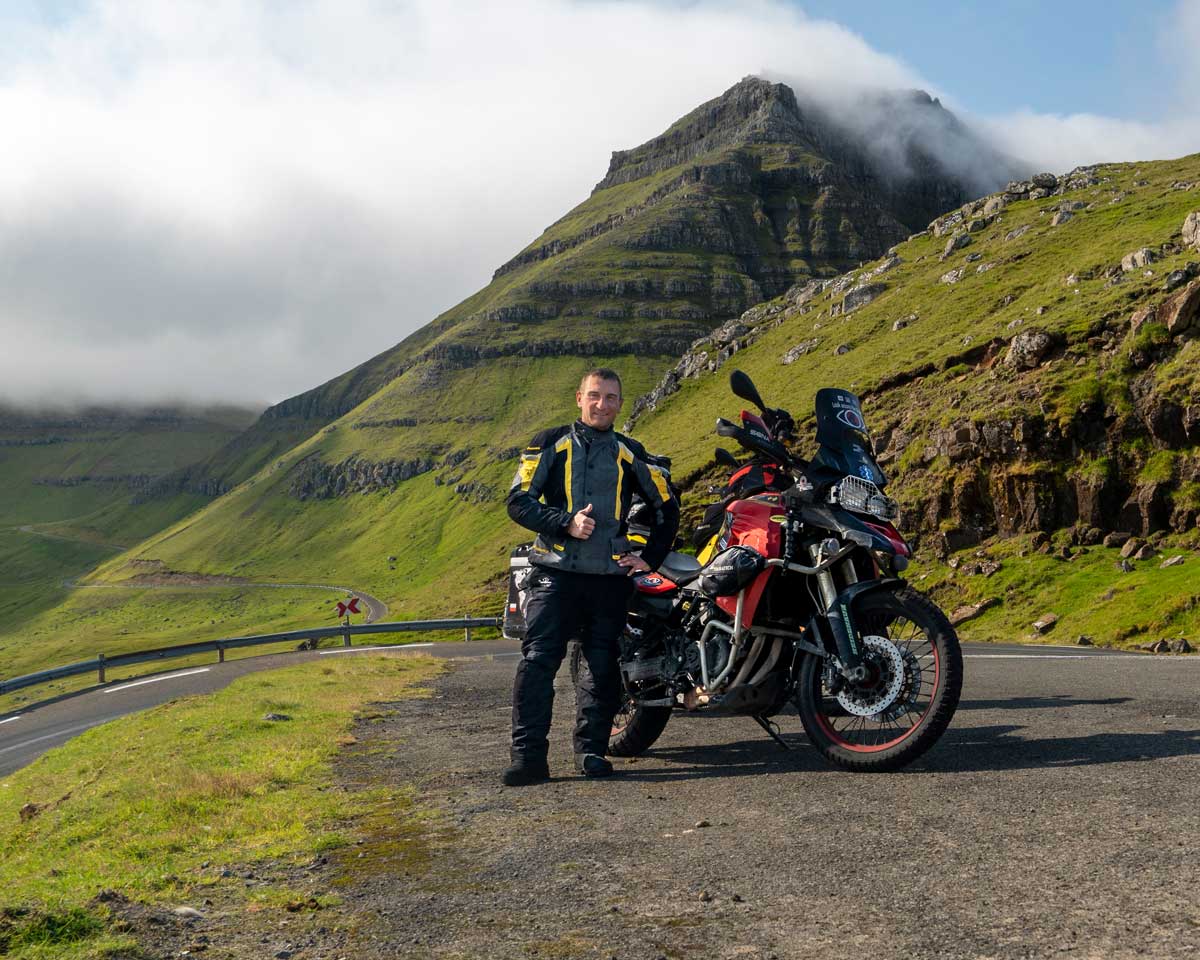 But Faroe have some more "darker" histories as well. That is one of it.
Usually we started riding early morning just after breakfast. That day we started a bit later and took a smaller road right after the tunnel. Suddenly we realized that the water in the bay is red. First idea – maybe they have a specific seaweed here… But not, it wasn't anything like that. Sad to know what happened there few hours before. We didn't see animals, we just arrived when the water was like that. Luckily that day we started riding later... Otherwise we would have seen the whole procedure we didn't want to see.
Beautiful blue water in the bay turned into a red color due to the countless bodies of whales. The annual slaughter of whales is a tradition in Faroe Islands. Really hard to understand why they need to make it. The culture says "it's normal, it's a performance" even, but our hearts were just broken… Traveling is an experience, you see a lot, discover many things which are really sometimes hard to understand… And sometimes better trying not to understand…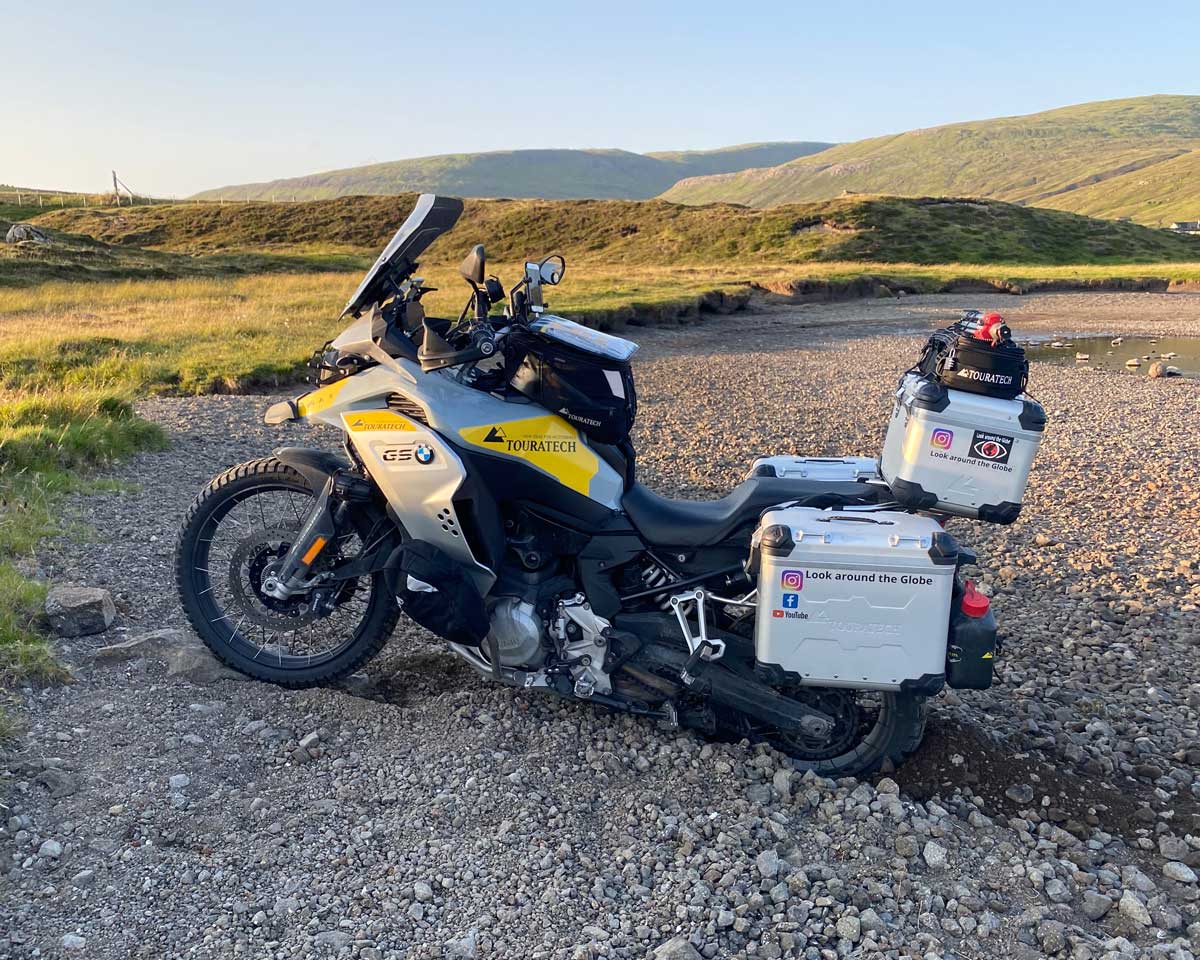 Actually the whole Scandinavian trip was quite fast, and in Faroe we decided to have small vacations and slower rides. Was a really good idea to calm down and relax in a such a perfect place! Even coming back from Iceland we have a pit-stop in Torshavn and when we got out from a ferry for few hours – we felt almost like home. Everything was so well known and familiar. The memory of our calm holidays there came back in a minute.