Touratech Suspension Plug & Travel EVO
Electronic suspension system for BMW R 1200/1250 GS
Our Plug & Travel EVO electronic suspension system is completely new. Totally redesigned, it offers many improvements with the semi-active system taking your BMW R 1200/1250 GS to new heights, making it handle better than ever.
Consistent performance even on the longest and most difficult of rides. Precise, reliable and controlled, it can withstand the harshest treatment from the toughest trails, giving you the confidence to go further than ever.
The best springs on the market ensure absolute performance and reliability in all conditions resulting in longer times between services.
No more harsh response in those bumpy areas. A redesigned damper piston guarantees smooth and supple suspension action due to optimised oil flow, which suppresses foaming.
The low friction seal maintains its security without taking away from small bump sensitivity.
Faster and more reliable adjustment. The suspension reacts to the terrain beneath you and the addition of more weight from luggage or a pillion passenger.
No tools needed. Using the scale on the rotating knob, you can change your setup in seconds thanks to 15 levels of adjustment.
The innovative design uses the maximum spring travel that's available from the GS, guaranteeing that little bit extra in reserve when riding offroad and with heavy luggage, so that big compressions don't catch you off-guard.
Comfort even in extreme scenarios. When the trail gets rougher than expected, big impacts are absorbed gently to keep everything under control.
Weight savings and strength gains were the main goal. Everything has been designed to increase performance, with unsprung mass savings only adding to a better-feeling suspension all round.
As with all suspension elements from Touratech Suspension, the new Plug & Travel EVO is fully service-enabled. Worn parts can be replaced cost-effectively, guaranteeing consistently high performance over an extensive product service life, keeping you on the road for longer.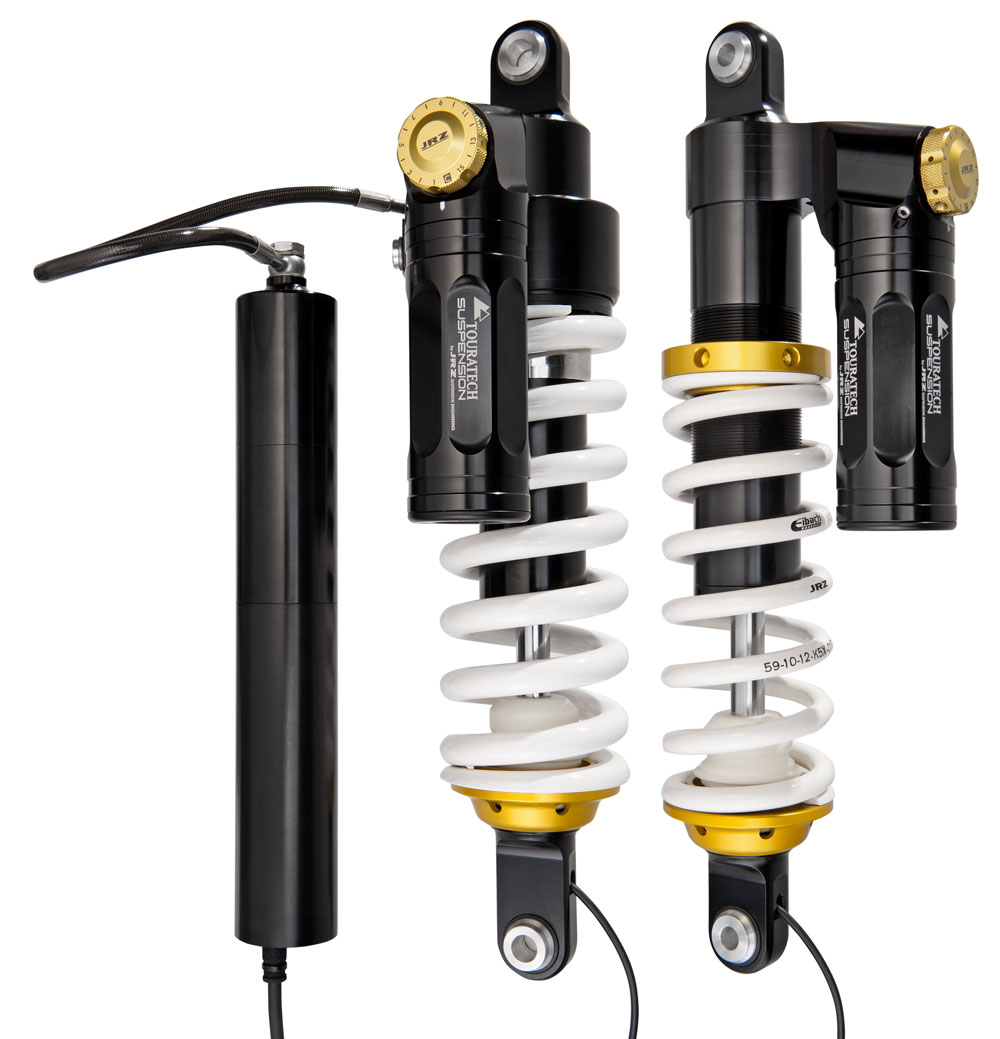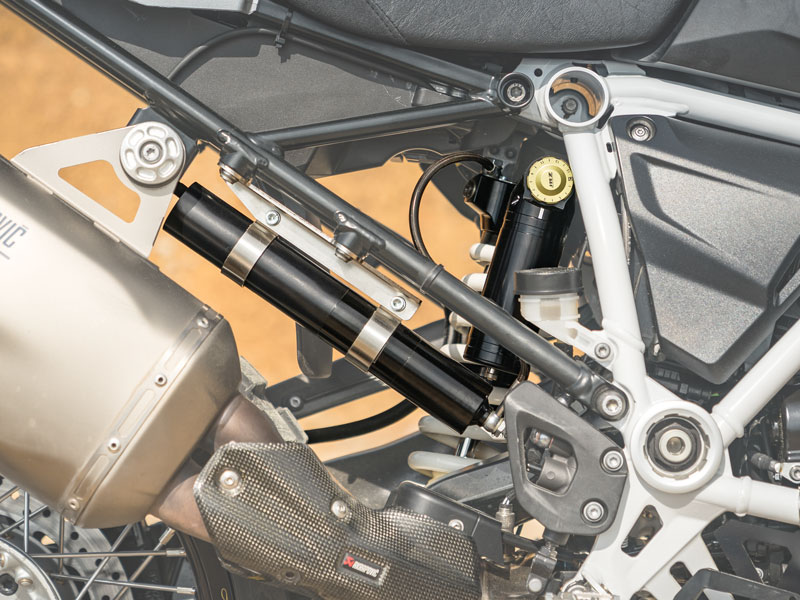 The Plug & Travel principle: seamless integration into your vehicle
Swap out, swap in. The Plug & Travel EVO is designed to slot straight into the BMW R 1200/1250 GS without any modification to the bike. A slimmer design and use of the standard plug connections make it a complete plug and play process.
Even better, there's no need to work on any of the electronics. The Plug & Travel EVO connects directly to the bike's Central Function Unit (CFU). The control system automatically takes into account any and all software updates already installed, so there's no need to reinstall anything.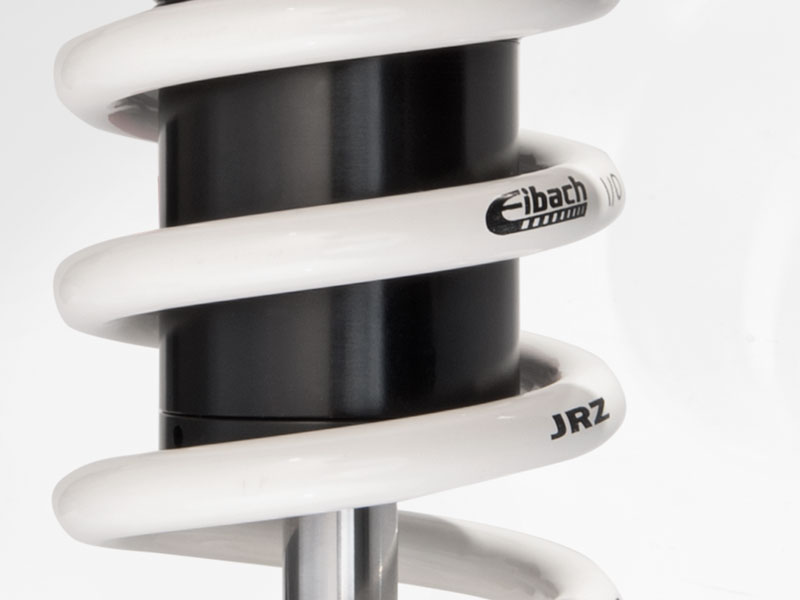 Strong partners: Eibach and JRZ Suspension Engineering
Teaming up with the best in the business is key. Maintaining the proven strengths of the BMW R 1200/1250 GS and then opening up new benefits for riders was the reason we partnered with Eibach and JRZ Suspension Engineering. World renowned for their performance suspension systems, Eibach developed and manufactured the best springs possible for the Plug & Travel EVO system. JRZ Suspension Engineering allowed us to tap into their specialist knowledge to develop one of the most important parts of the system in conjunction with them, the electronic valve.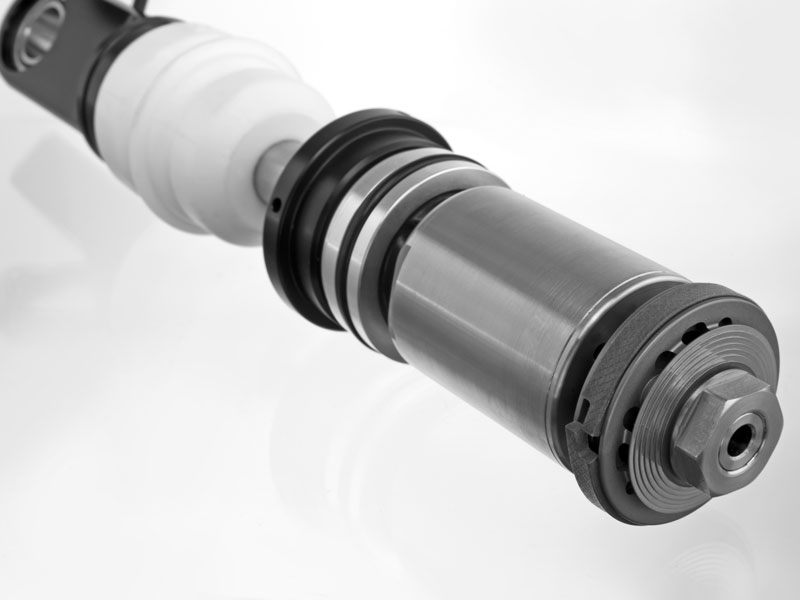 Worldwide patented electronic valve
The Plug & Travel EVO suspension is almost like a living system. Constantly monitoring while you're riding, it reads the recorded data of how the suspension is moving and acting, using that data to adjust to the current conditions of the riding surface in real time. If you're riding on a gentler surface, the electromagnetic valve will adjust accordingly and as soon as you're taking on something a little more demanding, it springs into action to ensure you've got all the support and safety that you need.
Our worldwide-patented electronic valve is our most robust, reliable and precise yet. Whether you're riding on road, offroad or constantly changing from one to the other, it'll be ready for whatever you can throw at it, meaning you can just focus on enjoying your ride.
New Hyper Flow damper piston
When the going gets tough, on or offroad, simple suspension systems can feel quite uncomfortable. However, with the Plug & Travel EVO series, the redesigned damper piston keeps that harsh feeling at bay thanks to optimised oil flow and a significant reduction in the possibility of oil bubbles forming. Cavitation damage caused by collapsing oil bubbles is now a thing of the past.
The seal on the piston rod has also been redesigned. The main aim was to design a seal that keeps its strength and constant integrity, but also has little friction. The benefits of those two ideas were to ensure a constant seal no matter how vigorous or gentle the riding, to maintain high sensitivity for small bumps and to eliminate that jerking feeling when some suspension systems just start to compress.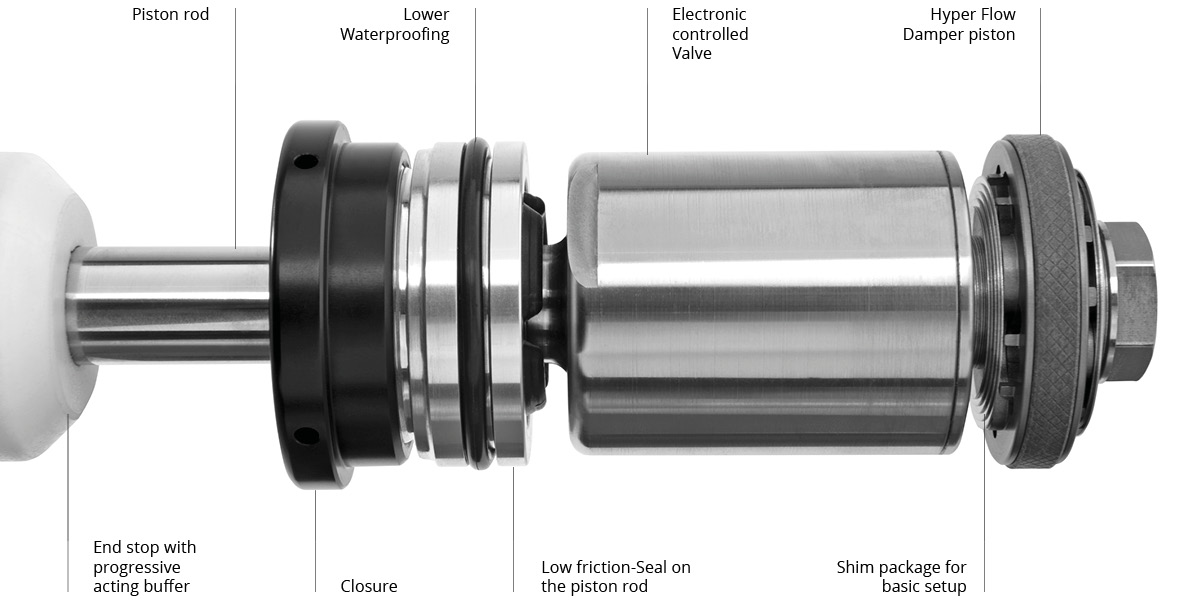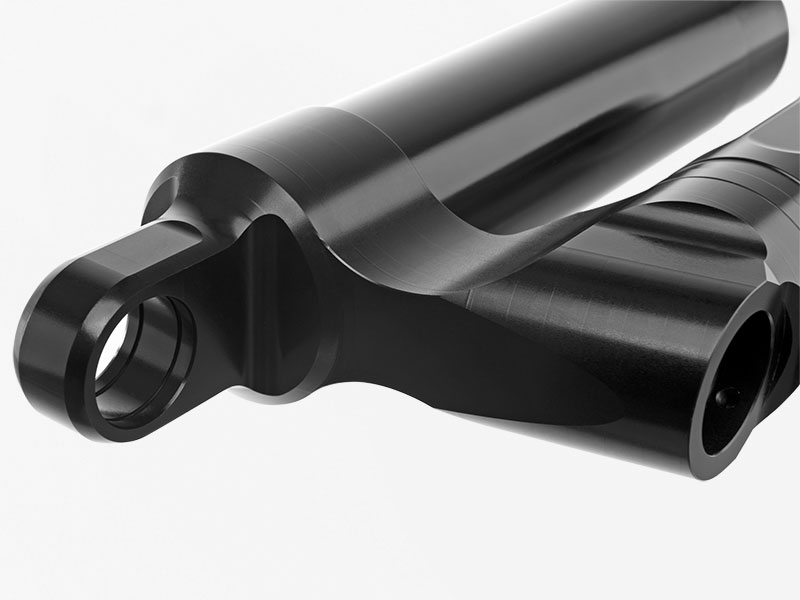 Slim design, maximum functionality
The bottom part is all milled from one piece, keeping weight down and adding as much strength as possible. Due to the reduced weight, the unsprung mass is lower and that means you get a better response on the bike. The slimmer than standard electronic shock absorbers not only make the installation process easier, but they also allow the system to use the maximum possible spring travel that the BMW R 12500/1250 GS has to offer.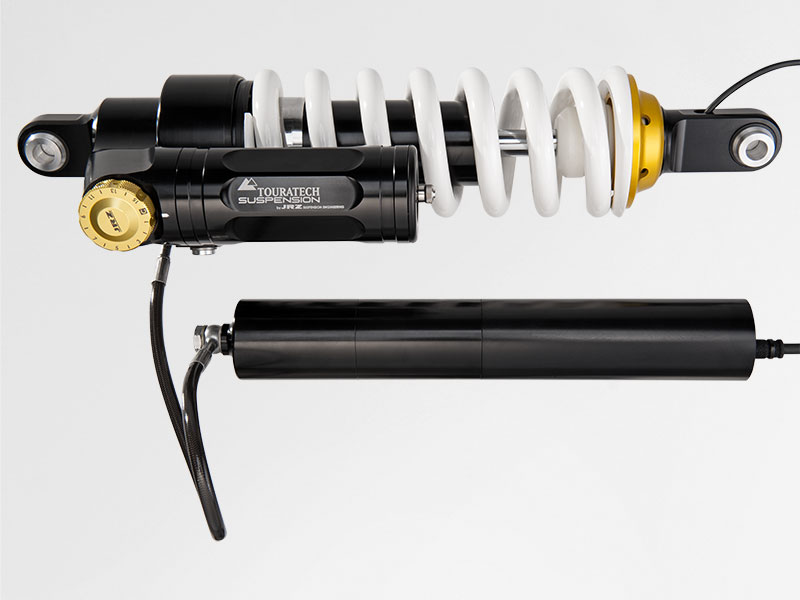 Powerful electric preload adjuster
A motorcycle's load is constantly changing, whether you're riding on rough terrain, adding luggage or even a pillion passenger. The electronic preload adjuster changes the springs' stiffness to adjust to your needs, making those adjustments in real time. A redesign means it can make those adjustments quicker and with less stress exerted on the seals, all resulting in better longevity of your suspension.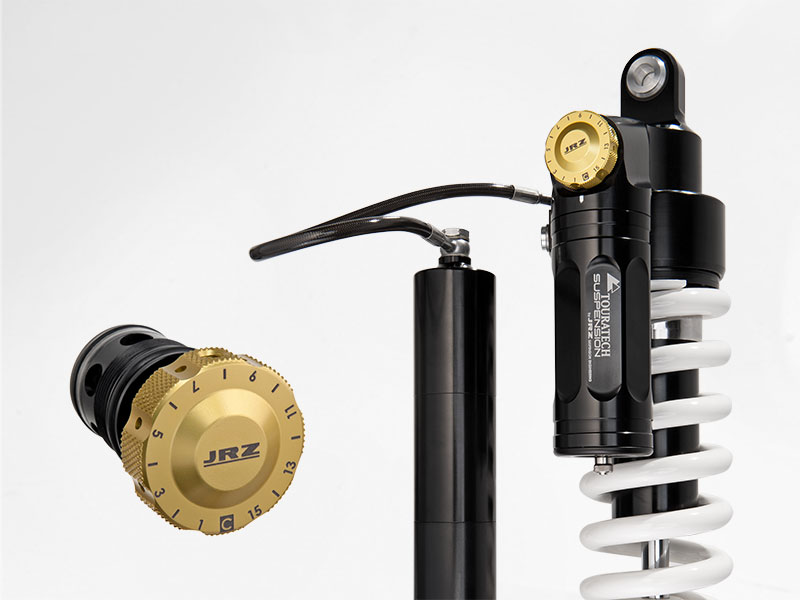 Simple suspension system tuning
Getting the feeling you want from your suspension couldn't be easier. An easy-to-operate rotatory knob changes the compression of the system. With 15 steps of adjustment all guided by an easily readable scale on the knob itself, whether changing setup for performance or for comfort, all riders will be able to find the feeling they want.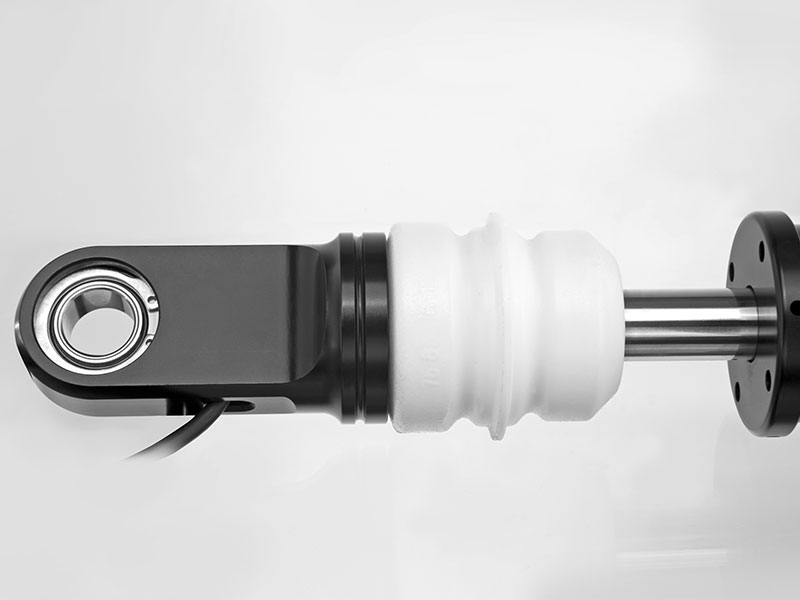 End stop for the toughest applications
Whether intended or unintended, hard hits can happen on extreme trails. To keep everything under control and as comfortable as can be, the Plug & Travel EVO series has end stops made from a foam-like plastic which absorb energy and deform progressively under pressure. The on-bike application of that is that the rider feels a gentler stop as the suspension reaches the end of its stroke, adding comfort in even the most extreme circumstances.
High-quality Uniball bearings
Durable and strong, the Plug & Travel EVO series uses the highest quality Uniball bearings. The new rubber seals are even more pressure-resistant than before, keeping out dirt, dust and water to prevent any premature wear.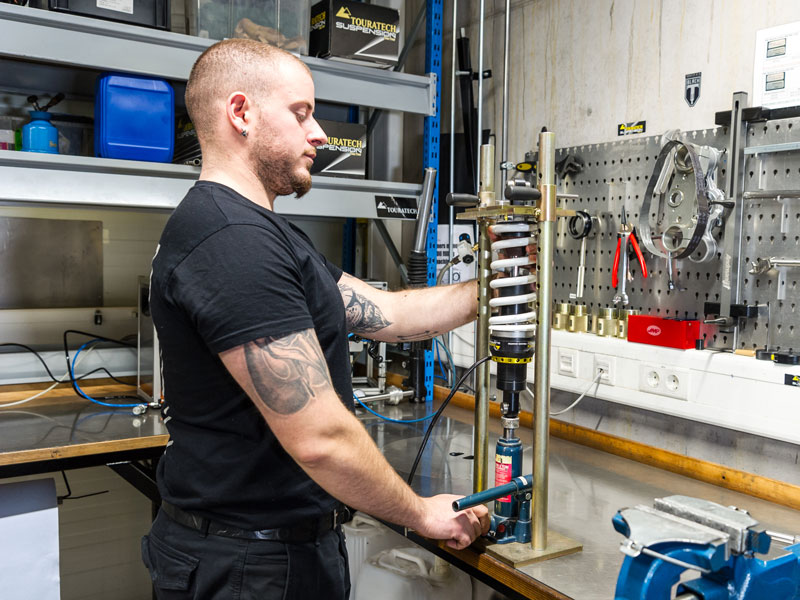 Electronic suspension system fully service-enabled
Like all of our suspension systems at Touratech, we're happy to say that the Plug & Travel EVO series can be fully serviced by our Servicepartner. Replacement parts are available in plentiful supply and at cost-effective prices, meaning your suspension will stand the test of time.