At Touratech, almost 350 employees work to produce the best motorcycle accessories in the world. From management to marketing, purchasing or sales, development and logistics, through to human resources, a wide range of qualifications are required. We took a look at the places where the products are actually being worked on: in the production department.
Made in Germany – at Touratech, this is not just a label that is subsequently affixed to any kind of product. At Touratech, these three words stand for a core promise of quality. If not produced at the headquarters in Niedereschach, the majority of the motorcycle accessories are produced at partner companies in Germany.
And there are a lot of good reasons why Touratech produces in Germany despite the high wage level. Among these are the fragile global supply chains, greater flexibility, and the ultimate in quality standards. Above all, however, it is the employees themselves who speak in favour of manufacturing at the headquarters.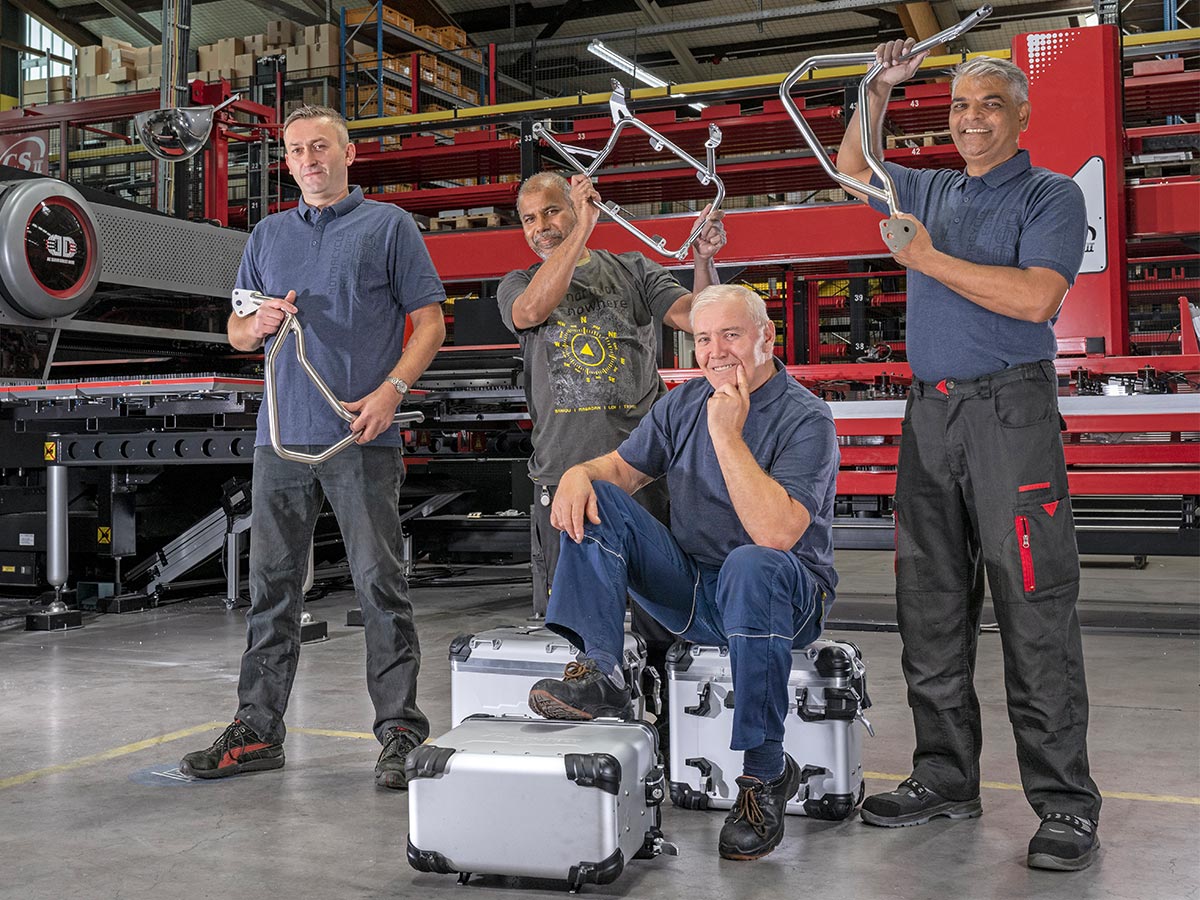 Currently, around 180 colleagues work in the Touratech production department. The largest of the seven departments, with a good 45 employees, is the pannier assembly department. The pipe and sheet metal production department is similarly staffed, with 43 workers. Almost 30 colleagues are employed in the manual welding and surface treatment departments, as well as in the packaging and small assembly departments. 20 Touratechers work in the robot welding shop. And then there is the production logistics department with five employees.
The hierarchies are flat at Touratech; communication is direct. "Shop floor management is what we call it," explains Thomas Besch (54), who is head of production. "I regularly go through the departments, together with the management. Problems are addressed directly, key figures are checked and remedial measures are determined immediately, if necessary."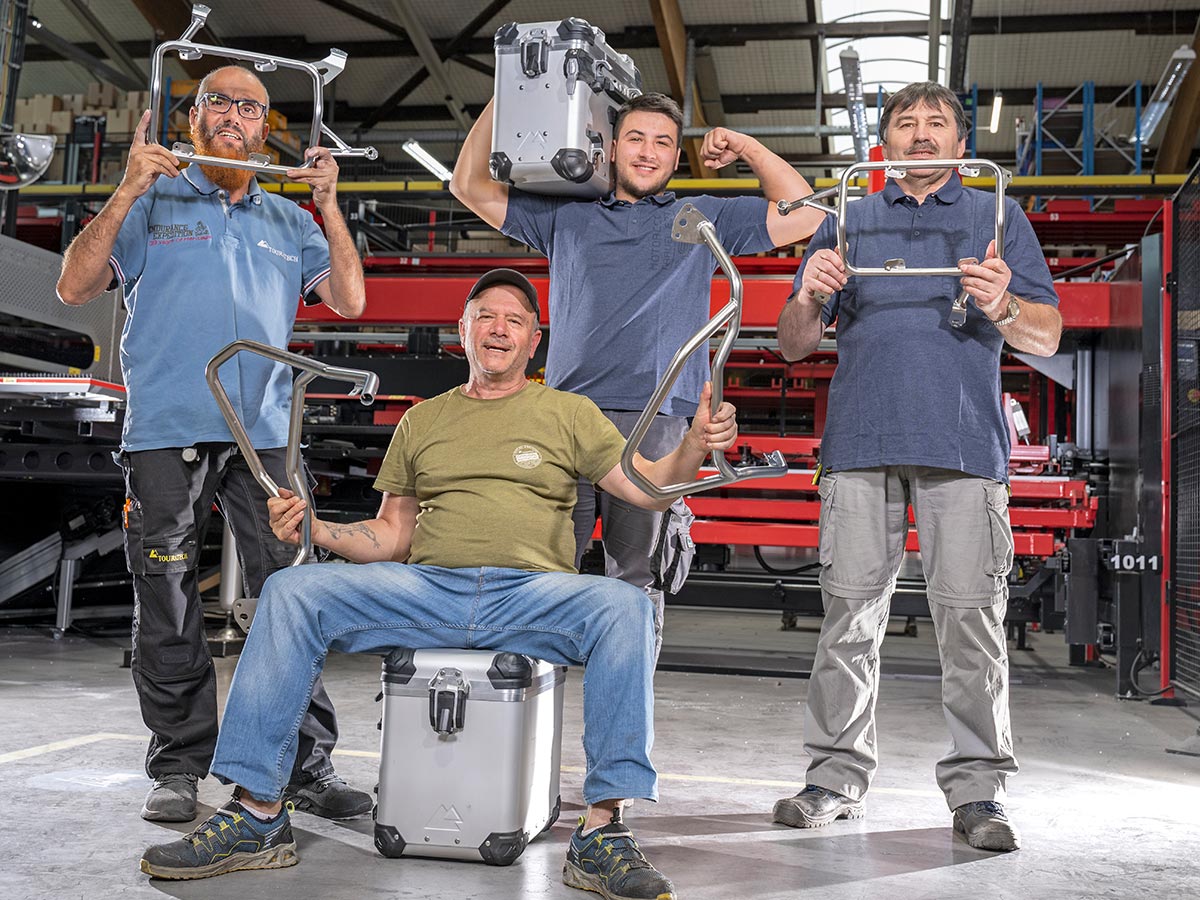 Thomas Besch himself has a master's degree in metalwork and has acquired additional qualifications as a welding specialist and business economist in the trade. Like him, the heads of the departments all have a master's degree. Skilled workers are employed at the machines, but also a great many semi-skilled workers. "We qualify people here in the company," Besch explains. "For simple tasks, the new colleagues are given a basic introduction and then trained on the product itself after the obligatory occupational safety instruction."
Getting started at Touratech is easy. Many processes are split into small parts so that new colleagues can quickly find their feet. However, the fact that many employees have a migration background presents the head of production with the challenge of overcoming the language barrier. "Over time, however, we've developed a pretty good system for communicating effectively with new colleagues who don't speak German very well yet," explains Thomas Besch. If you look around the production department, you soon understand what he means: Many work instructions are displayed on signs as pictograms. And there are lots of universally understood signs like green ticks, raised thumbs or smileys.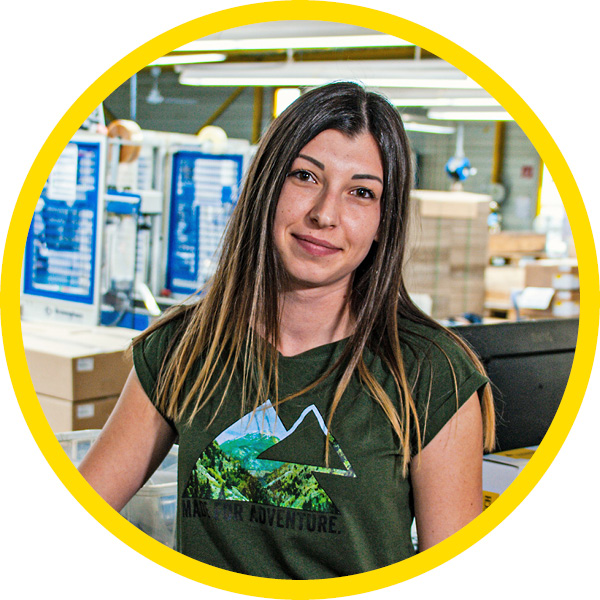 "The goal of zero-defect production is paramount."
Henrietta Borbola (26), shift manager – packaging / assembly department
But the different cultural backgrounds – more than 25 nations are represented in the Touratech production department – also provide a lot of positive input. "Colleagues from the Asian countries in particular contribute an enormous amount in terms of cooperation and care, which is absolutely exemplary," the head of production is pleased to tell us.
Kugarajah Murugiah, for example. The 40-year-old comes from Sri Lanka, where he worked as a lathe operator and welder. Kugarajah has been in Germany since 2011, where he first found a job as a confectioner and baker in a large bakery. A friend who'd been working for Touratech for a while finally put him in touch with our company. Kugarajah started in the grinding shop, moved to final inspection and is currently employed as a plant operator on the electropolishing (EP) plant. This is a job that requires very careful and responsible work to ensure the high quality of Touratech stainless steel surfaces. And that's exactly what Kugarajah wants to do: "I love the matt-gloss finish that gives the products that classy look," Kuga – as his colleagues amicably call him – admits.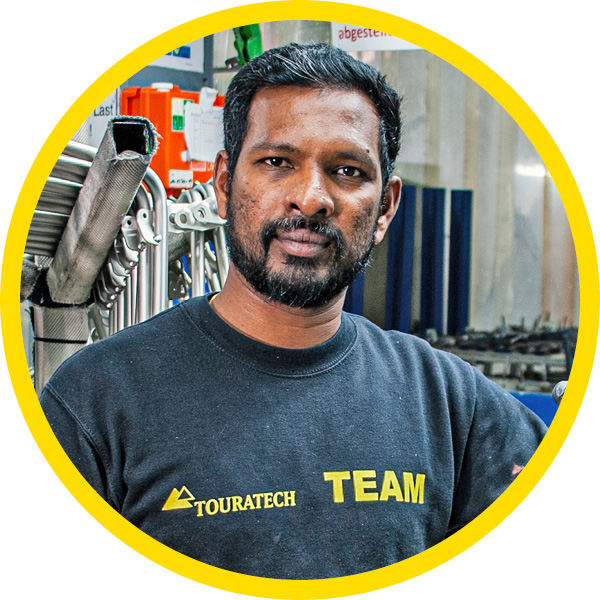 "Clean work is the be-all and end-all for a perfectly shiny stainless steel surface."
Kugarajah Murugiah (40), plant operator EP
"We also have many colleagues from Eastern Europe, including people who have fled Ukraine, who see their job at Touratech as an opportunity and are enormously committed. All in all, the mentalities here complement each other very well," Thomas Besch sums up.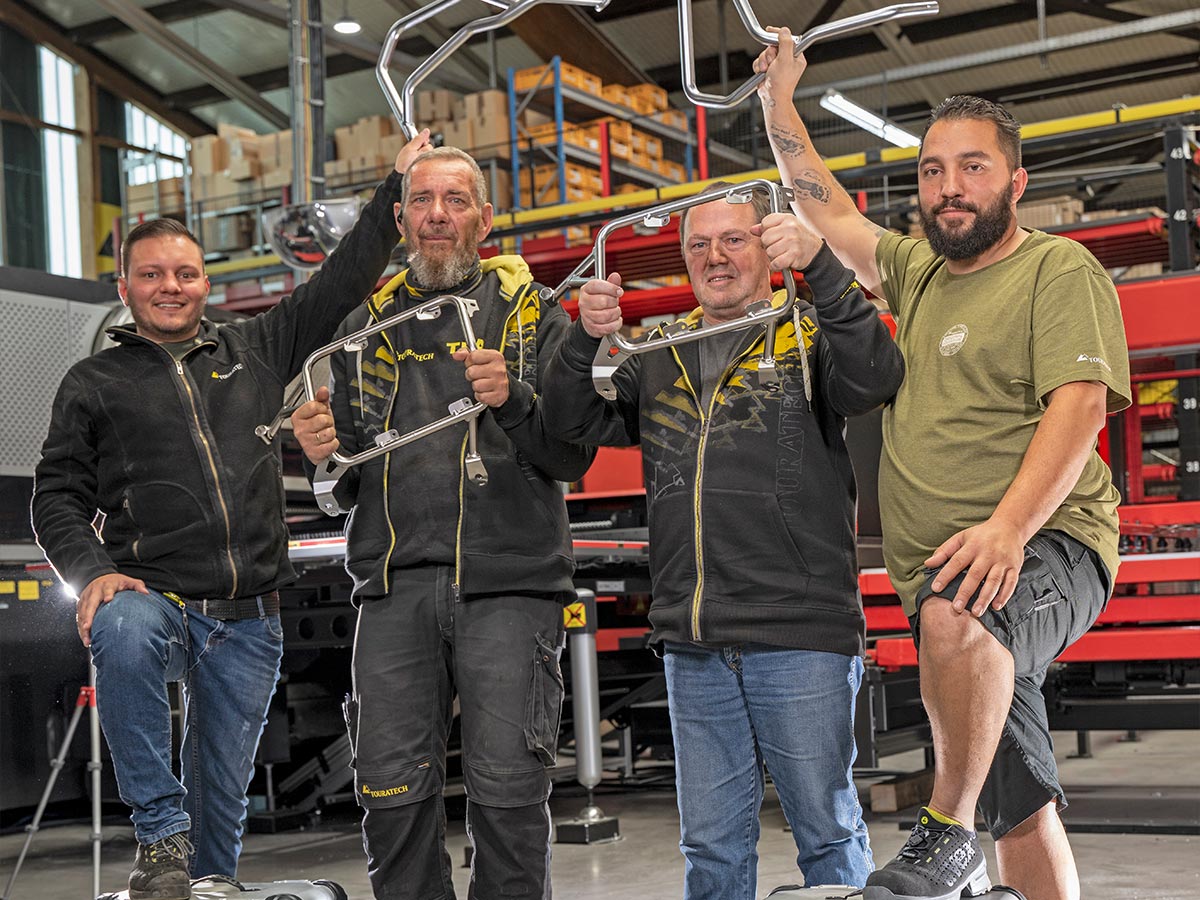 Henrietta Borbola, for example, comes from the eastern part of our continent. Born in Hungary in 1996, she first began studying medicine after graduating from high school, and then switched to a degree in education. After that, she decided to move to Germany. She attended a language school and worked in mini-jobs at the same time. A part-time job as a saleswoman followed. Through acquaintances, she heard about Touratech and looked at the website. That was it! Initially, Henrietta was employed to carry out simple tasks in the assembly department and in the warehouse. But her diligence and commitment didn't go unnoticed for long. Since 2020, around two years after joining Touratech, the 26-year-old has taken on responsibility as the shift manager in the packaging and assembly department.
She is responsible for coordinating the entire packaging and assembly department. She assigns work to employees, is responsible for the daily deliveries and works closely with the production control and quality management department.
All in all, these are activities that require a high level of resilience, also under time pressure, decisiveness and the ability to take responsibility. Thomas Besch also appreciates these skills in Henrietta. "At Touratech, employees can reach positions relatively quickly that are behind high hurdles in other companies," says the production manager. "We look less at formal qualifications, and appreciate commitment, enjoyment of work and flexibility. Those who convince us with these qualities can get very far very quickly.
Like Marco Klein. Only 25 years old, he is already deputy shift supervisor in the pannier assembly department – the department where he started as a production helper six years ago, immediately after completing his carpentry apprenticeship. "My responsibilities include carrying out quality checks, registering finished panniers, assigning tasks to employees and carrying out repairs on customer panniers," Marco describes his varied job. "In all these tasks, reliability, accurate and independent work, a sense of duty and manual dexterity are particularly important".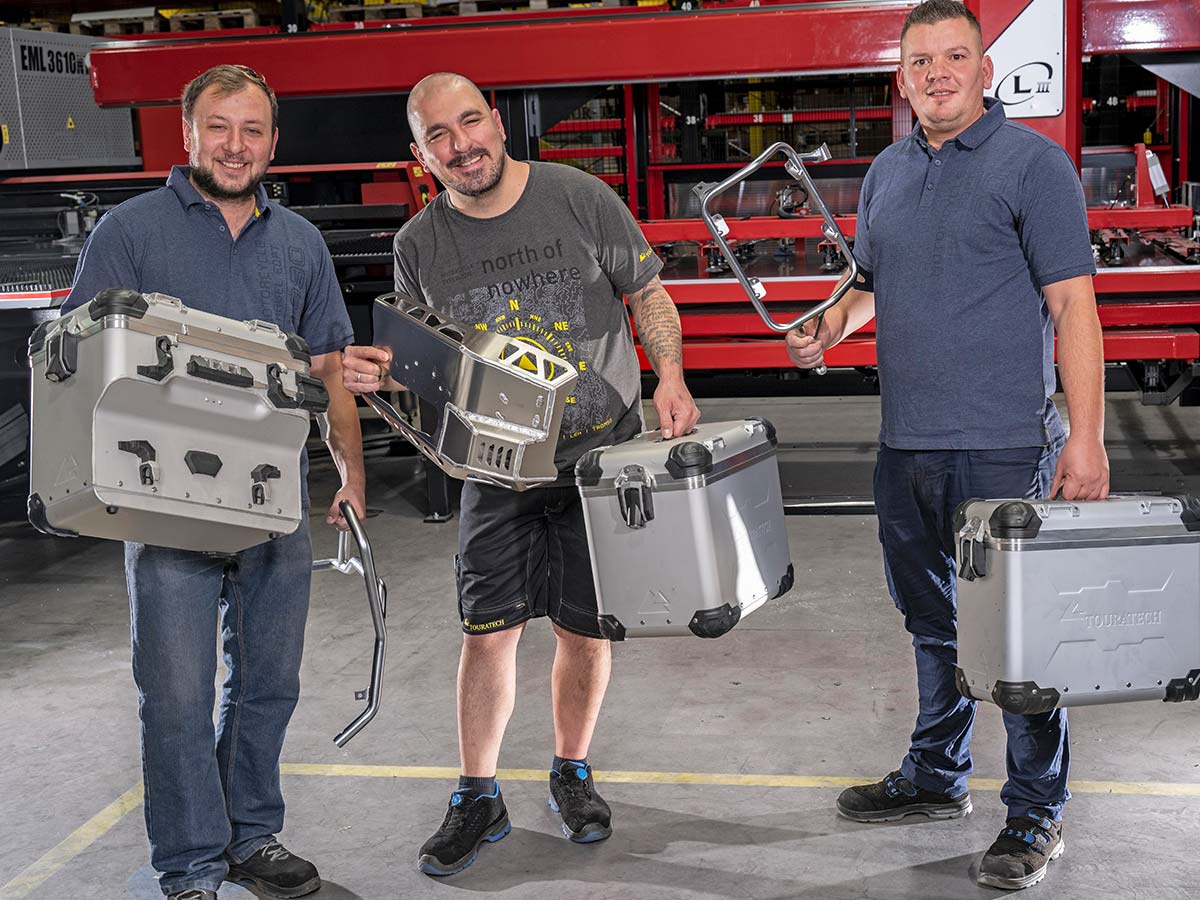 Michael Gnädig also has a background in manual crafts, as well as in a field that initially has nothing to do with motorcycle accessories. As a trained baker, a flour allergy diagnosis hit him hard. All of a sudden, he was no longer able to practise his profession. But the 34-year-old from Villingen-Schwenningen didn't let it get him down. The motorcycle enthusiast saw a job advertisement from Touratech as the perfect opportunity for a new career start.
In 2011, he joined the company as an assembly worker in pannier production. His enthusiasm for the high-quality panniers and his precise, committed style of work went down well. Michael quickly took on responsibility as deputy shift supervisor and then, already in 2013, as shift supervisor. Two years later, Michael was promoted to team supervisor of the pannier assembly department. In 2016, Michael passed his Production Foreman (metal industry) exams at the Chamber of Industry and Commerce (IHK). "For over three years, I was at school almost every evening, parallel to my work, making up for my lack of expertise in industrial processes," Michael says, recalling this challenging phase in his professional life.
And this commitment also paid off. As production manager of the pannier assembly department, Michael Gnädig is now responsible for almost 50 employees – and for the proverbial quality of ZEGA panniers. The further training of employees, the industrialisation of new panniers and the continued development of the department in connection with advancing digitalisation are among the biggest challenges in his job.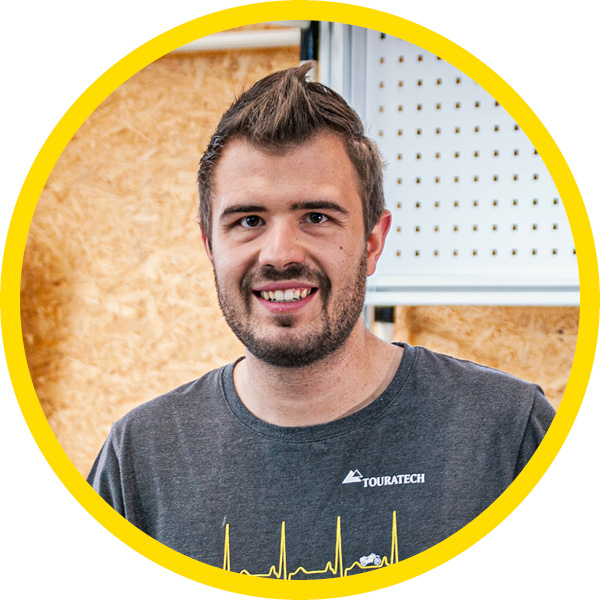 "A high degree of independence and manual dexterity are essential in my job."
Marco Klein (25), deputy shift manager – pannier assembly department
"Passing on know-how and knowledge is very important in my field. This has enabled me, in the 12 years I've been with Touratech, to build up a strong team which is very supportive of my work. Developing this team and building on the qualifications of new employees is one of my most important tasks," Michael explains. "The pannier assembly department, unlike many other departments, is very dependent on teamwork. Every person must be able to rely blindly on the others. This is the only way to manufacture a high-precision product like a ZEGA pannier in large quantities."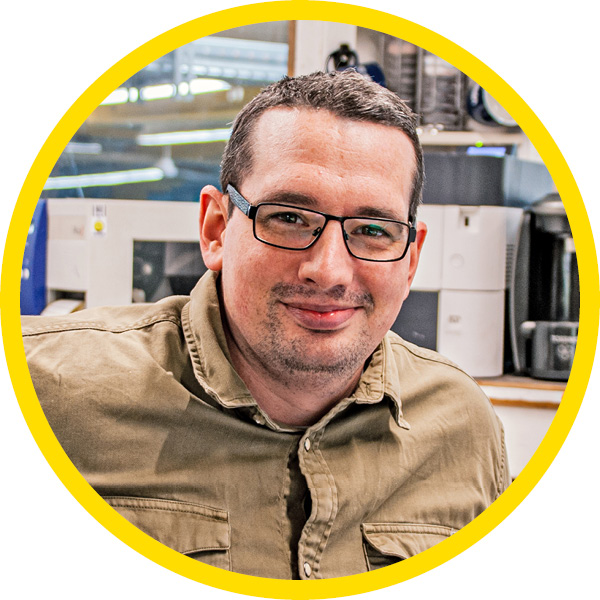 "Continuously developing the team is the key challenge".
Michael Gnädig (34), head of the pannier assembly department
With motivated employees who combine their passion for motorcycling with the highest level of professionalism in their job, Touratech products will continue to be: Made in Germany!