Lively markets, fragrant food, palm-fringed oases and vast deserts - Morocco is the perfect introduction to the adventure of North Africa. Travel Time shows you how to get the most out of your motorbike trip to the country between the Atlas and the Sahara.
Morocco is rightly considered the gateway to Africa. For motorbike travellers with no experience on the Black Continent, the country offers a gentle introduction without being too demanding. Morocco can be reached from the Spanish mainland in just 30 minutes by ferry from Tarifa to Tangier.
Morocco's landscape is extremely varied. The Rifatlas, which is rainy in winter, is followed in the southeast by the Meseta, a wide, steppe-like tableland. The Meseta is framed to the south and east by the mountain ranges of the Middle and High Atlas. Snow regularly falls in this high mountain landscape in winter, so that some roads can be blocked until spring. From the somewhat lower Anti-Atlas, the country finally slopes towards the fringes of the Sahara. Morocco's best-known sand desert is the Erg Chebbi, which is best reached from Erfoud or Merzouga, which is well developed for tourism.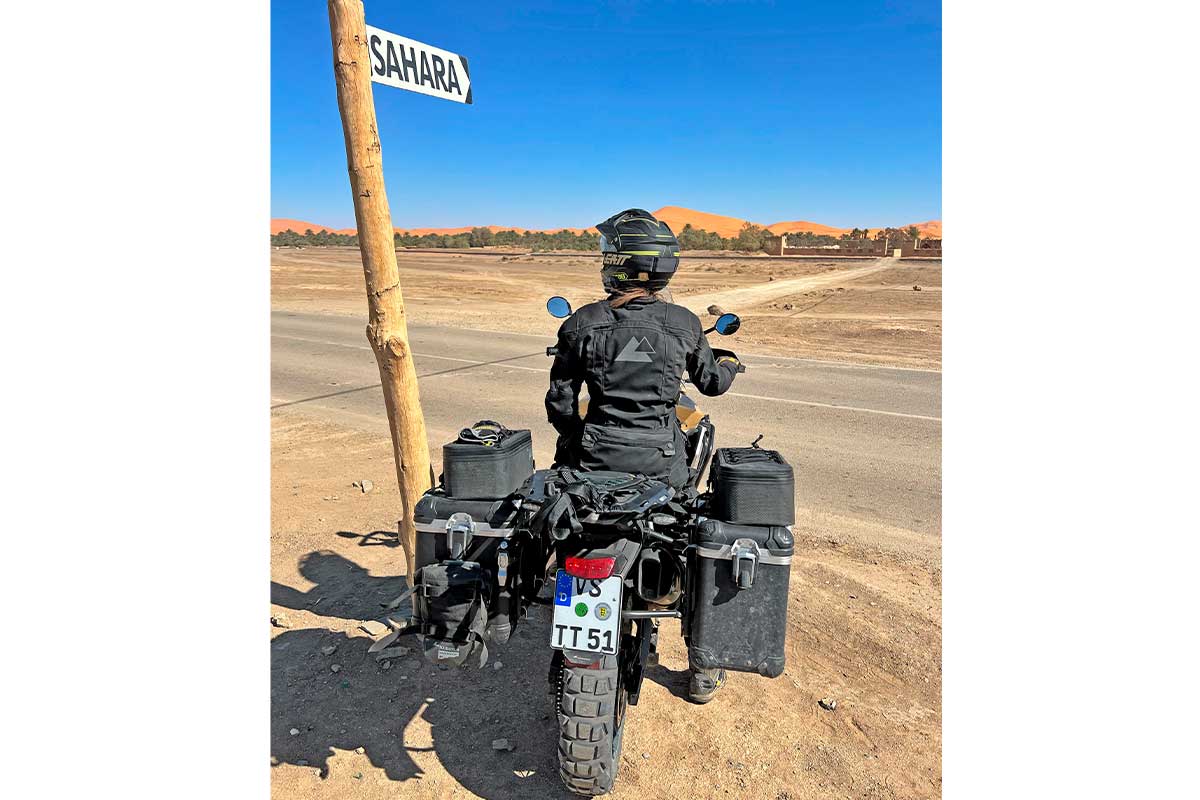 On the road and tracks
The road network is well developed, yet an almost endless network of unpaved roads awaits adventurous travellers. The situation is similar in the desert areas in the south. If you just want to get a taste of the Sahara, you can easily cross the rock, scree and sand deserts on well-maintained roads. Once you have acquired a taste for it, shorter and longer excursions into the open countryside are possible at any time. But of course you should not underestimate the dangers of the desert in Morocco.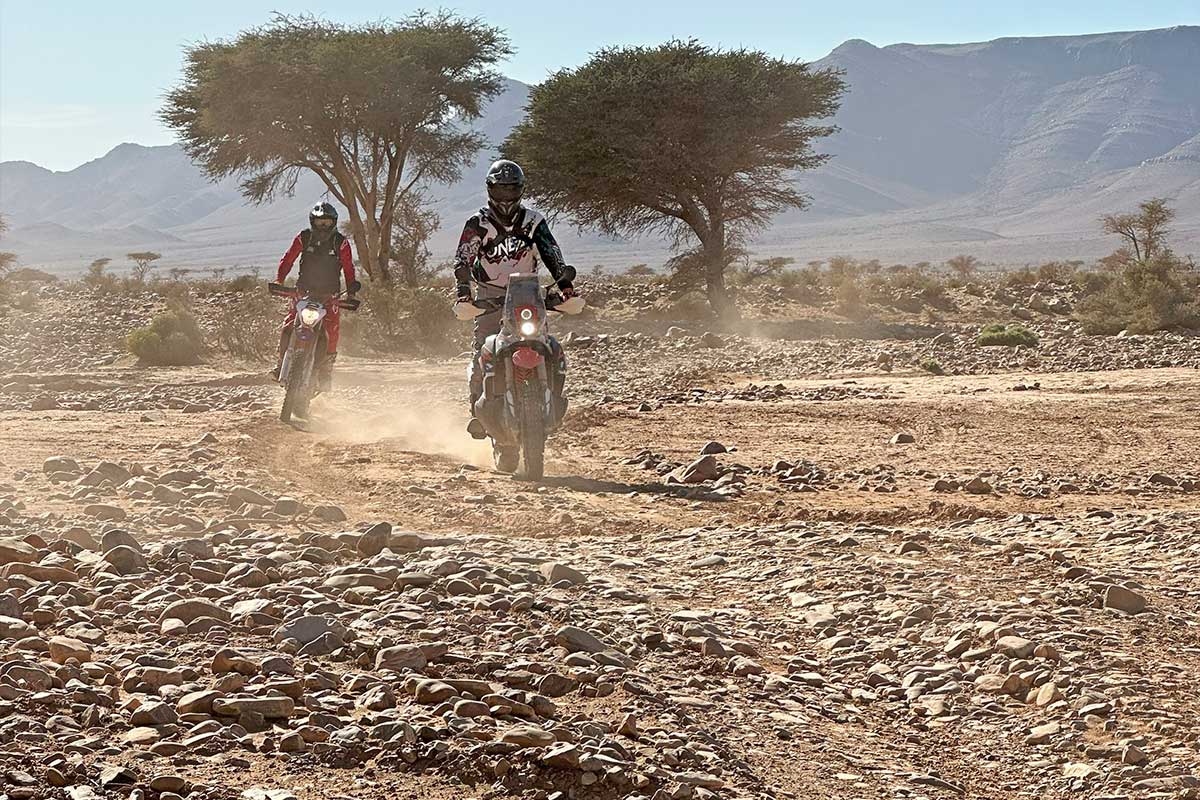 To prevent frustration from getting the upper hand on your first dune rides, it can be a good idea to rent a light sport enduro for practice. This is possible in Merzouga, for example. Sandra and Fiona from ADV Travel Bug took advantage of this opportunity and improved their dune riding skills in no time. "Fiona had never ridden on sand in her life and glided over the dunes in less than an hour on a rented 450cc KTM," Sandra reports.
Those who arrive with their own adventure bike should also make sure to keep the weight low for the off-road stages. "Less is more, so be sparing with your luggage," advises enduro crack Dirk von Zitzewitz. "In my opinion, you have more fun and safety when riding without luggage. That's why a guided tour through the dune areas can also be a good idea," he recommends. "You are not alone on the road, you ride a lighter motorbike and you have a technical backup."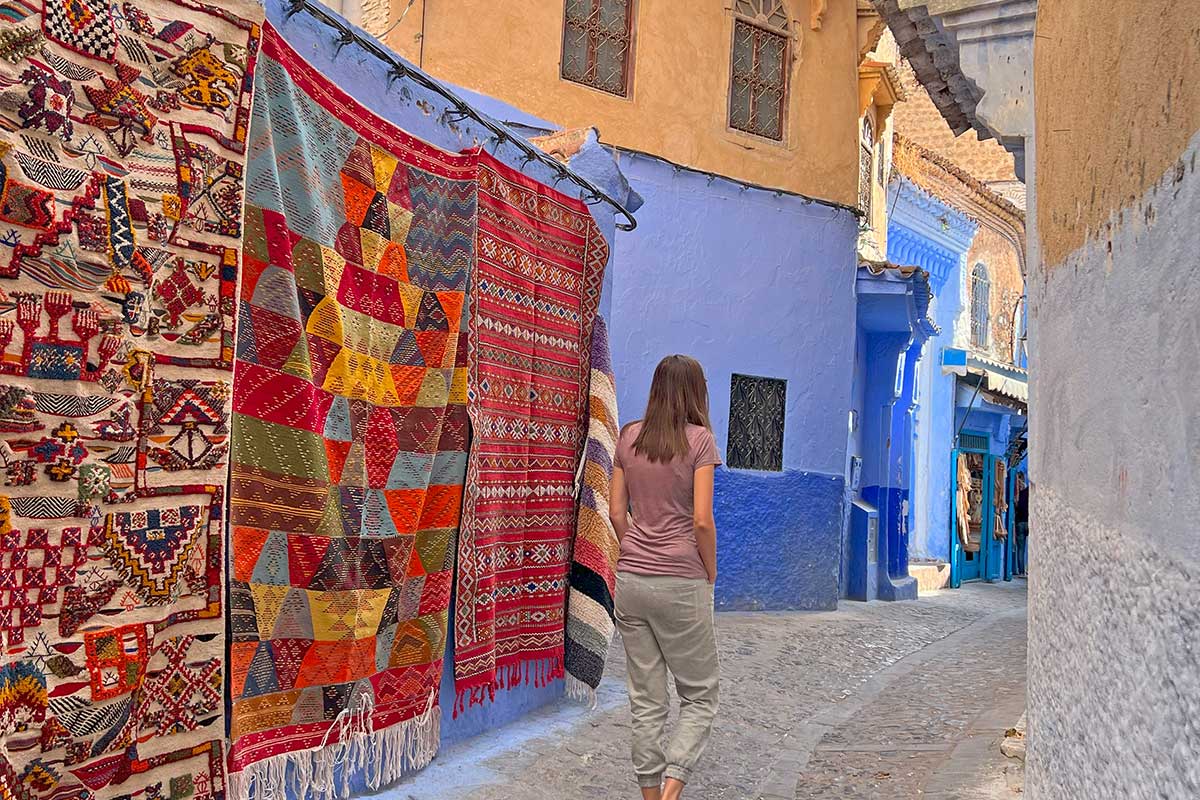 Wide choice of accommodation
Morocco is also recommended as an entry-level country because of its very good tourist infrastructure. Accommodation and restaurants of various categories can be found not only on the coasts and around the big cities, but also in more remote parts of the country. Most hotels are quite cheap outside the European school holidays, and the motorbike can be safely parked there. Thanks to Google Maps and various booking apps, it's no witchcraft to find a suitable hotel.
If you want to camp, you should pack a thick sleeping pad, because most campsites are rather stony, recommends Marc Haezenberghe, co-owner of the Adventure Centre in Casablanca and Touratech importer, a veteran motorbike globetrotter.
Mobile phone coverage is good in Morocco, and many European phone providers count Morocco as their roaming zone. You should check before your trip if this applies to your own provider. Alternatively, a prepaid card can be purchased from a Moroccan provider.
Morocco is a very safe country where travellers can feel welcome. However, one should be prepared for the fact that traffic rules are hardly observed, but this has improved considerably in the last 20 years, Marc Haezenberghe knows.
On a culinary discovery tour
Moroccan cuisine is world-famous. Couscous is now almost a standard dish even outside the country's borders. Always worth a try are the fragrant tajines, stews cooked in clay pots. The various types of stuffed dumplings, chickpea dishes and meat skewers grilled over charcoal embers also promise to please the palate.
As far as food is concerned, travellers should find out in advance whether their tour takes place during the Muslim fasting month of Ramadan. The period can shift by 10 days each year. During Ramadan, most restaurants and bars are closed during the day. During this time, you should prepare a small snack in the hotel in the morning - unless you also want to fast until sunset, advises Marc Haezenberghe.
Culturally interested travellers will be enthralled by the architecture of the old towns, for example in Marrakech, Meknès and Fez, or enjoy the labyrinth of streets in Chefchaouen at the foot of the Rif Mountains with its blue houses.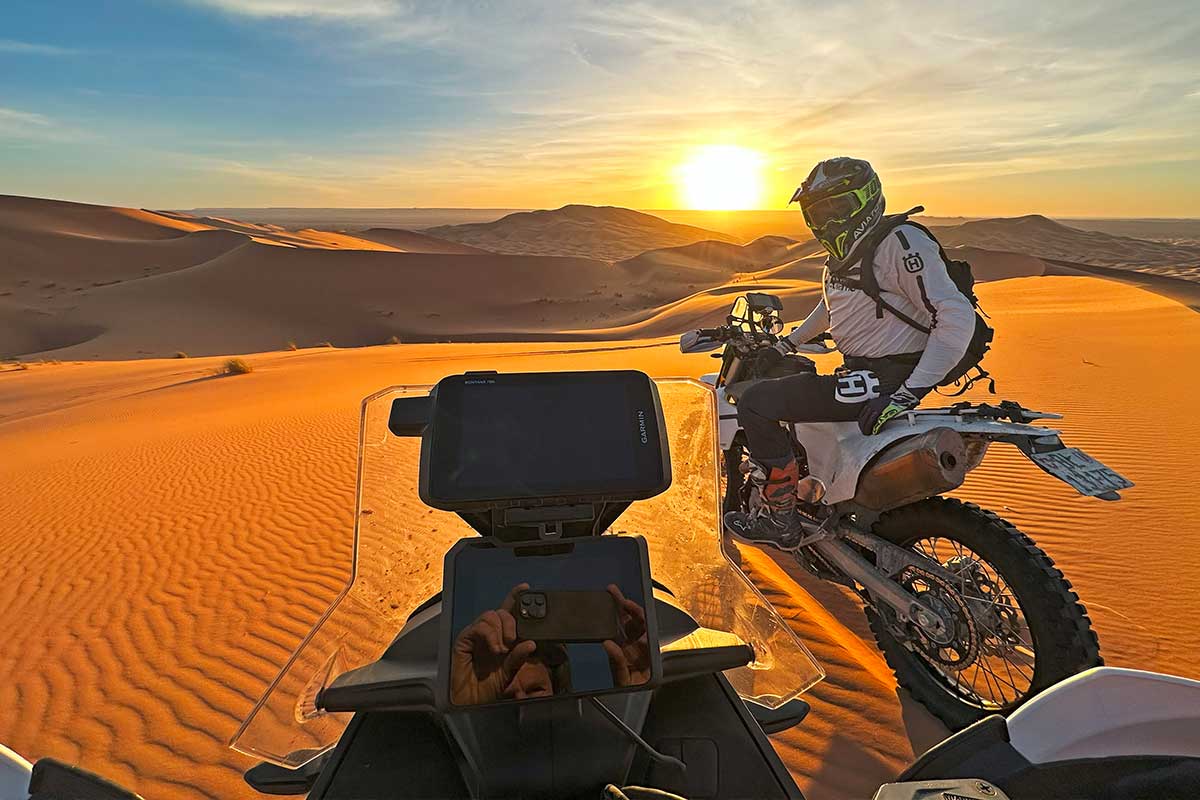 Desert tours with brains
If you want to gain your first desert experience on a motorbike, there are plenty of opportunities to do so in southern Morocco. Of course, you must have solid off-road riding skills. If you are not sure, you can refresh your existing skills with an enduro training course. Off-road professional Dirk von Zitzewitz also advises this: "If you want to go off-road in Morocco, you should definitely be an off-roader. Sand or sandy sections must always be expected. As a rule, it is not possible to drive around them. So you shouldn't have a 'sand allergy'...", says the multiple German Enduro champion and Dakar winner (in the car).
Renting a motorbike in Morocco
If you don't want to travel by ferry and/or on the road, you can fly to Morocco and rent a motorbike there. In the tourist centres, there is a wide choice of motorbikes, ranging from sporteduros to heavy bikes. However, there is often a lack of equipment suitable for travelling. This is where Marc and Younes' Adventure Centre comes into play. They have a fleet of current BMW R 1250 GS, F 750 GS and Husqvarna Norden, which are fully equipped with Touratech parts including aluminium cases or softluggage systems. The comprehensive insurance cover for the machines includes rides on gravel roads, only cross-country trips through the dunes are not covered. The motorbikes can be picked up directly at the Adventure Centre in Casablanca or at the depots in Tangier and Marrakech. There are cheap flights from Europe to all three cities.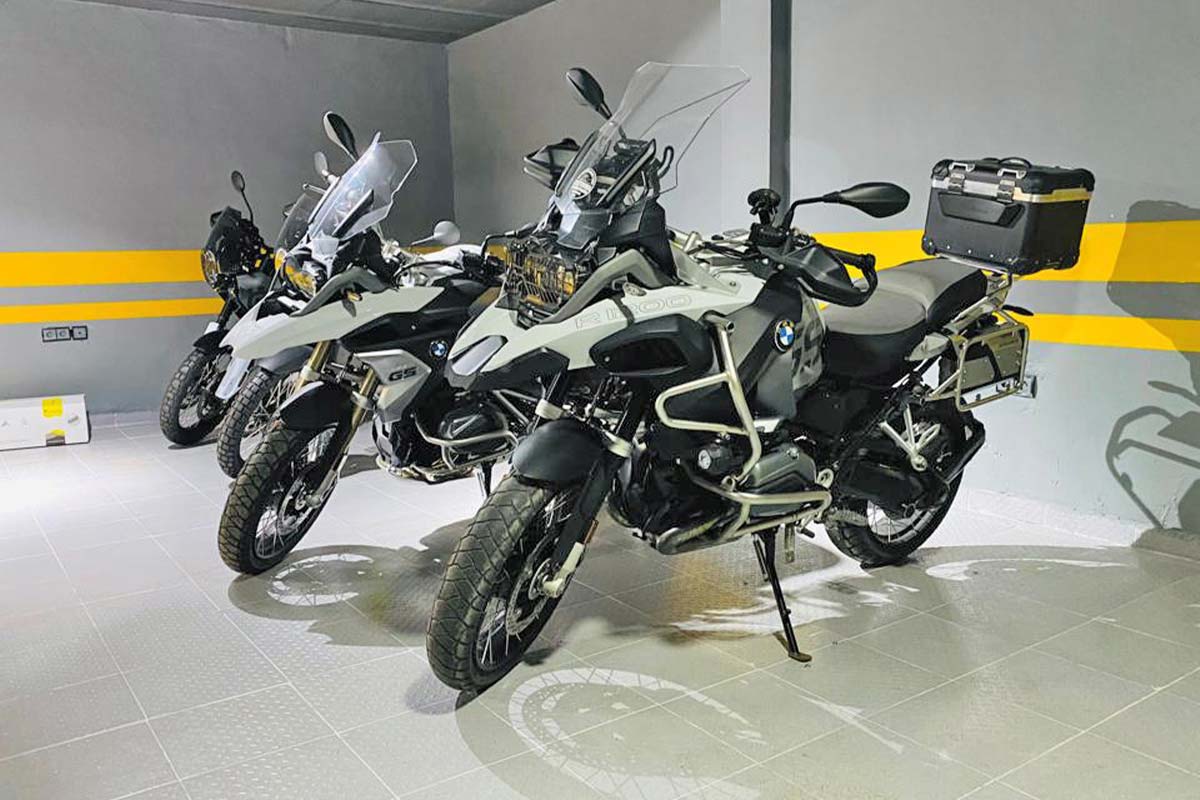 Adventure Centre Casablanca
With the Adventure Centre in Casablanca, Touratech now also has a base in Morocco. And what a base it is. Located 20 kilometres south of Casablanca in the new residential area of Dar Bouazza, known for its surf spots and beautiful beaches, the new location is the perfect starting point for trips to the different parts of the country. Fully equipped rental motorbikes are offered here, as well as a wide selection from the Touratech product range.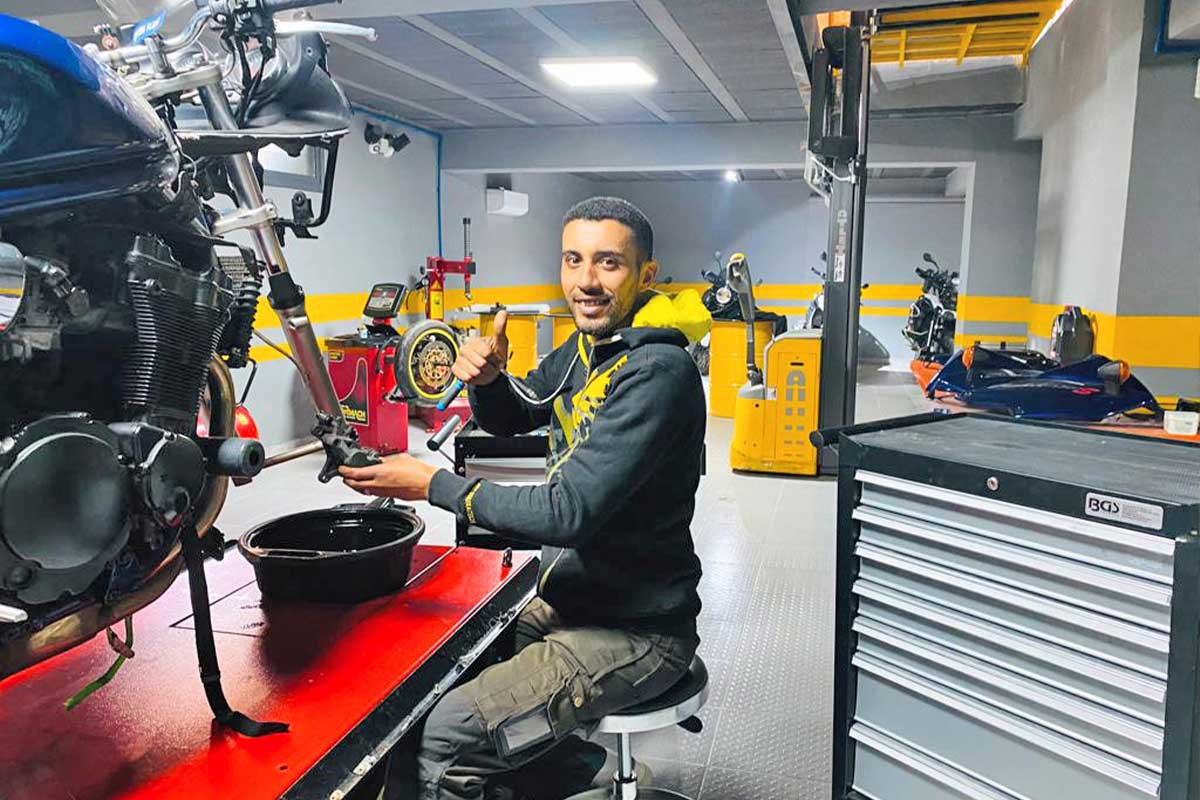 If something is missing on their own bike, travellers will find a competent contact point here. From tyre changes and repairs to complete service, everything is possible.
The Adventure Centre is run by Marc and Younes, two motorbike enthusiasts who have been working together for 25 years. When Marc returned from his motorbike world tour, the two decided to found the company in Casablanca.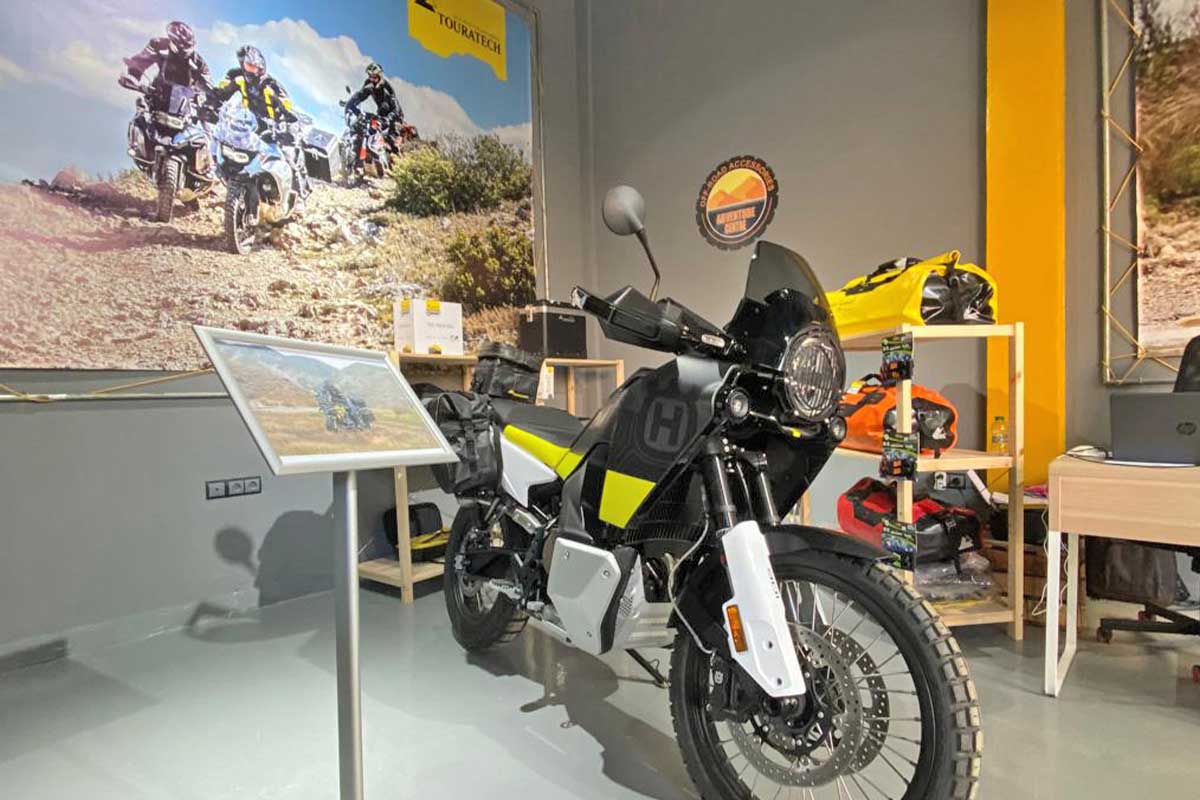 Besides distributing Touratech products, the Adventure Centre is an importer for Heidenau tyres and has the licence to distribute the Husqvarna Norden 901.
Adventure Centre Casablanca: www.adventure-centre.com
ADV Travel Bug: advtravelbug.com
Zitzewitz Moto Events www.zitzewitz.com