Long spring travel gives you speed - this age-old adventure bike wisdom still holds true today. The longer the working distance, the more sensitively the spring elements can be adapted to effectively "eliminate" uneven ground. But for many people, an adventure bike - and we're not just talking about tough sports bikes, but also the popular dual and adventure bikes - is simply too high. After all, not everyone has the riding skills of little big Gaston Rahier, who casually swung himself onto his Dakar Racer from the foot peg. The majority of Adventure riders want their feet to be in contact with the ground at all times.
Even if smaller riders can balance an adventure bike to some extent by standing on the tips of their toes when they stop at traffic lights, critical situations can suddenly occur off-road, even leading to painful tipping over. If you are travelling off-road with luggage, the problem is increased.
Careful analysis of the problem
"When customers approach us with this problem, we check various options for reducing the seat height," explains Felix Knop, responsible for suspension systems from Touratech Suspension. "The first and often most inexpensive step is a flatter seat. We have correspondingly upholstered versions in our product range for a large variety of adventure bikes," the expert says. "Only if we fail to achieve a satisfactory result with that do we get down to the nitty-gritty, i.e. the suspension system."
This was also the case with Renata's BMW R 1250 GS. Renate is known to a wider public due to her motorcycle adventures alongside her husband Dieter, which the two publish on social media under the label Duo 93 Adventure. With a height of 164 centimetres, Renata is certainly not one of the smallest riders but, for her, safe ground contact with both feet was hardly possible on her GS. "For our world tour, I wanted a motorcycle that combined maximum safety with the best performance and comfort," Renata describes the initial situation.
Her 1250 was factory-equipped with the BMW ESA, which had also served her well up until then. "Even though the ESA offers good performance and we were basically satisfied, it is still clear that a large-series suspension can only be designed for an "average person" and an average additional load. Along with this wish for an individual set-up, there was also the wish for a reduced seat height.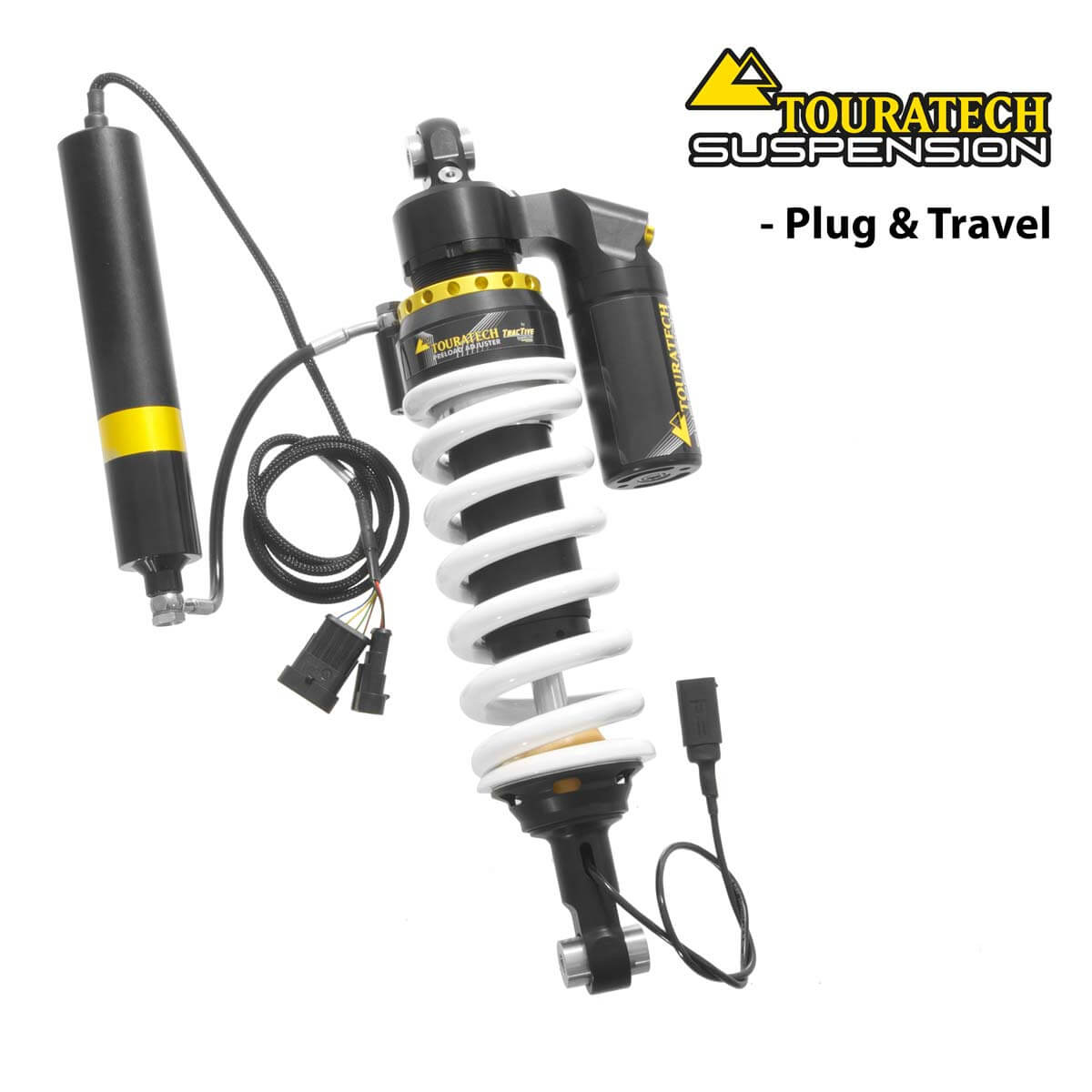 Height lowering kits rely on the same high quality components as the standard DDA Plug & Travel type.

With the DDA / Plug & Travel suspension system height lowering set, Touratech Suspension had the perfect product on the shelf for this purpose. "As with all our spring elements, the first thing we do when converting to this electronic suspension system is a suspension check" explains Knop. "We use a particular system to record important parameters such as rider weight, planned additional load, riding style and area of use. On this basis, we select the spring elements and tune them individually."
Like the version with standard spring travel, the Touratech Suspension height lowering component is integrated into the motorcycle via the original BMW control unit. According to the motto "Plug & Travel", the existing plug connections can simply be used. The configuration options for the various riding modes and the additional load adjustments remain the same.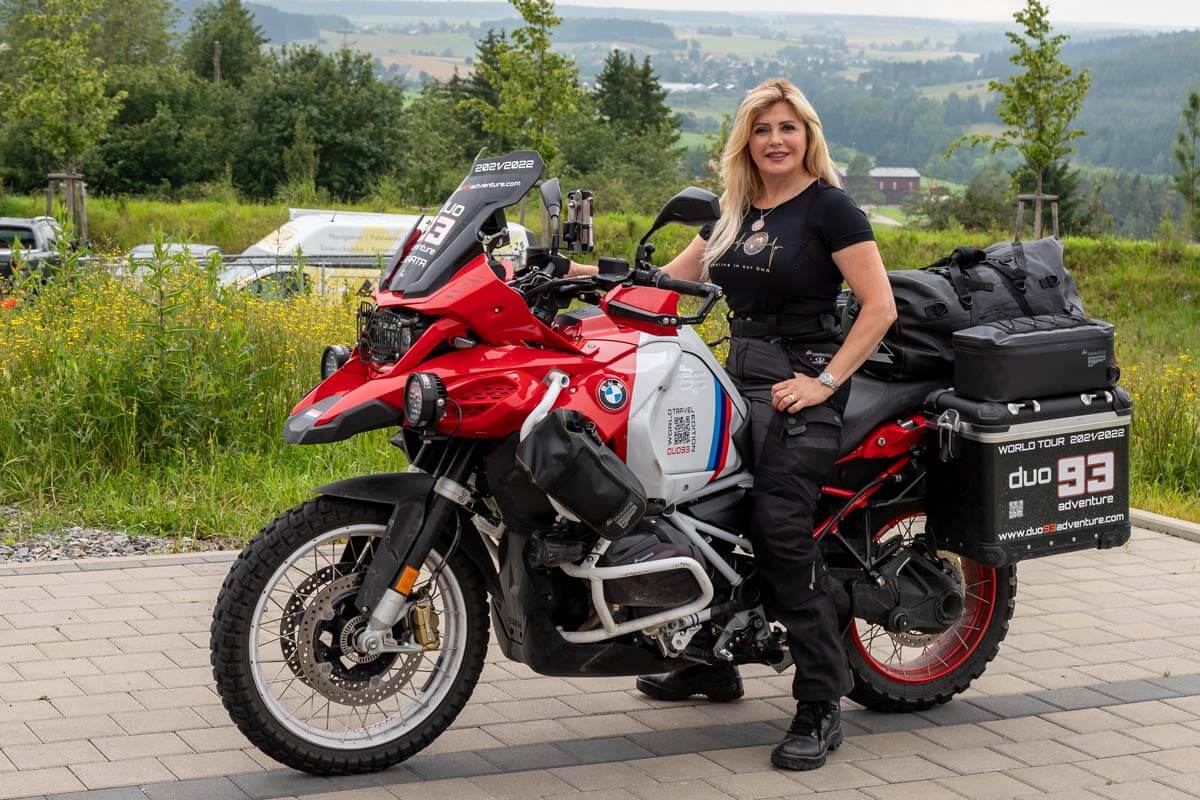 Thanks to the height lowering kit from Touratech Suspension, even a woman with a height of 164 centimetres can safely reach the ground with both feet.
Precision components for sensitive response
This electronic suspension system is manufactured with the same precision components as the conventional spring elements from Touratech­, plus the patented DDA high performance valve. This adjusts the damping to any riding situation in a fraction of a second. The electronic spring elements are also fully service-enabled.
In the case of height lowering, the shock absorbers offer an additional adjustment of the damping characteristics to achieve optimum performance in both onroad and offroad use, despite reduced spring travel. By installing the DDA / Plug & Travel suspension height lowering set, Renata's GS ended up with a seat height reduced by 40 millimetres in addition to a setup specially adapted to her needs.
This adventure rider has already covered more than 20,000 kilometres with her new suspension system on a wide variety of tracks. "We rode ACT Italia - at times with full luggage load - and completed a five-week Iceland trip, 60 to 70 per cent of which was offroad on gravel roads, grit, and tracks with corrugated surfaces. Especially under these conditions, the Touratech suspension system proved to be outstanding and we were grateful for it every day," is how Renata describes her experience with the conversion so far.
Touratech regularly receives similar feedback from customers who have lowered their motorcycles. "Of course, you lose some spring travel by lowering the height, which initially doesn't seem desirable for an adventure bike ," Felix explains. "But the safety gained by having your feet on the ground at all times easily compensates for those few centimetres. We have to recognise that four centimetres less, when it comes to a long-stroke shock absorber, is not really much, but in terms of seat height this amount makes a huge difference," Knop continues.
Extensive range of lowering options
Touratech has developed height lowering sets for a wide range of motorcycle models. The careful tuning of spring hardness and damping characteristics compensates for the loss of spring travel, as far as is possible, and in return, the customer gains a motorcycle that perfectly suits their individual stature – for safe and certain offroad fun.
Touratech Suspension Set Plug & Travel
Touratech height lowering
Touratech has developed height lowering kits for numerous motorcycle models. The simplest solution, which is often quite sufficient, is to replace the suspension springs in the fork and shock absorber. For the front suspension, springs with progressive characteristics are used.
Even better performance of the lowered suspension system can be achieved by using high quality shock absorbers from Touratech Suspension in combination with appropriately adapted fork springs. Closed cartridge kits are also available for height lowering.
For the Boxer-GS, we recommend the combination of two shock absorbers with reduced travel – these are available both in conventional design and as an electronic DDA / Plug & Travel suspension system set.
Regardless of which solution the customer decides on, every conversion is preceded by extensive personal consultation to ensure a comprehensive, individual solution.