By Prof. Michael Hoyer
Marche – ever heard of it...? What was that…? Marche...? Tuscany, Lombardy, Umbria – we know about those Italian regions, of course... But Marche...?
Marche is a region in which you would never imagine there to be mountains (Sibillini Mountains) that are over 2400 metres high. There are national parks with gravel tracks and no prohibition signs. The only signs present state that vehicles must keep to the tracks. This should be strictly adhered to, because the national parks are controlled by the forestry police. Here, there are alluring offroad routes – some of them in a dreamlike setting – and many small medieval villages, built on the hillsides, as well as manifold churches (in Assisi, for example) to be visited.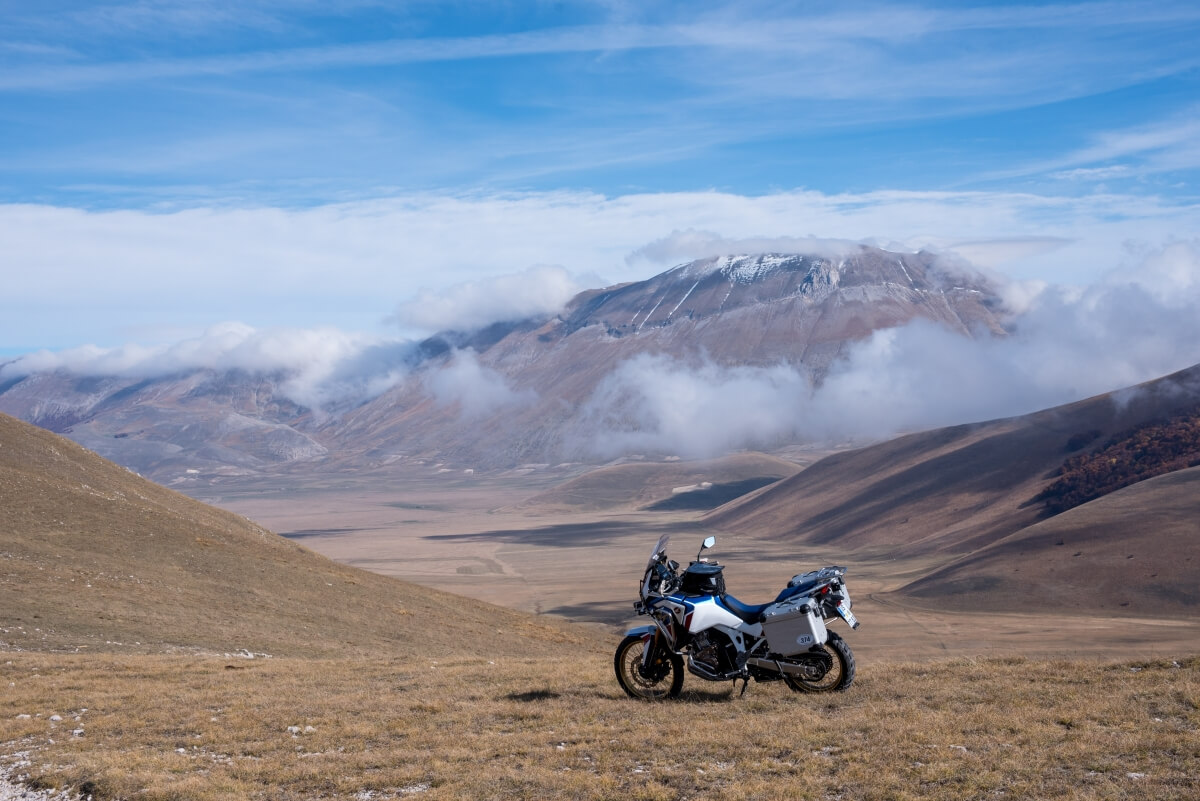 Marche, a region in the east of Italy, lies between the Apennines and the Adriatic Sea. Its capital, Ancona, is a port city on the Riviera del Conero, an area characterised by sandy bays, limestone cliffs and medieval villages. The famous opera composer, Rossini, was born in Pesaro. Inland, there are fortified mountain settlements and the glacier-formed valleys of the Monti Sibillini National Park. Back in 2005, the New York Times newspaper wrote a famous article entitled: "Is Le Marche the next Tuscany?" At that time, Marche was still an unknown region of Italy for most tourists from abroad. Some may have known a few towns along the coast, like Pesaro and Fano or the port city of Ancona from where they could take a ferry to Croatia. Others had maybe heard of the Renaissance city of Urbino, but nothing else.
For the Italians, too, Marche (the term "Marche" originated from the name "Mark" for a border region of the Holy Roman Empire) was perhaps just a transit region on the way south. "In Milan it is thought to lie on the border to Africa, in Palermo it is thought to be near Switzerland," was what the Italian travel writer, Guido Piovene, wrote about Marche in 1957.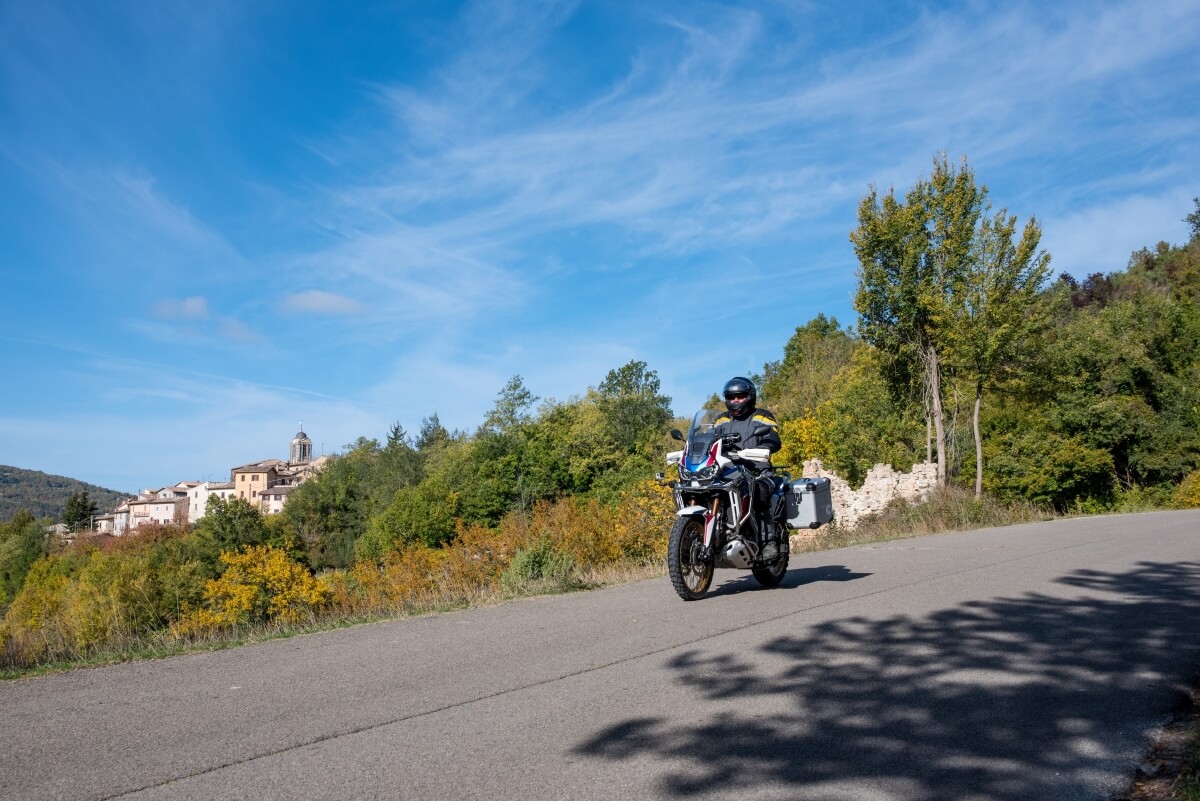 The Marche region is "molto italiano". There are lots of little shops where you can do your shopping. Here, everything takes place with very little hustle and bustle. Apart from the towns, it's a very lonely area. Even on the tarred roads and gravel tracks you hardly ever meet anyone.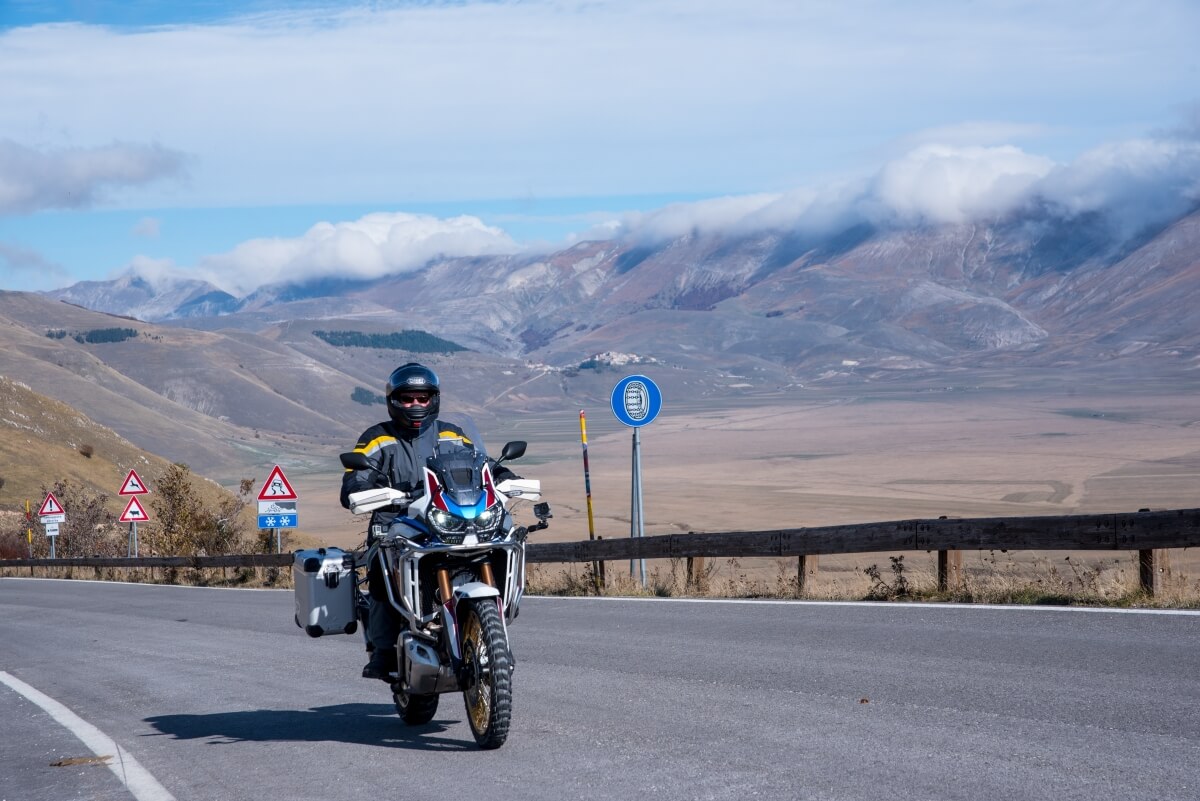 I'd had my eye on this jewel in the middle of Italy for a long time. And finally, in late autumn 2021, the time was right. With my good friend Jürgen, I set off for the border area between Marche and Umbria - to Sarnano. From the tourism point of view, Marche is a bit of a no-man's land in Italy. And yet there is plenty of very cosy and beautiful accommodation – and a great many hotels. Our accommodation for the week ahead in this historic town was Hotel "Terme". This hotel exudes the charm of the 1960s and is unbeatable when it comes to Italian flair.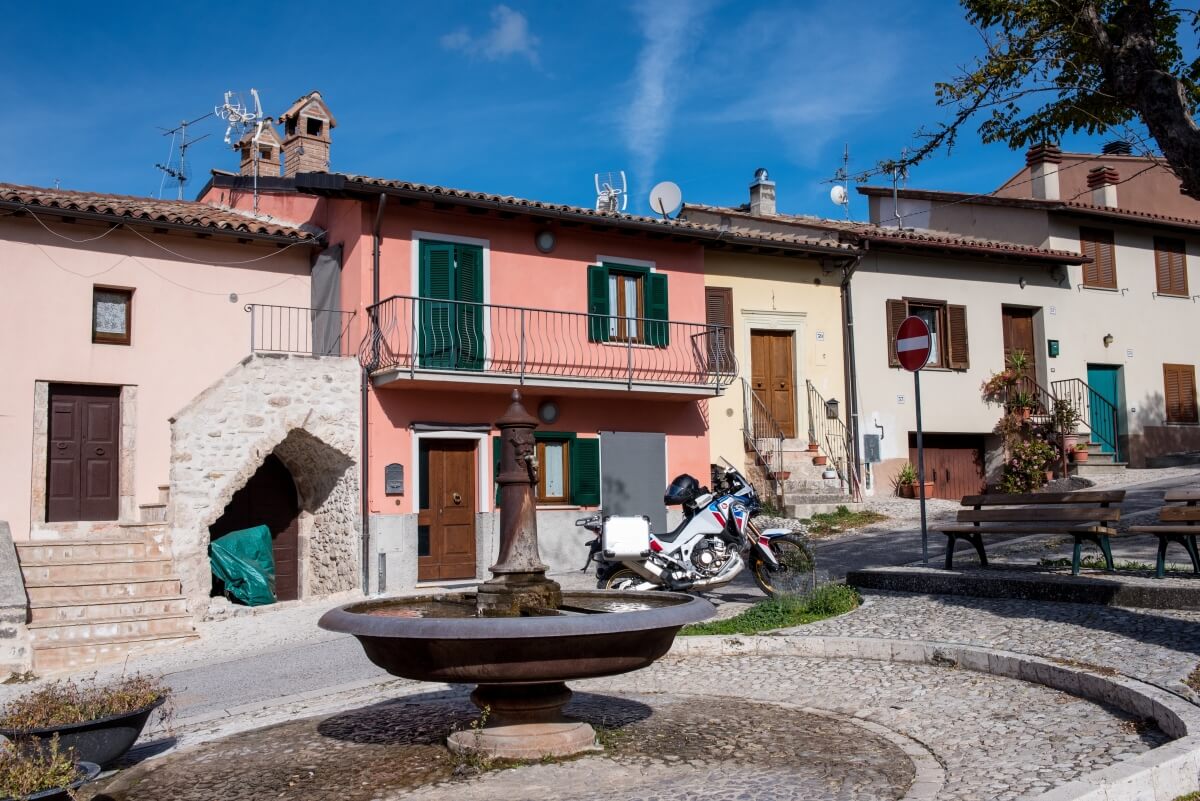 After a very tiring journey – the hotel was, after all, more than 900 kilometres away from our starting point in the Black Forest – we manoeuvred our adventure bikes out of the trailer – parked the car – and, over a pizza and some wonderful red wine, made plans for our offroad tours through Marche and Umbria.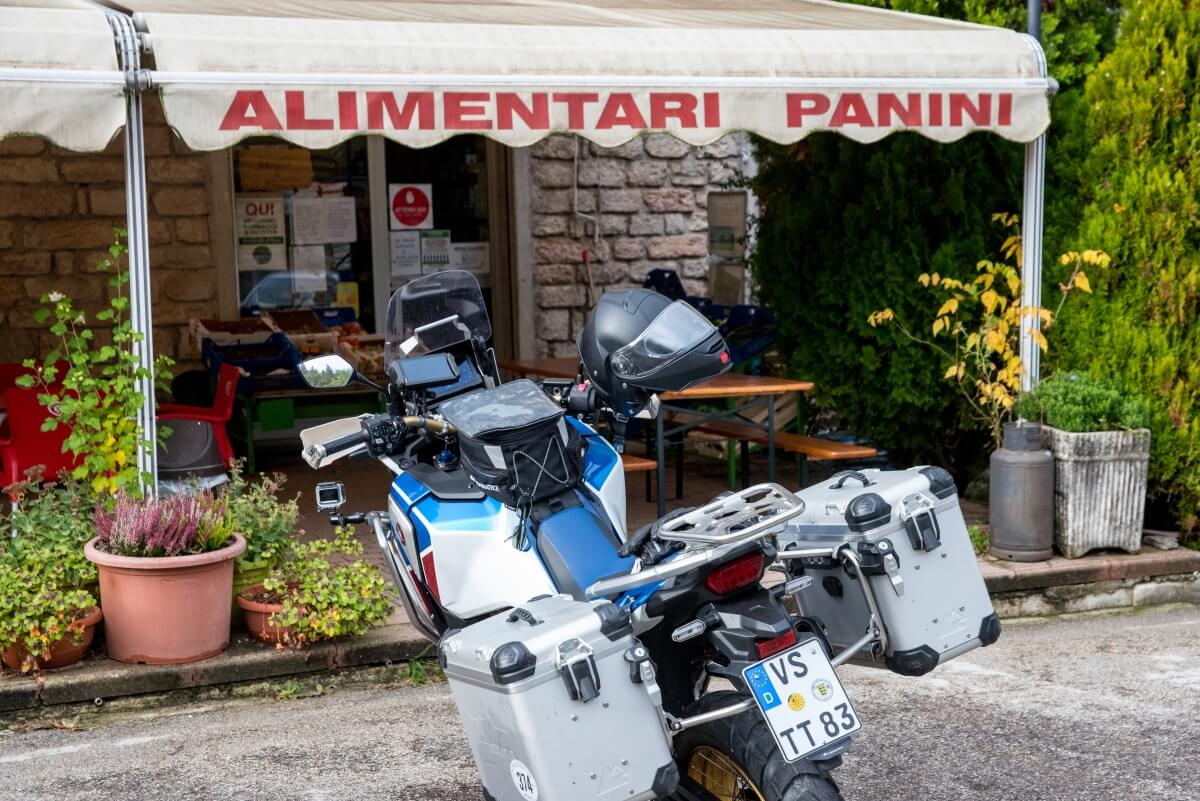 The very next day, perfect weather awaited us. It was cold. The on-board thermometer of my travelling companion – an Africa Twin Adventure Sports with Touratech suspension system – showed a fresh 2 degrees. At least it was PLUS 2 degrees – in the following days the thermometer would also be showing minus degrees. We left Sarnano at a brisk pace, heading towards the Sibillini Mountains.
We approached our actual destination, the small village of Castelluccio, via a winding, but well made, mountain road. After reaching the pass summit we looked out onto a vast plateau that seemed deserted and could have been from another world. You could almost have called it a lunar landscape – only it had vegetation and a small town on a hill on the horizon. Up there, at 1452 m, we were very glad to have our Compañero motorcycle suits on. The concept of this innovative motorcycle suit from Touratech was developed with precisely these kinds of weather conditions in mind. The two-layer concept maintains the interior warmth. The wind whistled around us, which meant that I definitely preferred to keep my helmet and gloves on during the photo session – it felt that cold. A glance at the thermometer quickly told me why...: Minus 4 degrees.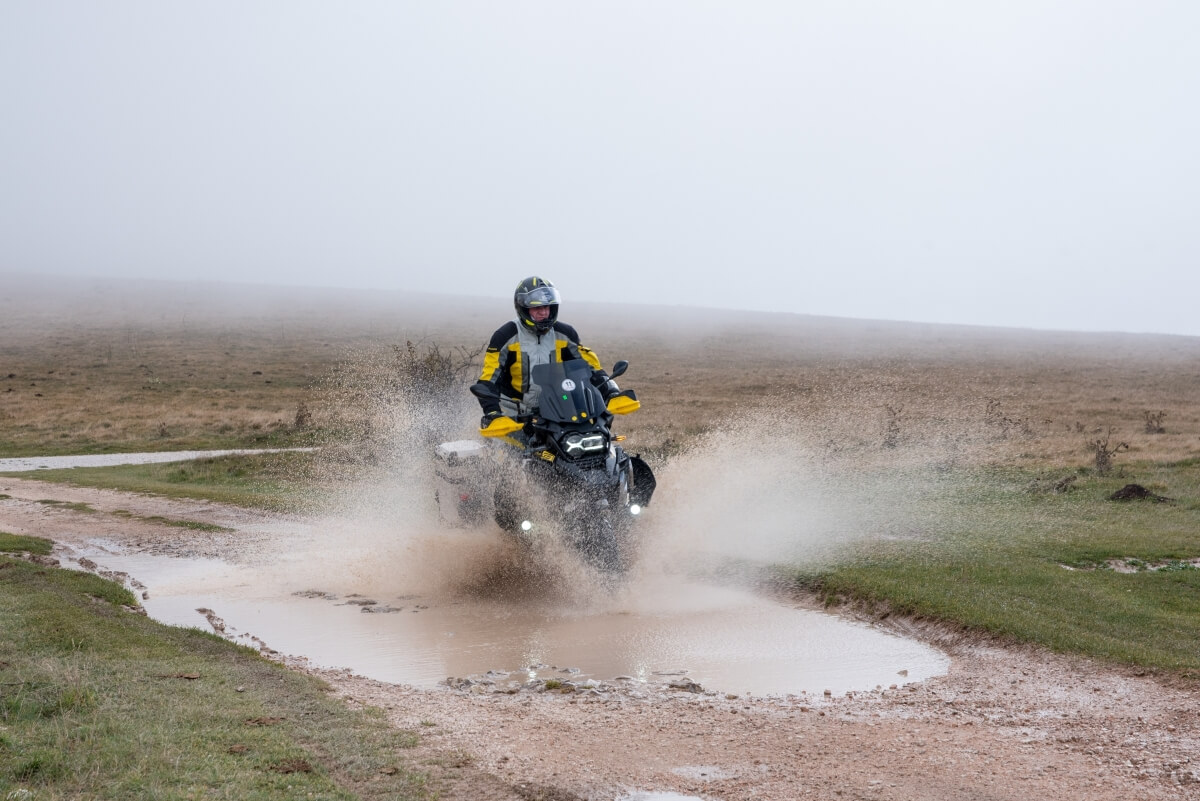 The Sibillini Mountains are a dream for motorcycling. A new, overwhelming mountain panorama awaits you around every bend. In late autumn, there are hardly any tourists here, so we were really delighted to get a wonderful "Zuppa di Farro", a tasty spelt soup that is considered a speciality of this region, in the afternoon, at the very cosy taverna in Castelluccio.
Feeling pleasantly full, we set off again on our journey through this fairy-tale mountain world towards Lago di Fiastra. One photo stop followed the next, and we couldn't get enough of those visually stunning natural scenes. Until then, we'd been riding over asphalt all the time – and we were truly glad to have gravel under our offroad tyres. The ride to Lago di Fiastra is said to be packed with views and panoramic vistas. Unfortunately, we saw next to nothing. Thick fog shrouded the Sibillini Mountains and we chugged through a ghostly mountain world on our adventure bikes. When we reached our destination, Lago Fiastra, it had even started to rain very lightly.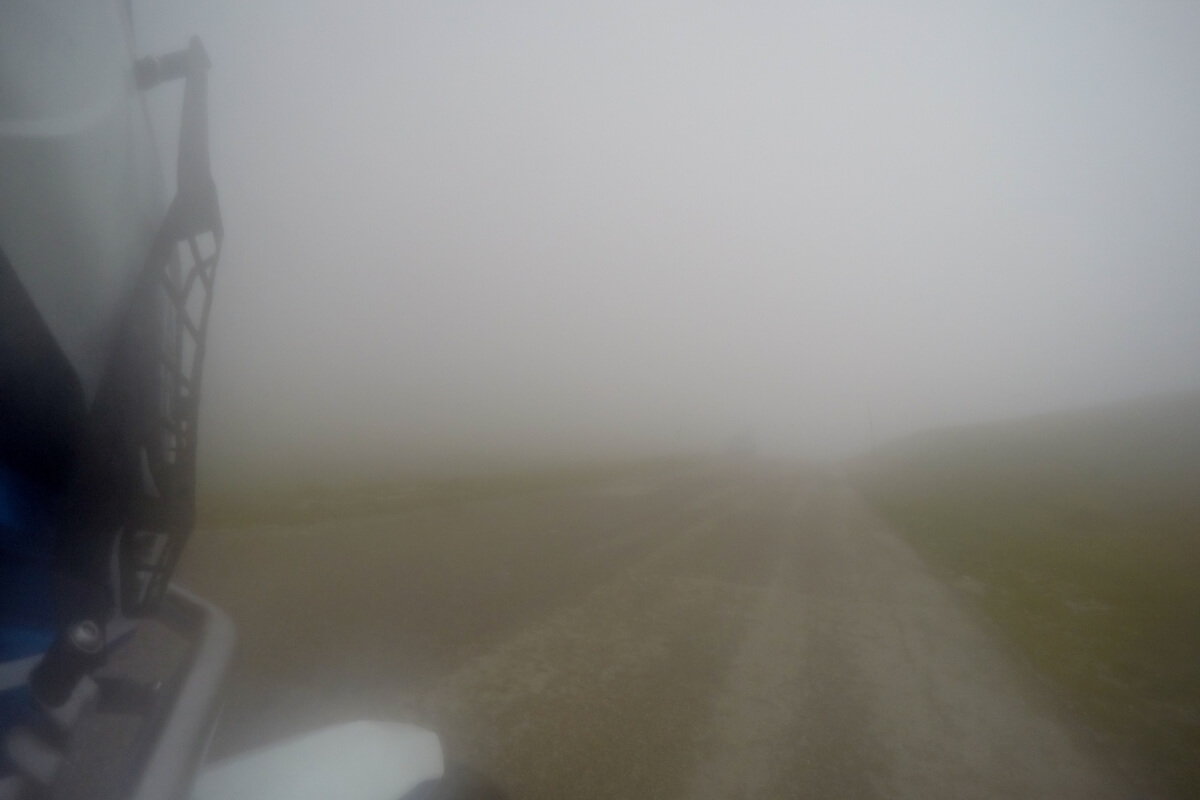 We spurred the bolides on and hurried back to our cosy hotel in Sarnano where, after a long and extensive hot shower, we turned our attention once again to a very important issue: Italian pasta and the finest grape juice.
We were in the border area between Marche and Umbria. So, we kept oscillating between these two regions – without actually noticing. The next tour started in Borgo Cerreto near Spoleto.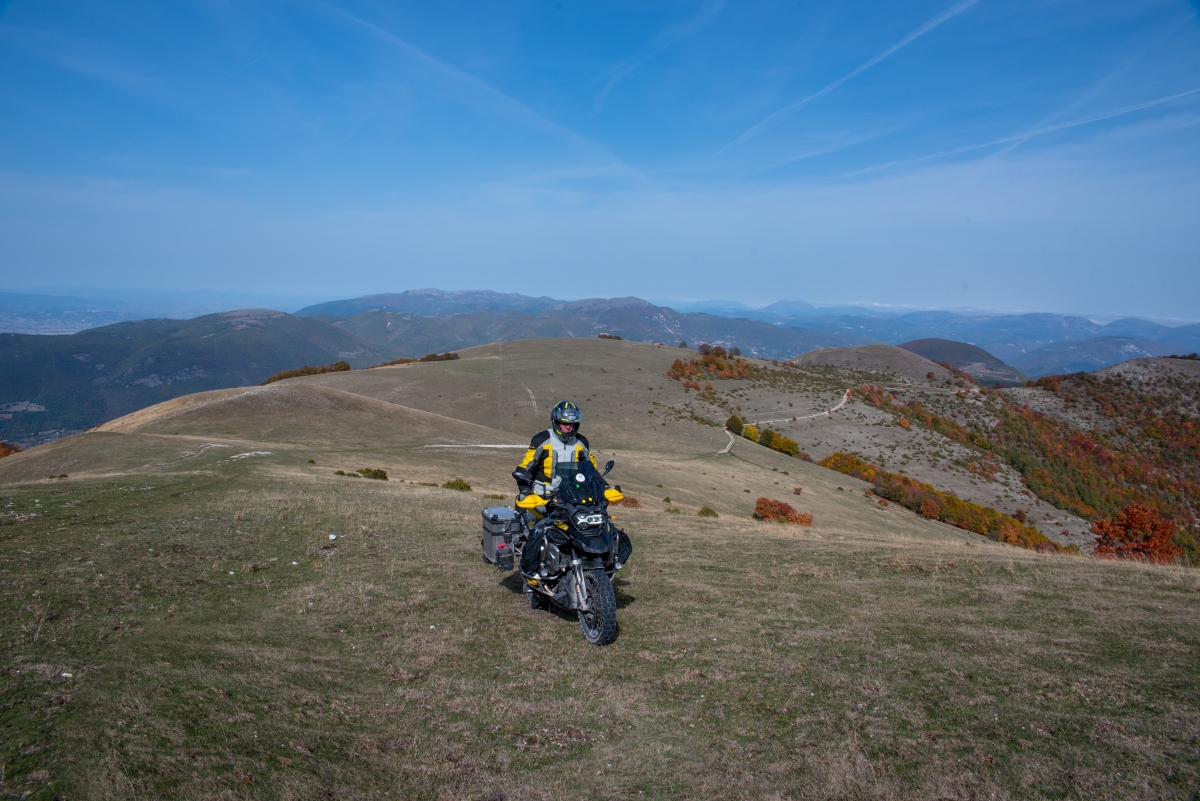 This area gained sad notoriety in 2016. A severe earthquake with a magnitude of Mw 6.2 shook the Italian provinces of Umbria, Marche, Lazio and Abruzzo on Wednesday, 24 August. The epicentre was near the town of Norcia, not far from Spoleto. The earthquake left several thousand people homeless. In total, this natural disaster claimed almost 300 lives. The Marche and Umbria regions have still not recovered from this earthquake. In all the towns and villages, you see a great many houses that are absolutely unsafe and supported by scaffolding against decay and collapse.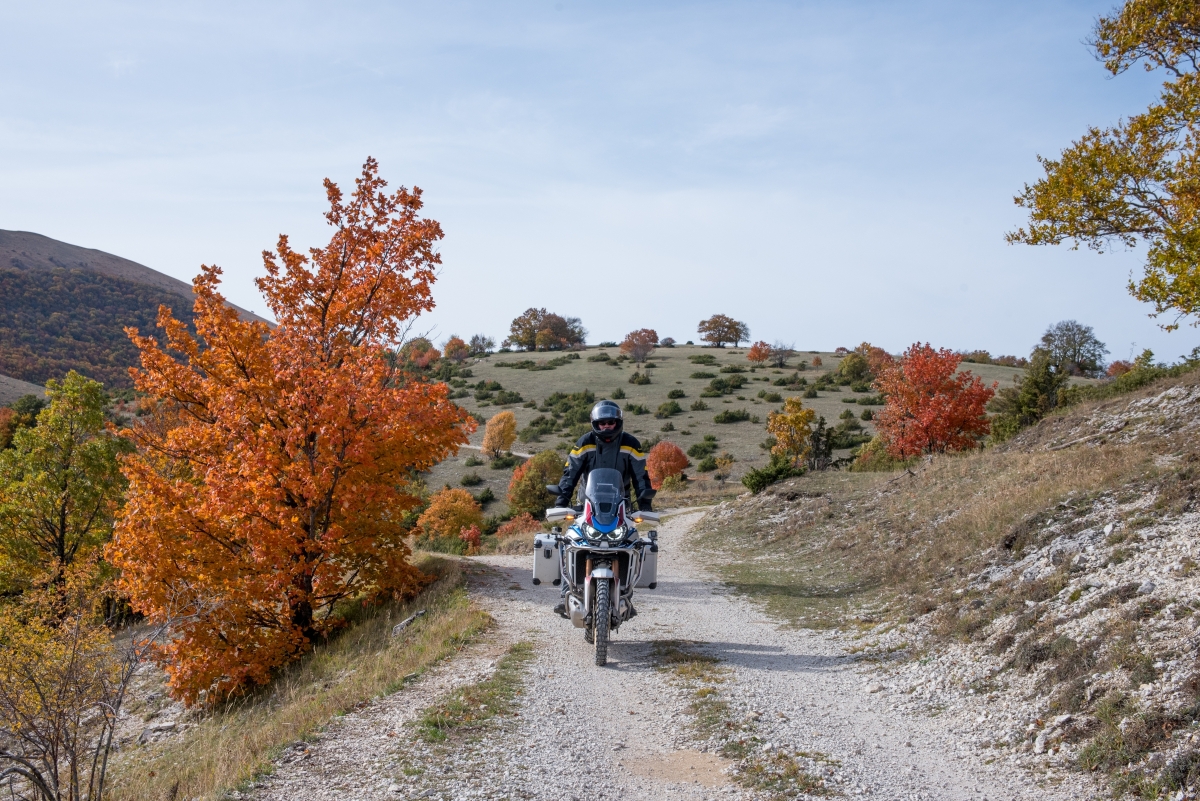 That day's offroad tour led right through the epicentre of the earthquake. To begin with, the route took us through two successive tunnels carved in stone. The trail followed a stream and we had to keep ducking low over our motorcycle seats, to avoid the branches of the trees that reached out very low over the trail. After those very adventurous offroad kilometres, we were again looking forward to enjoying the most beautiful mountain panorama on the Via di Pontuglia towards San Vito. If there is one region in Italy where fox and hare say "good night" to each other – as the Germans say – it is here. The little road winds its way up the mountain with extreme gradients of at times 28%. The only people who actually drive or ride up here are the mountain farmers and... well, a couple of daring adventure bike riders from the Black Forest. We did finally reach the Solenne summit, at just under 1600 metres, and enjoyed the view. The sun was already low, so we rode over steep and very rough gravel tracks back to Spoleto and then on to Sarnano.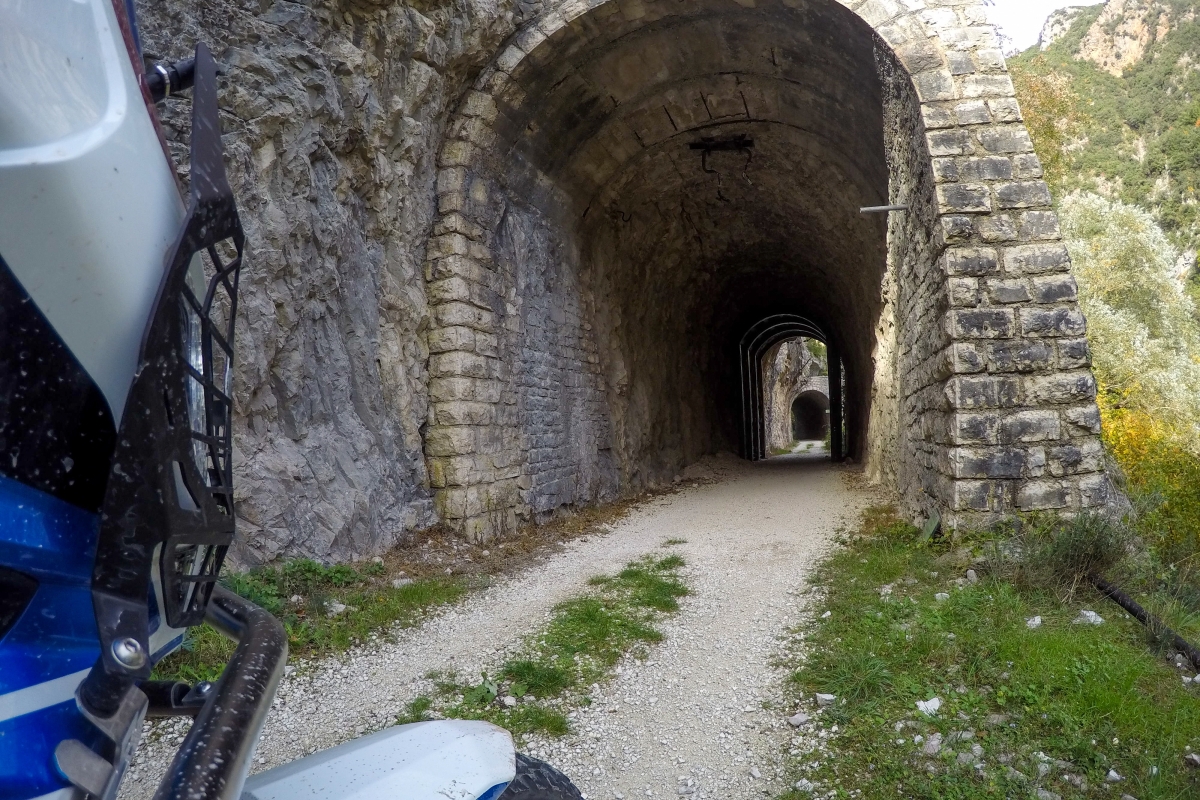 In late autumn, the weather in the mountains is always very changeable. The next morning we woke up, and I could already hear the rain pattering against the window pane. So – turn over again quickly and go back to sleep. Two hours later – the same story – the rain was drumming incessantly against the hotel windows. However, a cappuccino and a delicious Cornetto alla Marmellata not only awakens the spirits, but also promots the thirst for action. A glance at the map was enough and we decided to start off in the direction of the world-famous city of Assisi, which is only 80 kilometres away from Sarnano. And maybe we'd be lucky, the weather might improve and we'd then be able to ride along an exciting offroad trail from Spello over Monte Subasio to Assisi. And indeed - after 50 boring, cold and wet kilometres to Spello, the clouds opened up and there was the hint of a few rays of sunlight. The offroad track from Spello to Assisi is virtually an offroad highway. A wide, steadily ascending, easy-to-follow dirt road meanders up the mountains. Again and again we came across fantastic views and soon we saw the cult sites of Catholic tourism on the horizon: Assisi extends along the slopes of Mount Subasio above the Topino and Chiascio rivers. Assisi boasts Roman origins, and the present townscape was developed in the Middle Ages. In the year 1000, Assisi gained its independence. At that time, the city experienced an extraordinary development, which was particularly noticeable in the building of monasteries, especially Benedictine monasteries. Today, Assisi is one of the Italian places of worship, bound up, of course, with Francis of Assisi, who is venerated as a saint in the Catholic Church. In Assisi, you can also find a collection of exceptional works of art. The oldest part of the city is protected by a defensive fortification with a total of 8 entrances, surrounded by a long and very well preserved city wall, which ends at the two castles of Rocca Maggiore and Rocca Minore. The old town itself, with its narrow side streets and alleyways, offers surprising views and vistas, ever and again. Once more, I was glad we were on the road in October. Although the weather was anything but nice, there were already a great many tourists arriving in this historic city, in large buses. I can't even imagine the place in high summer when it must be teeming with tourists. In one of the side streets I discovered a quaint restaurant – Bistrot Monnalisa. The landlord waved us in happily – he realised we're motorcyclists immediately, because of our clothing. He proudly showed us a picture of a big Moto Guzzi MGX-21 and admitted sheepishly that he'd ridden it all of 26 kilometres that year... He simply didn't have time to devote to this beautiful hobby any more. He listened enviously to our travel reports and cooked us a fine lentil soup with sausages. Very tasty!!!
The weather held – and so we left Assisi again, offroad, over Monte Subasio towards Sarnano.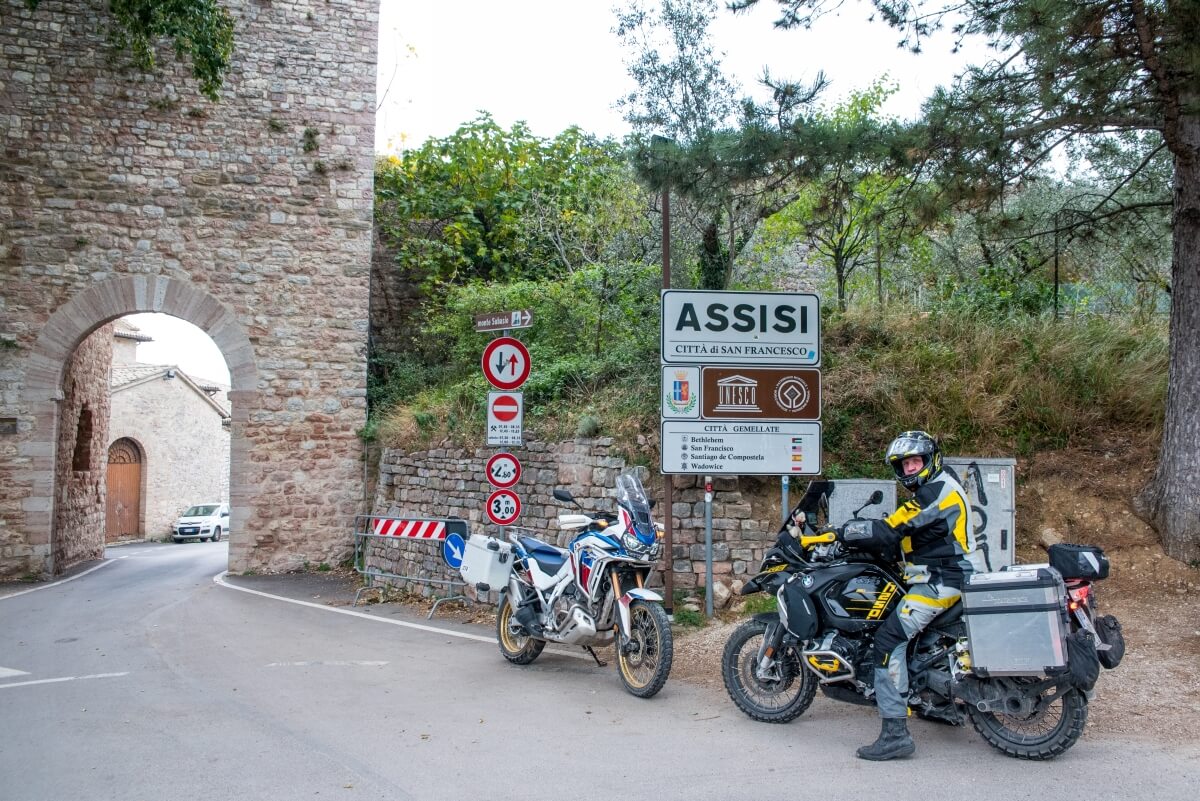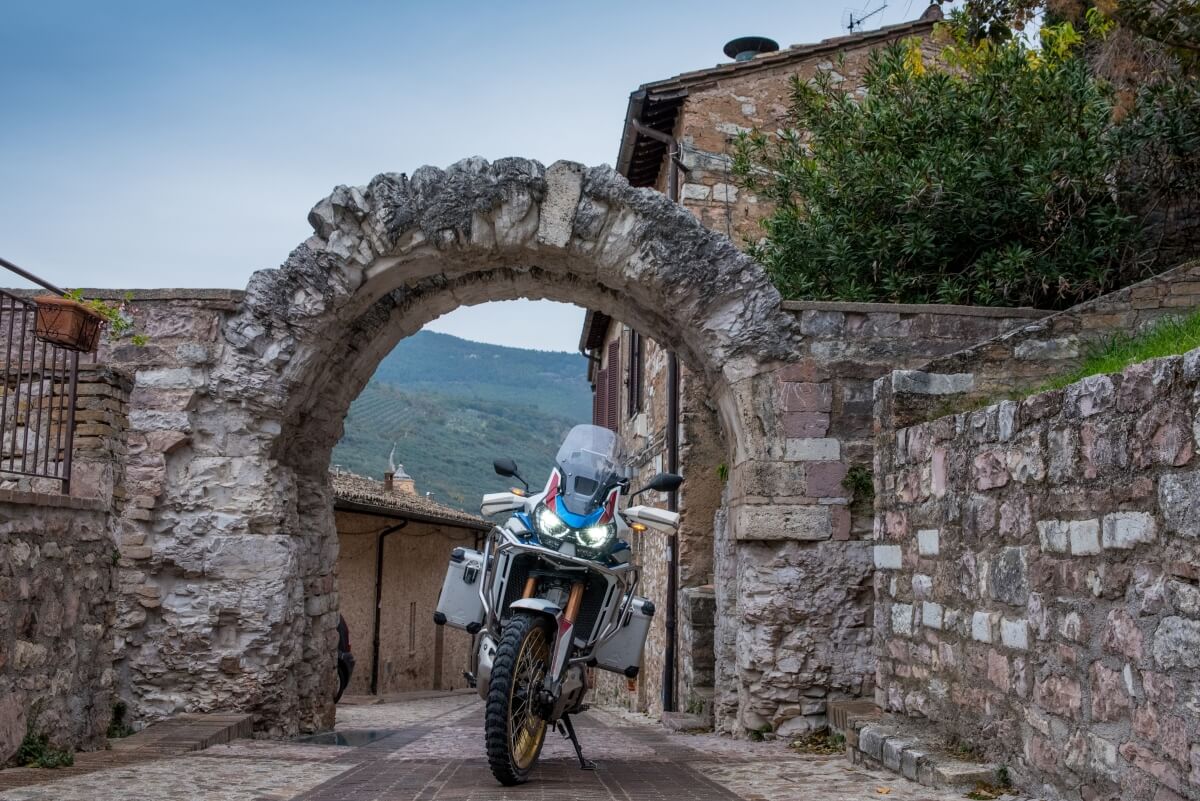 Each day was much like the one before. Up in the morning – then a wonderful motorcycle tour, offroad and onroad, through Umbria and Marche – then delicious Italian food with a bottle of wine in the evening. Life could have gone on like that forever... Unfortunately, we only had two tour days left. We decided to spend the next day on another wild and strenuous offroad trip to Monte Martino and Monte Martini. The heart of every adventure bike rider simply has to beat faster in this region. After every bend in the path, the Lord God has set up a new, phenomenal mountain panorama that simply has to be experienced and taken in. We were not only rewarded with beautiful views – at the very end of this tour we stood on a mountain peak opposite Assisi and admired the Umbrian mountains.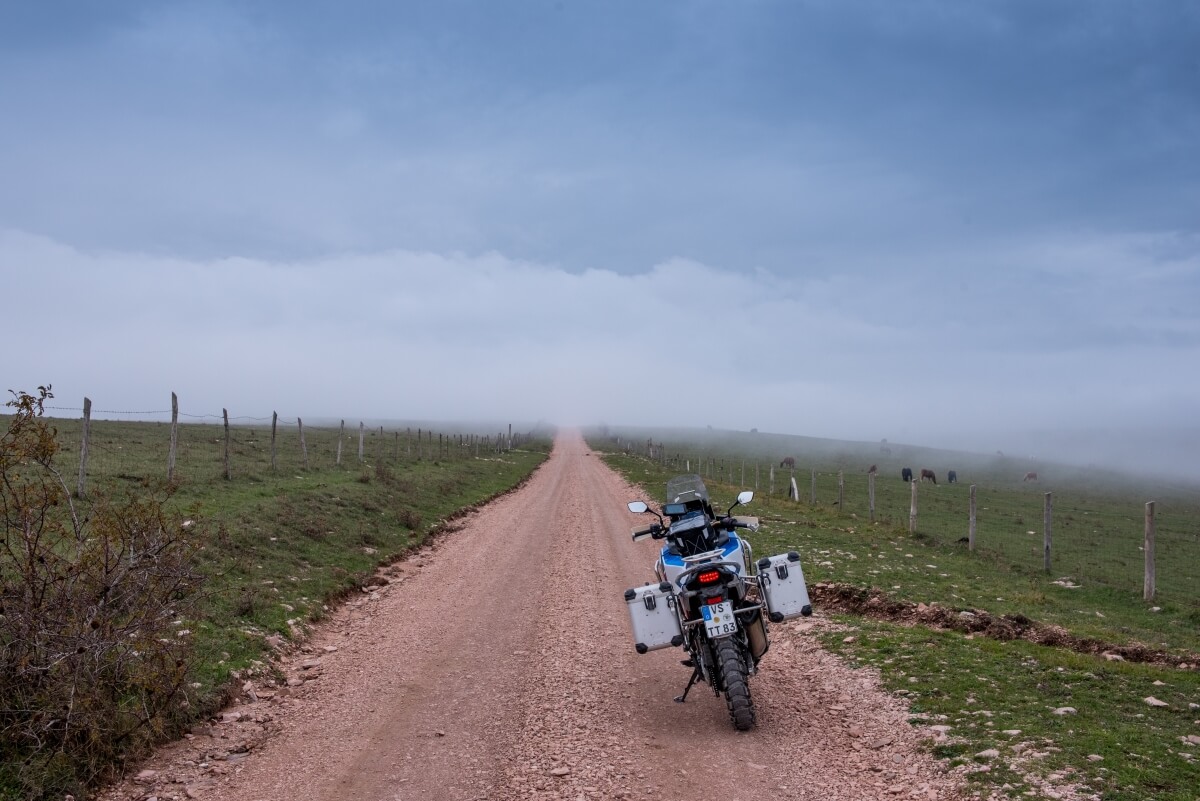 On the last day, we were drawn once again to the Sibillini Mountains. The evening before, I'd created an onroad tour on the smallest roads around Monte Sibilla and uploaded it to my sat nav. We started early the next morning in dense fog – but already after a few kilometres, the wall of fog lifted, and we rode through this biker's paradise towards Fiastra in perfect weather – bright sunshine and a fresh 5 degrees. As a crowning finale to that day's tour, we wanted to climb Monte Sibilla at an altitude of over 2100 metres. The track started off hard with a lot of steep climbs. At an altitude of approx. 1900 metres, we met the end of the road... The path had probably been slipping for years due to a mudslide and was not passable with large touring adventure bikes. Too bad, I would have liked to have stood on the peak that gave this region its name: Monte Sibilla.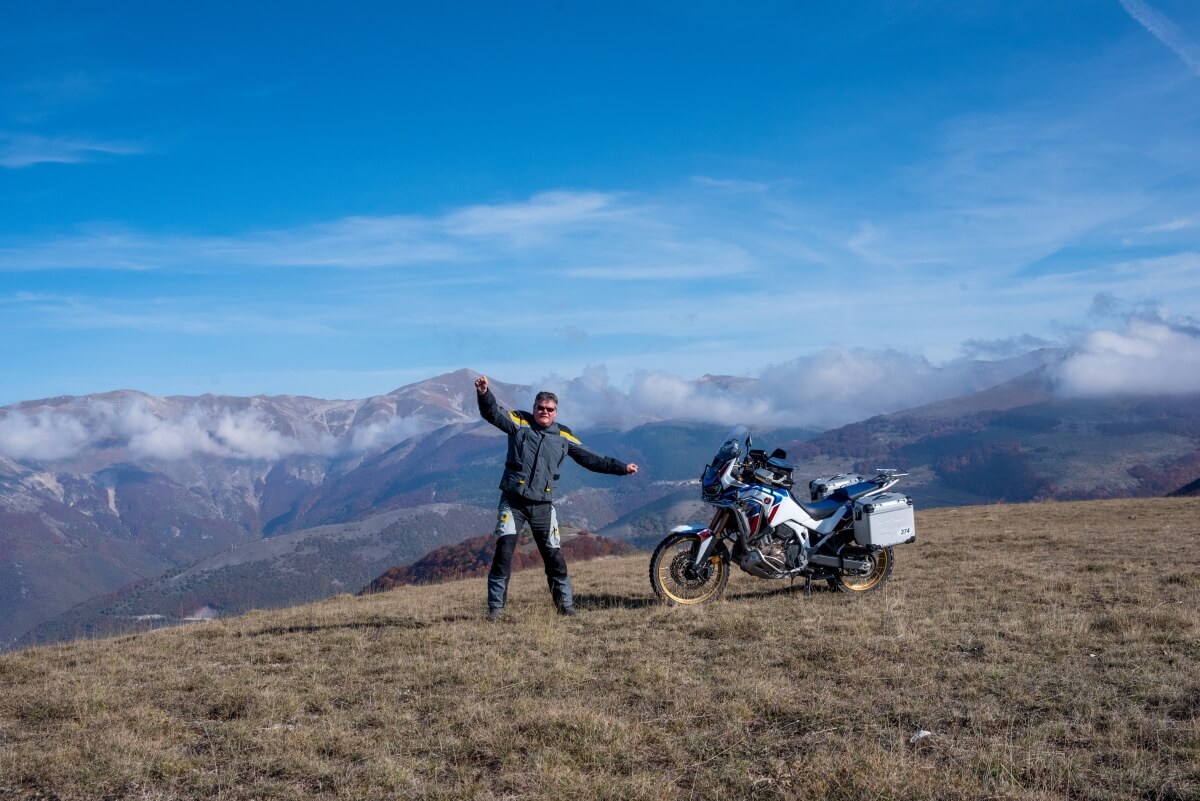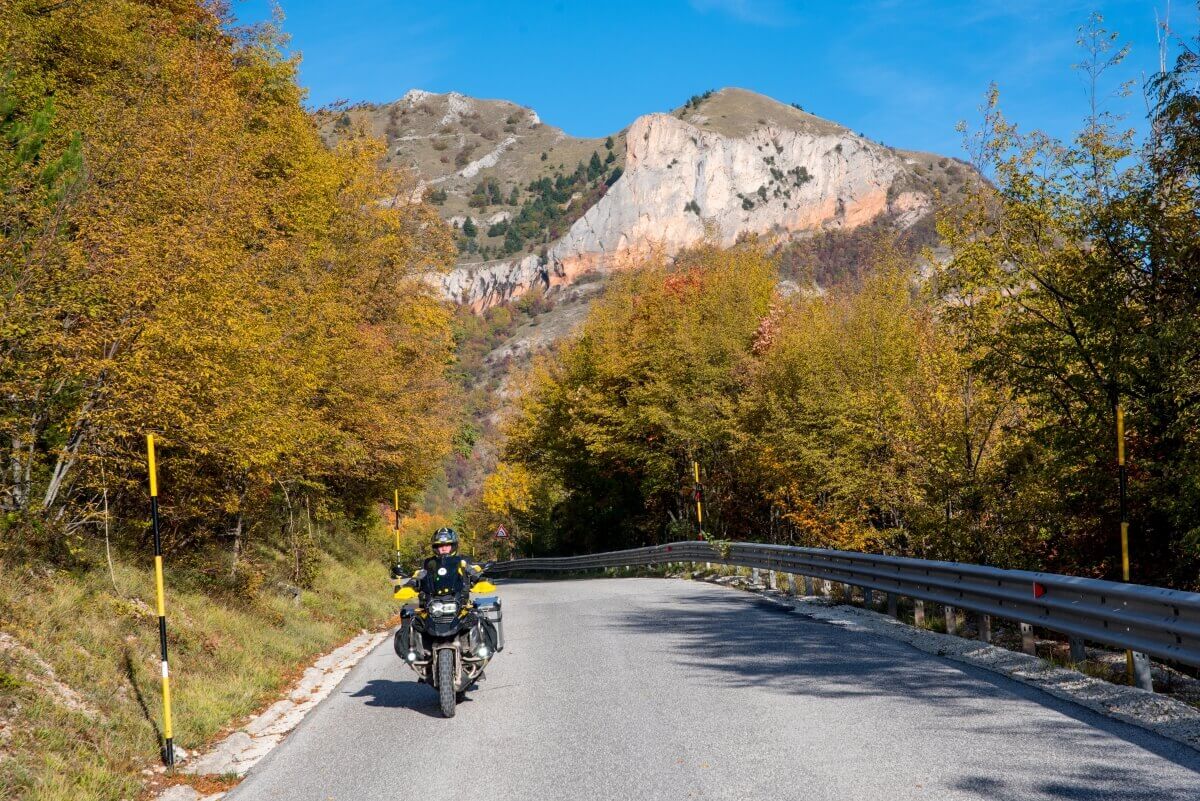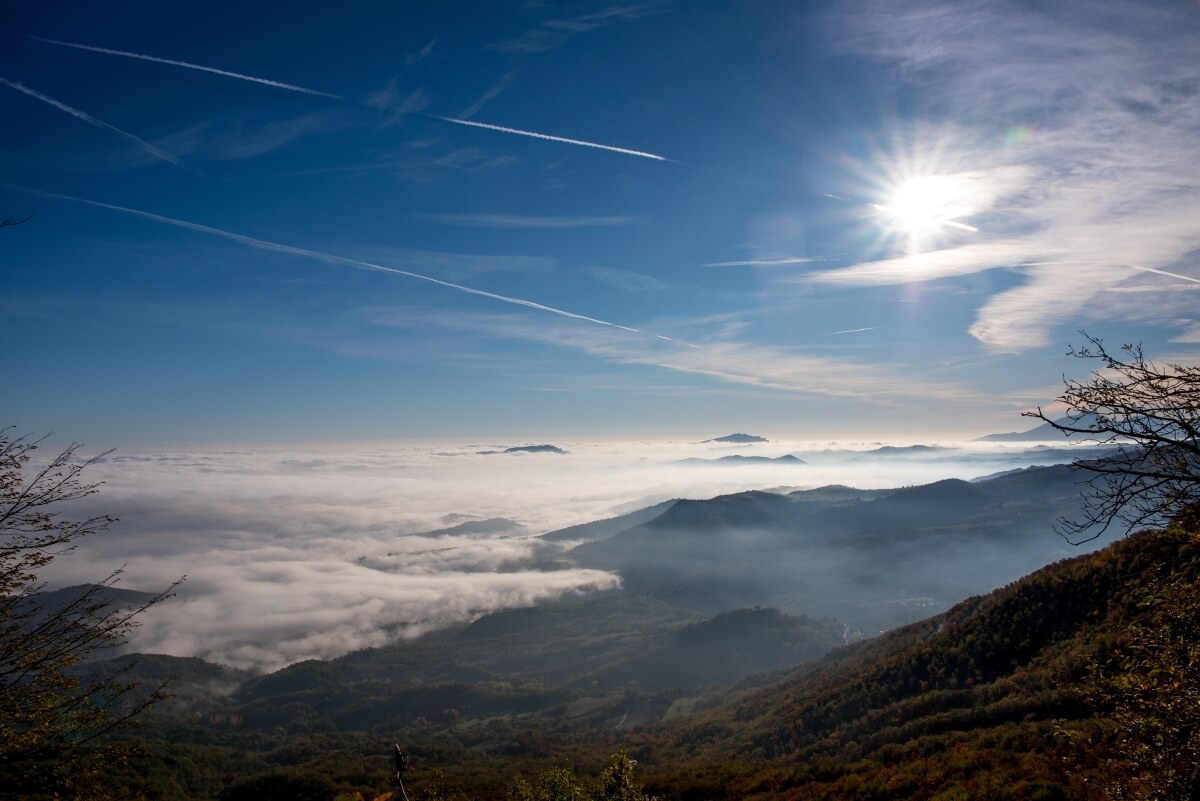 In those few days, we'd got to know a piece of paradise. Especially in late autumn, Marche and Umbria offer unforgettable panoramas. Marche is the realm of the sorceress Sibilla, of fairies and magicians – so says an old legend. For me, one thing is clear: it's a magical world – Marche! The journey home by car and trailer, into which we'd loaded the mopeds once again, seemed to drag. Milan - Gotthard - Zurich - and then we were home again. Autumn is the time when the days get shorter. I am convinced that I'll be thinking of the Sibillini Mountains for a long time to come – and will certainly return. The sorceress Sibilla certainly has one or two surprises still in store for me.