Completely unencumbered by guidebook knowledge, Martin Leonhardt explores challenging routes through the fascinating landscapes of Albania, northern Macedonia and Kosovo on a Triumph Tiger equipped by Touratech.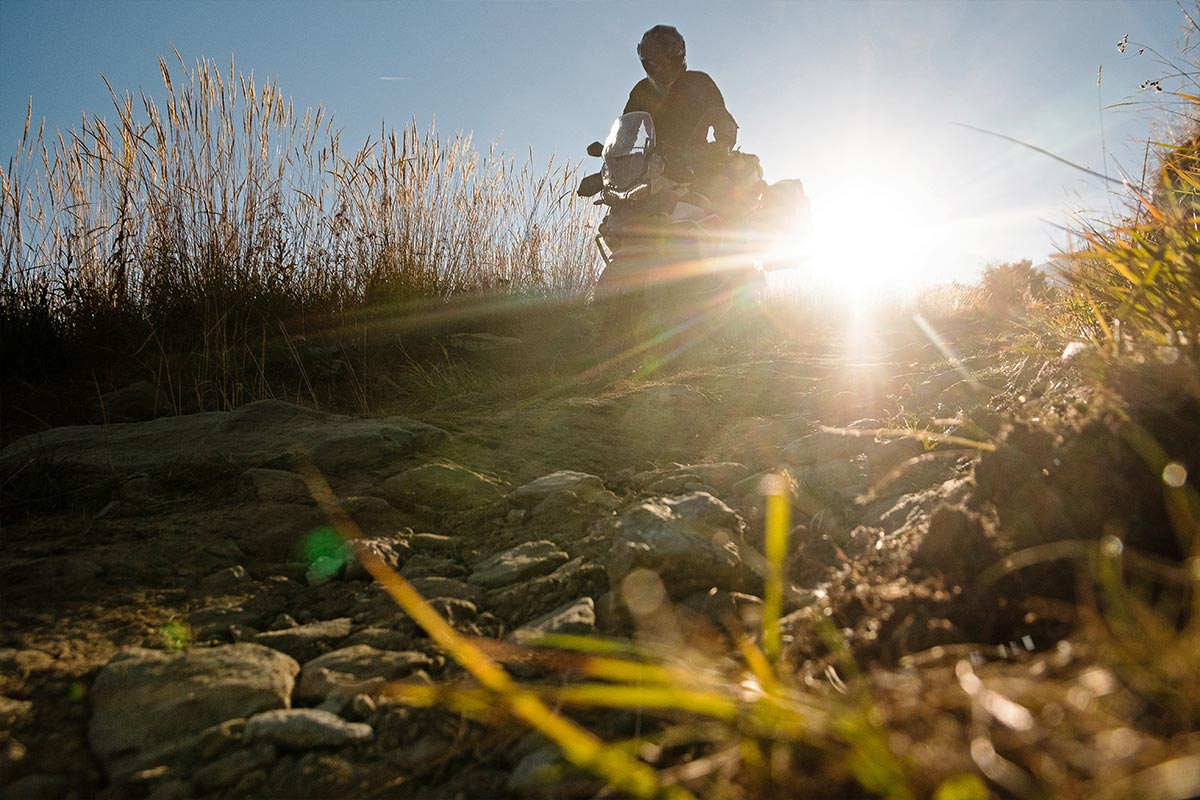 The long-distance hiking route "Peaks of the Balkans" also leads through the spectacular Prokletije Mountains in northern Albania. Tough trail adventures are to be had in Kosovo on the R115 panoramic road.
Even in 2021, our planet is still not spinning at a normal pace. The number of countries that adventure-hungry globetrotters can travel through is severely limited. But fortunately there are alternatives. When could be a better time to take a closer look at rather untypical travel destinations in south-eastern Europe than now? I've already spent two months travelling around Italy, and I have two more to go to complete my tour around the Adriatic.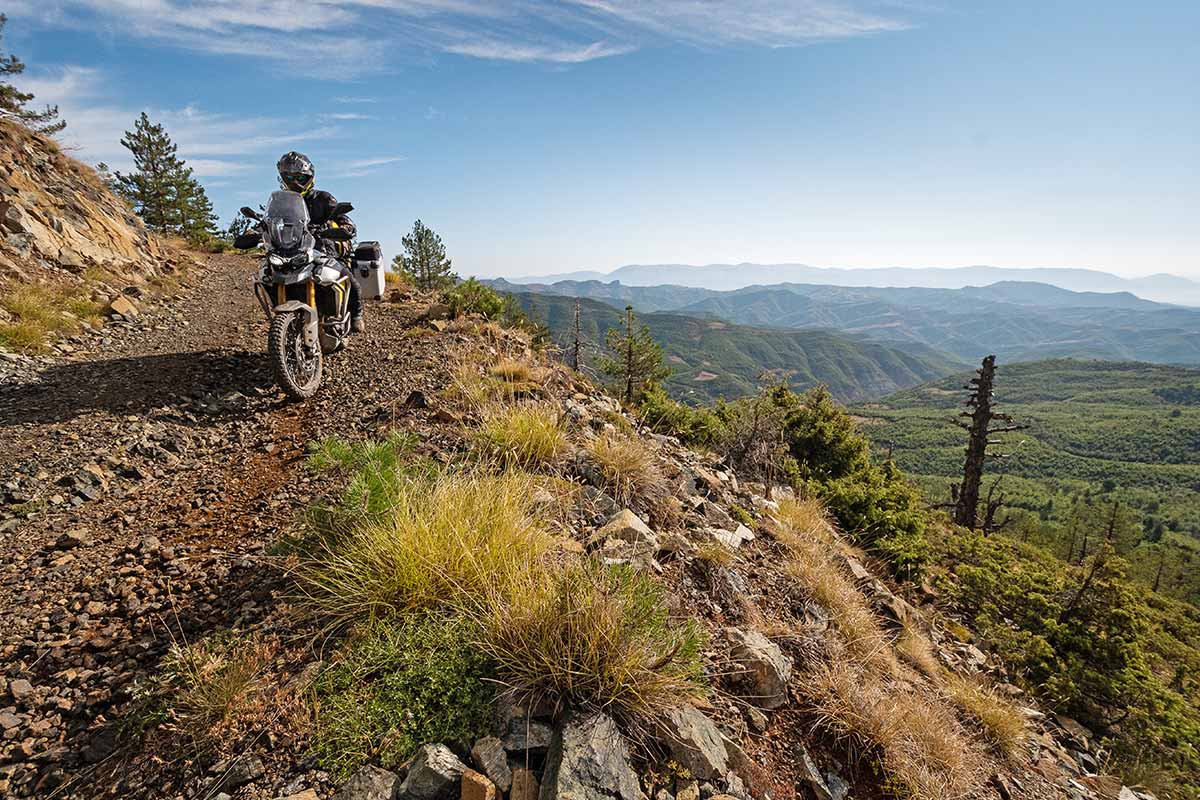 The Valamara Mountains in south-eastern Albania offer endless gravel roads. Some trails climb to heights of over 2000 metres (left).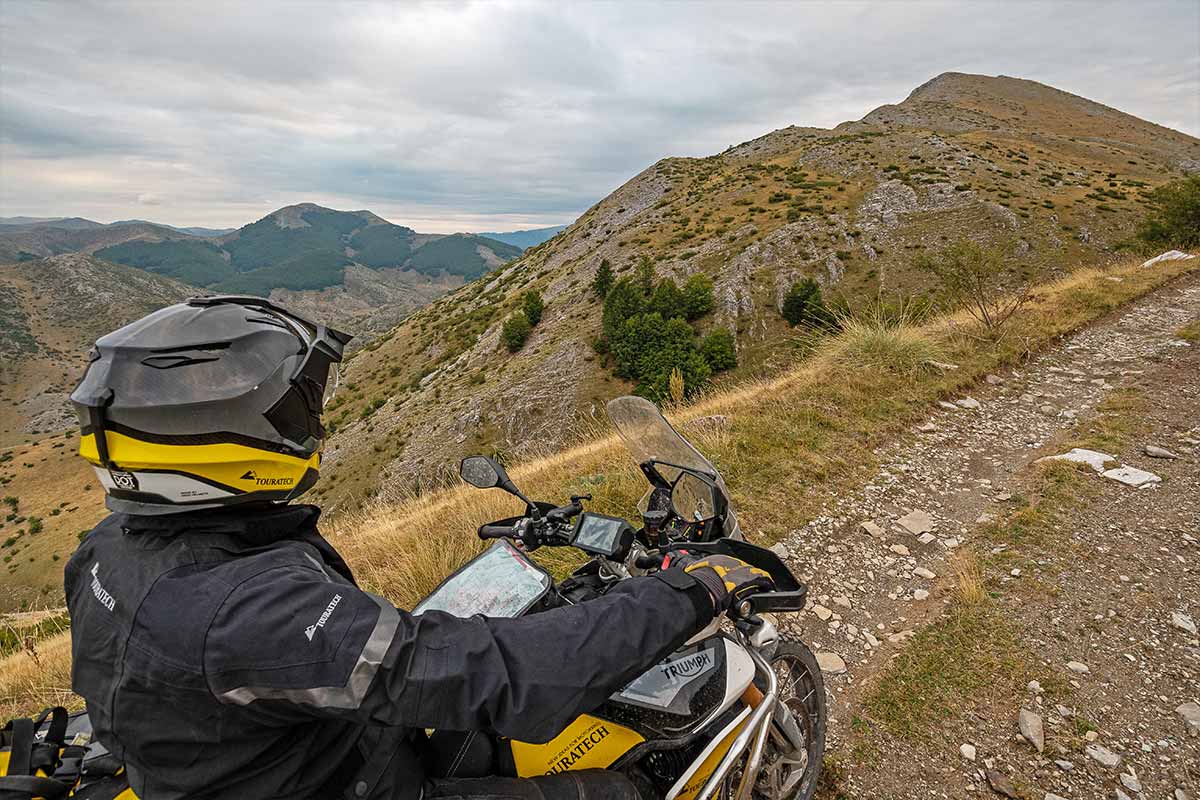 When on excursions in Mavrovo National Park in northern Macedonia, it's advisable to stay on the official paths. This area is home to endangered species such as the Balkan lynx (above).
New territory lies ahead of me. The languages, geography and customs of the Western Balkan countries are absolutely unknown to me, which is why a certain feeling of insecurity accompanies me on the ferry from Bari to Durrës in Albania.
As soon as I arrive, I realise it might not have been a bad idea to pick up a guidebook. However, this results in my very first breakfast in the country turning into a crash course in Albanian, mixed with a little Italian and English. My wallet is full of euro notes, but 300 lekë for a cup of coffee with a croissant have not yet found their way into it. I like the laughter of the waitress, who is somehow enjoying my misadventure. I joke with her a bit and end up settling my debt with a shiny euro coin.
I continue following the coastal road south to Ksamil. But soon I'm tempted away from the sea towards the Hotova-Dangell National Park, where I get my first taste of winding gravel roads. The stones are coarse, and it definitely takes some skill to steer my Triumph Tiger safely over these bumpy trails. There are still a great many old suspension bridges on this route. I usually prefer to check their load-bearing capacity on foot first .
I sleep most nights in a tent. The pleasant side effect of this is that I'm already in the middle of nature and have enough time for morning hikes in the mountains, whose vastness immediately captivates me.
The SH71 leads north past the mighty Moglicë dam. I'm amazed to be riding through these serpentines on a perfect asphalt road. Later, the view opens to reveal a valley, kilometres wide, which reminds me of canyon landscapes in the USA. I would never have expected there to be such enormous dimensions here – which is why I'm already saving this section of the journey as an absolute insider tip. I don't meet a single other rider all day. In complete solitude, I follow my course north via Elbasan to Lake Ohrid.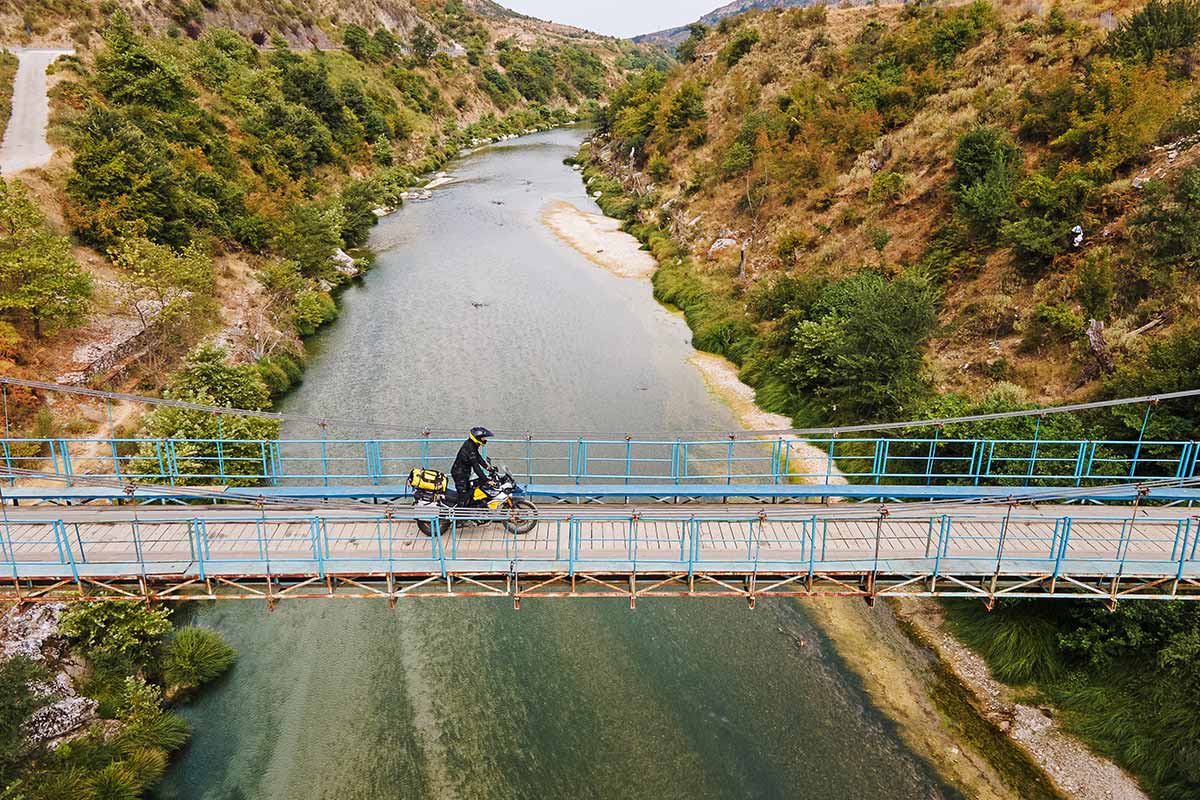 A spectacular bridge stretches across the Vjosë into the Hotova-Dangell National Park (Albania).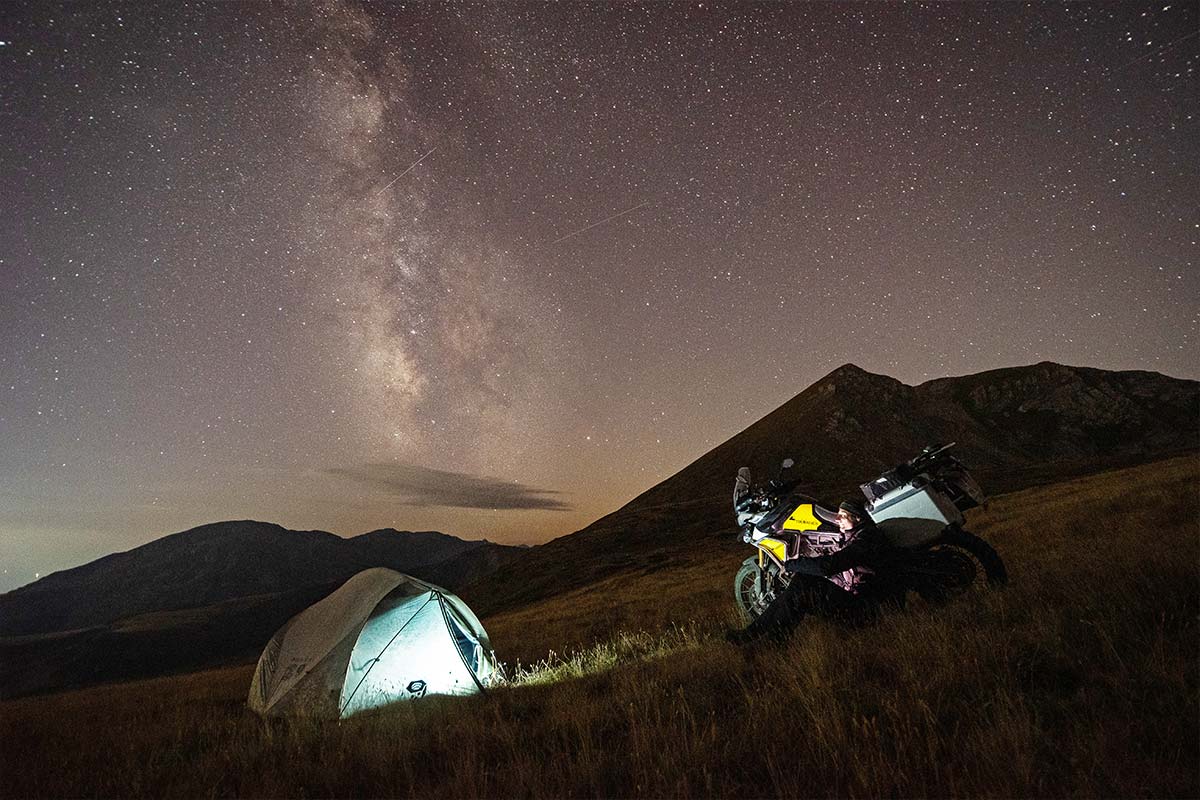 Breathtaking starry sky near Titov Vrv (Tito Mountain) in northern Macedonia.
Crossing the border into northern Macedonia is somewhat difficult. Since I've only met extremely friendly people so far, I'm surprised by the grumpy tone of the customs officials.
Having learned from my mistake, I quickly organise a few Macedonian denars and then drive through the Galičica National Park towards Kruševo. To balance out the many kilometres on my motorcycle, I decide spontaneously to take a paragliding course. "The mountains around the city are some of the best spots in the world for this sport," Steruli, my coach explains. There is something special about looking down from 2000 metres into the wide valley of the tobacco farmers, and I gladly believe Steruli's words as I fly.
I use the time between the exercise sessions for further tours of discovery on my Tiger. I notice that North Macedonia is even more colourful than its neighbouring country. Old tractors and cars from Soviet times are as much a part of everyday life here as mosques, shisha - bars and tea rooms. Dilapidated factory buildings also add a touch of communism to the cities – otherwise only seen in countries like Cuba.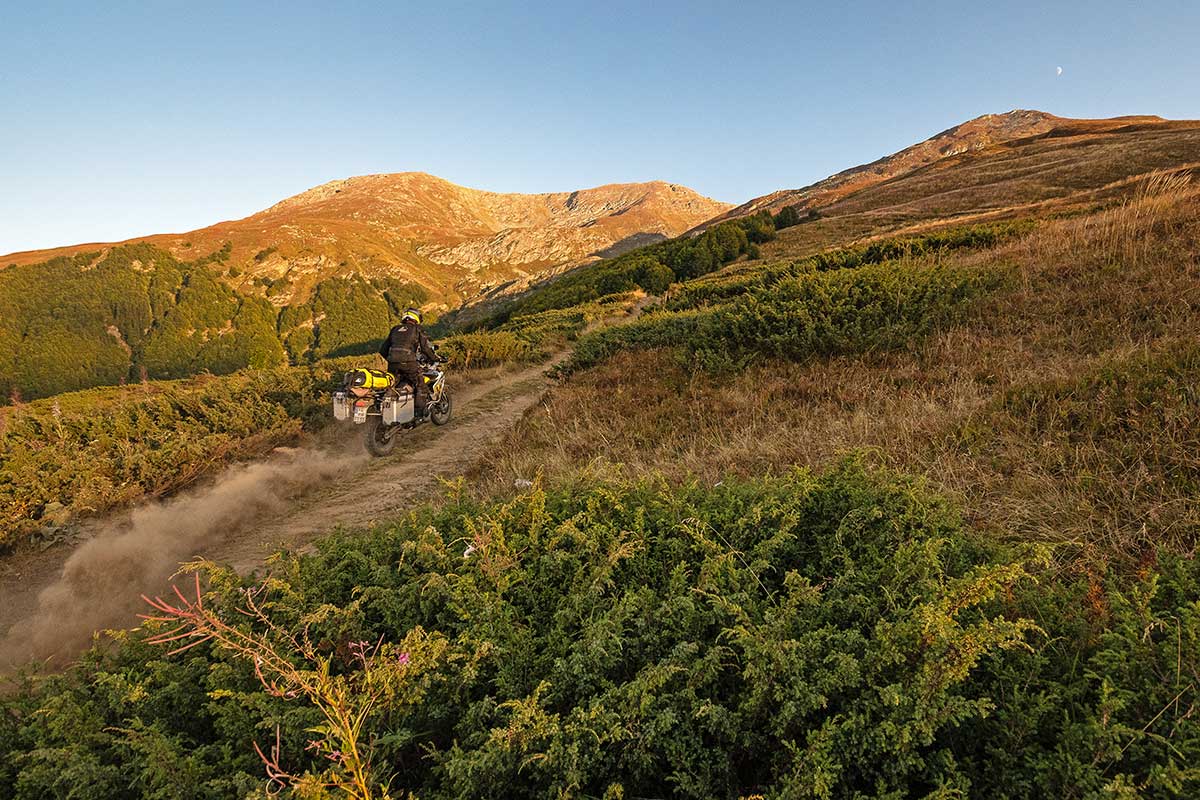 Trail in the border region of Kosovo. North Macedonia begins on the other side of the mountains.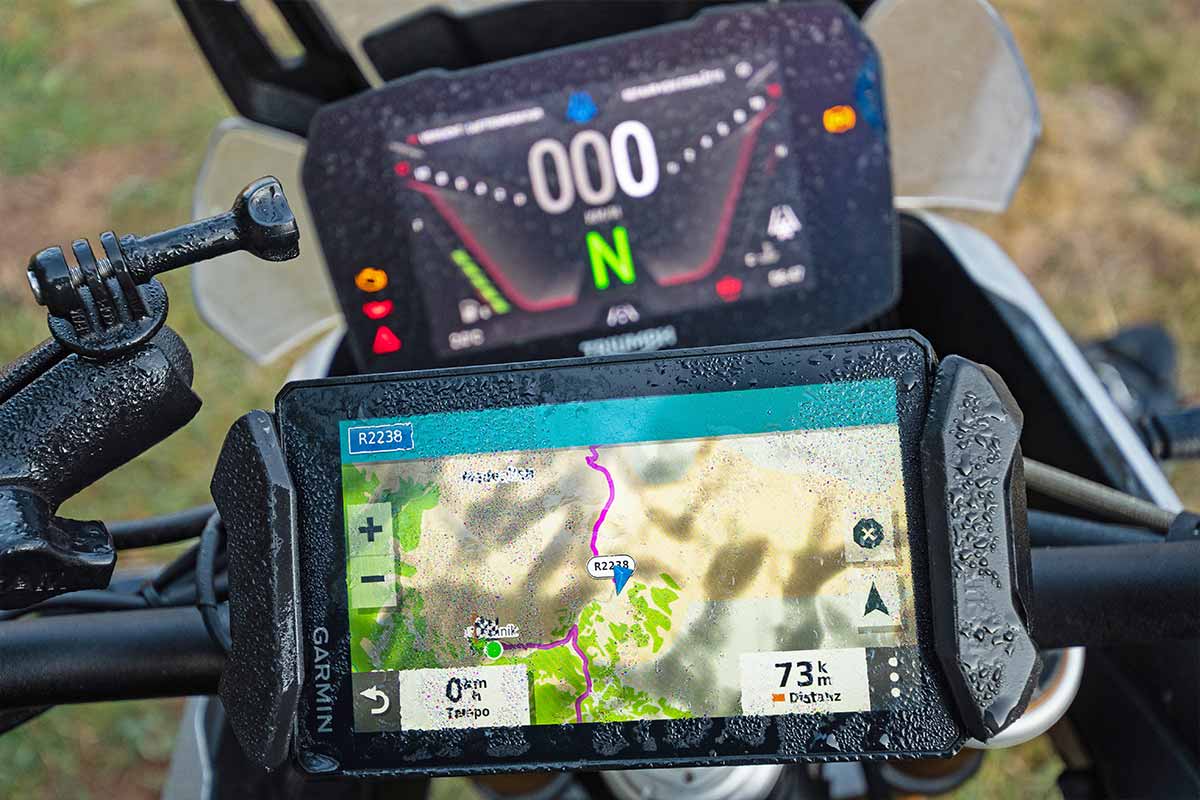 Digital maps don't include all the passable gravel roads.
I visit the Treskavec monastery, whose ramshackle walls date back to the 12th century, and ride to the second highest mountain in the country, the 2747 metre high Titov Vrv. Immediately after the turbulent town of Tetovo, I find myself in a vast steppe landscape with trails that again cost me a fair bit of energy. I spend a wonderful night with a view of the Milky Way, sleep contentedly and hike up to an abandoned stone tower on a peak to watch the sun rise. The view from there stretches far across the Balkan Mountains to Kosovo – somewhere I'll be heading for on this trip.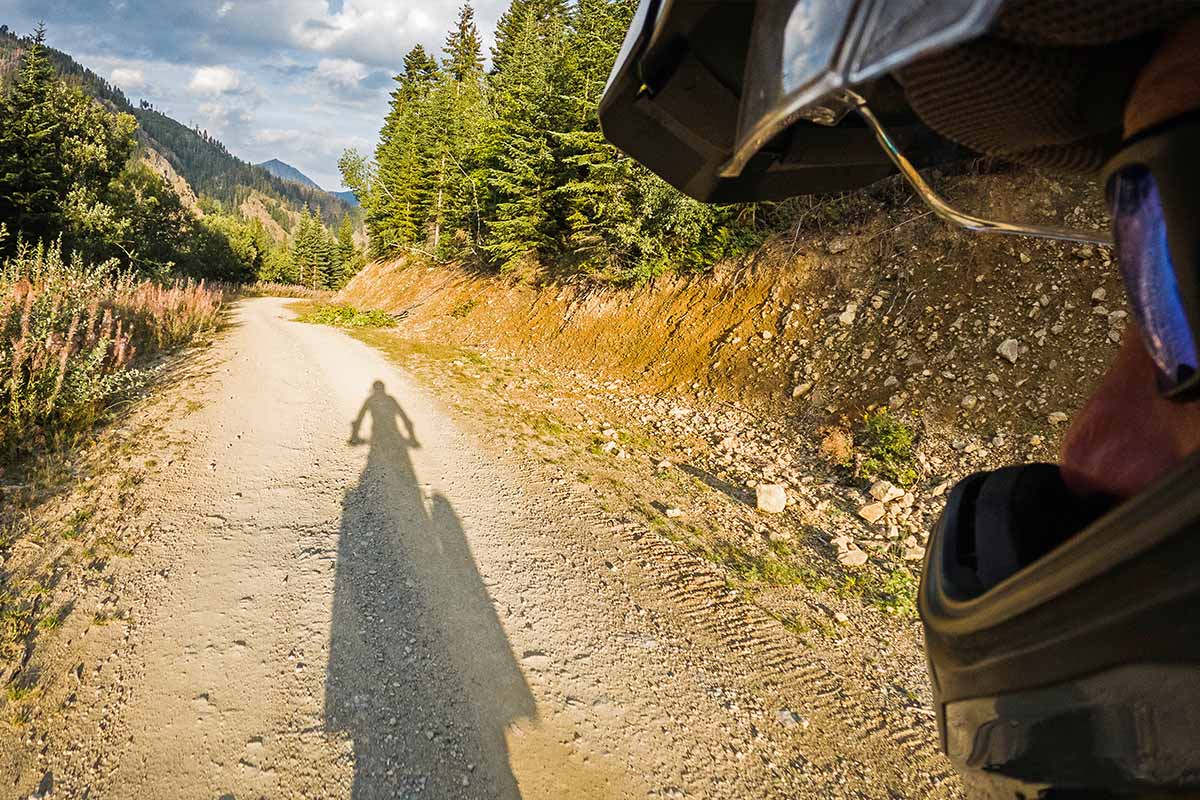 Albania's roads often run for hundreds of kilometres through dense forests.
Before that, however, I visit the capital city, Skopje, which can certainly be described as bizarre. Reminiscent of ancient Rome, one monumental statue follows the next. A historic stone arch bridge leads from the Islamic part of the city to the Christian part. As in other regions of the Balkans, it seems to be no problem at all for churches and mosques to be part of people's everyday life together.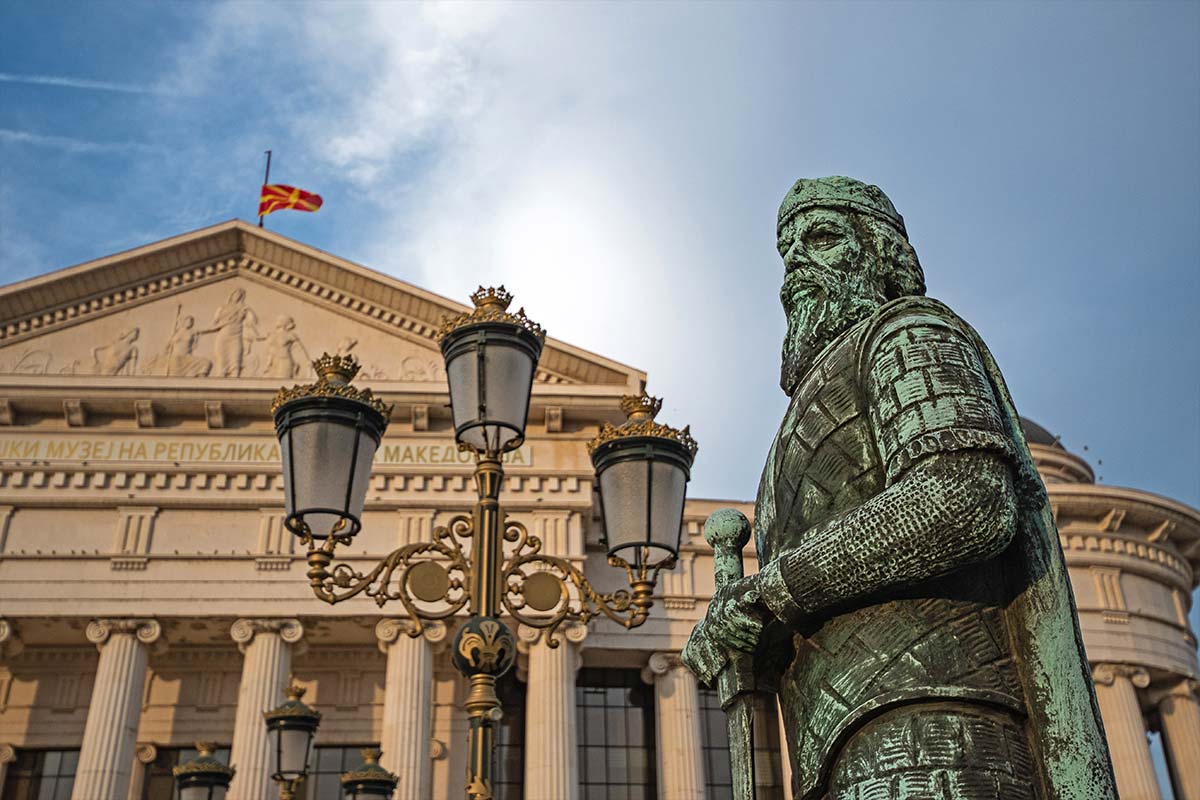 Historicist buildings and monumental statues characterise the North Macedonian capital, Skopje.
At the border to Kosovo, I receive a friendly welcome and, as a welcoming gift for the Tiger, there is free insurance. I still haven't looked at a travel guide, but I don't have to find my way to the nearest bank because in Kosovo it's quite common to pay with euros.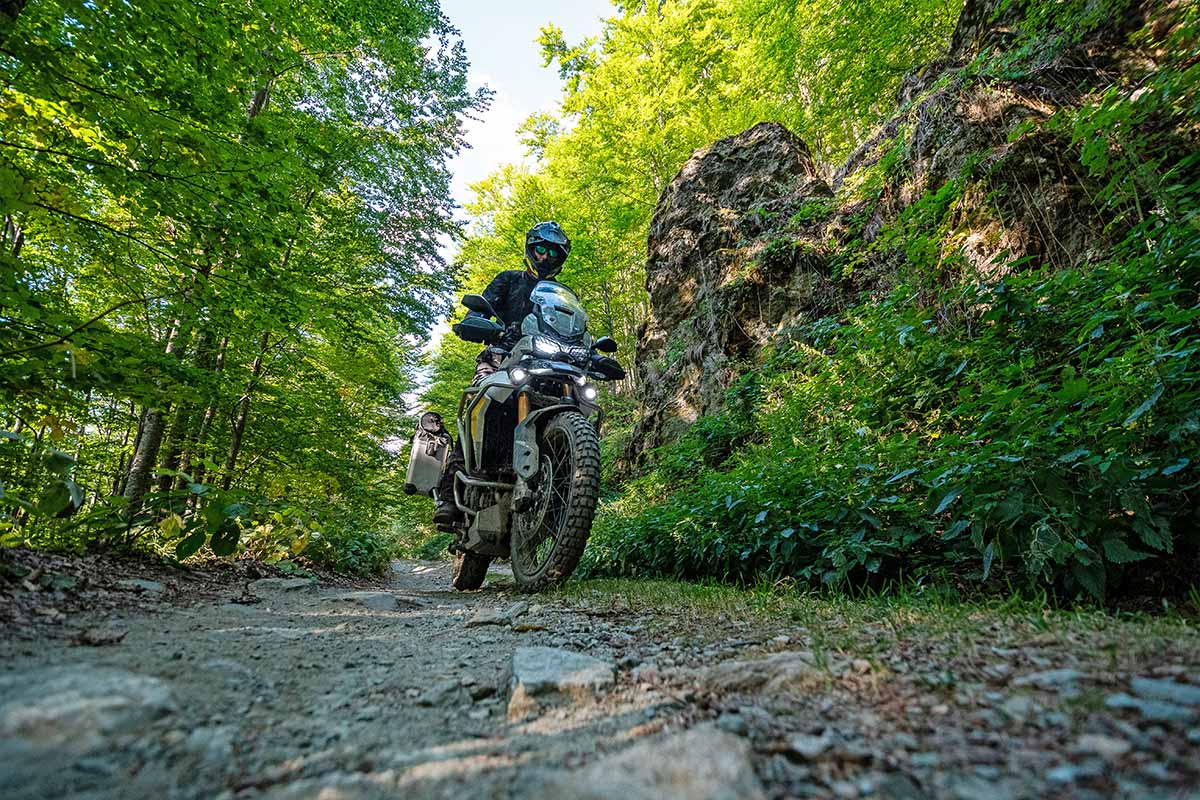 In Kosovo, numerous forest trails, like the ones here in the Sharri Mountains, invite you to explore.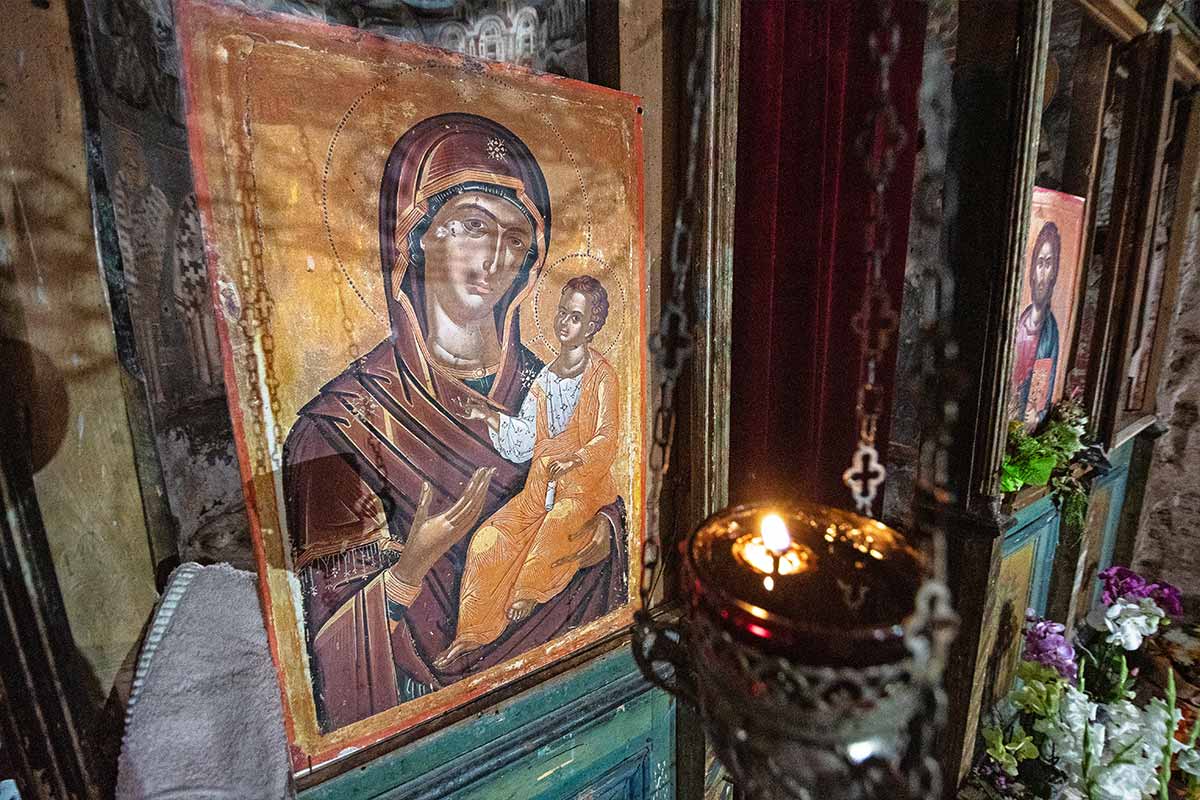 Some of the icons in the monastery of Treskavec (North Macedonia) date from the 15th century.
Seeing the Sharri Mountains once again from the northern side inspires me anew. Here, however, more spectacular mountain formations are only to be found in Bjeshkët e Nemuna National Park. The landscapes there are characterised by steep canyons. Any potential circular routes, not to mention a crossing to Albania or Montenegro, are reserved for sporty mountain bikers or hikers. Motorised offroad junkies get their money's worth on the narrow, winding gravel tracks into the mountains.
Almost wistfully, I leave Kosovo after only five days and travel back to Albania, to the Valbona Valley. Despite the comparatively strong tourism, the area has not lost its lovely charm. As so often on this journey, I meet herds of cows and sheep, always accompanied by a shepherd. Free-roaming pigs, goats, donkeys, chickens and, of course, dogs and cats add a little excitement to village life, which sometimes gives me the impression of being in a large zoo.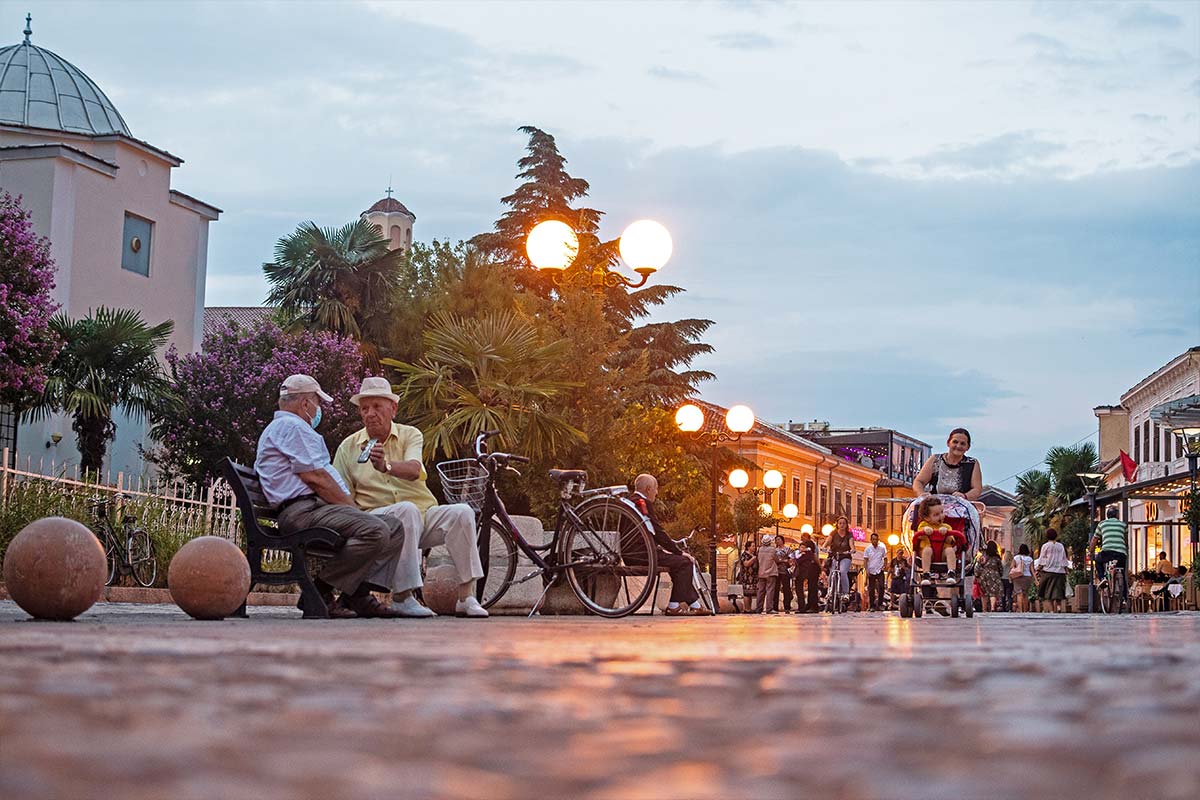 Shkodra in northwest Albania is a lively city where people of different religions and cultures live together.
At the end of the trip, I want to have at least one more look at the sea. That's why I take what is probably the most continuously winding road I've ever ridden along in my life, the SH22 and SH5, towards the mouth of the Buna River. I actually find a place for my tent on the beach. This night is a welcome change from what has been a mainly mountain dominated tour. Accordingly, the ride over the Leqet e Hotit Pass is a worthy conclusion to this journey.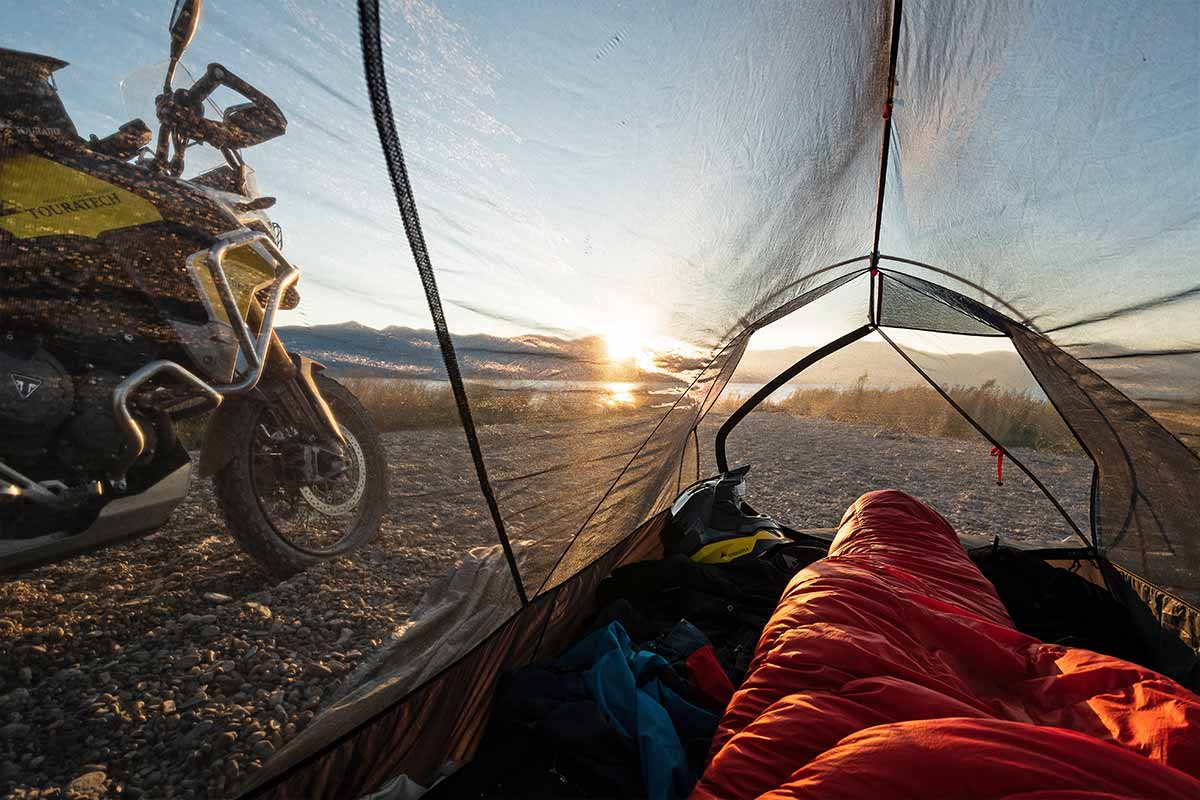 Morning atmosphere on the shore of Lake Prespa, the neighbour of the much better known Lake Ohrid.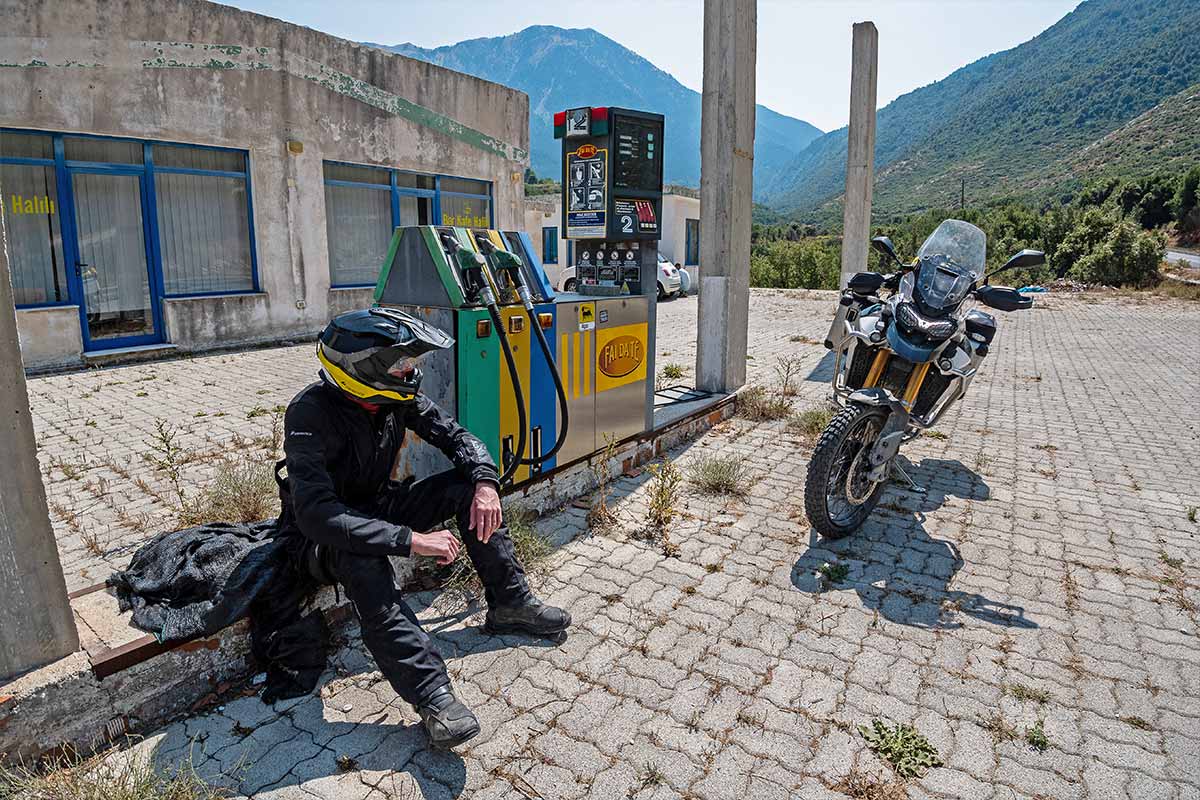 Today, there's no petrol to buy at this petrol station in Albania.
Riding the Tiger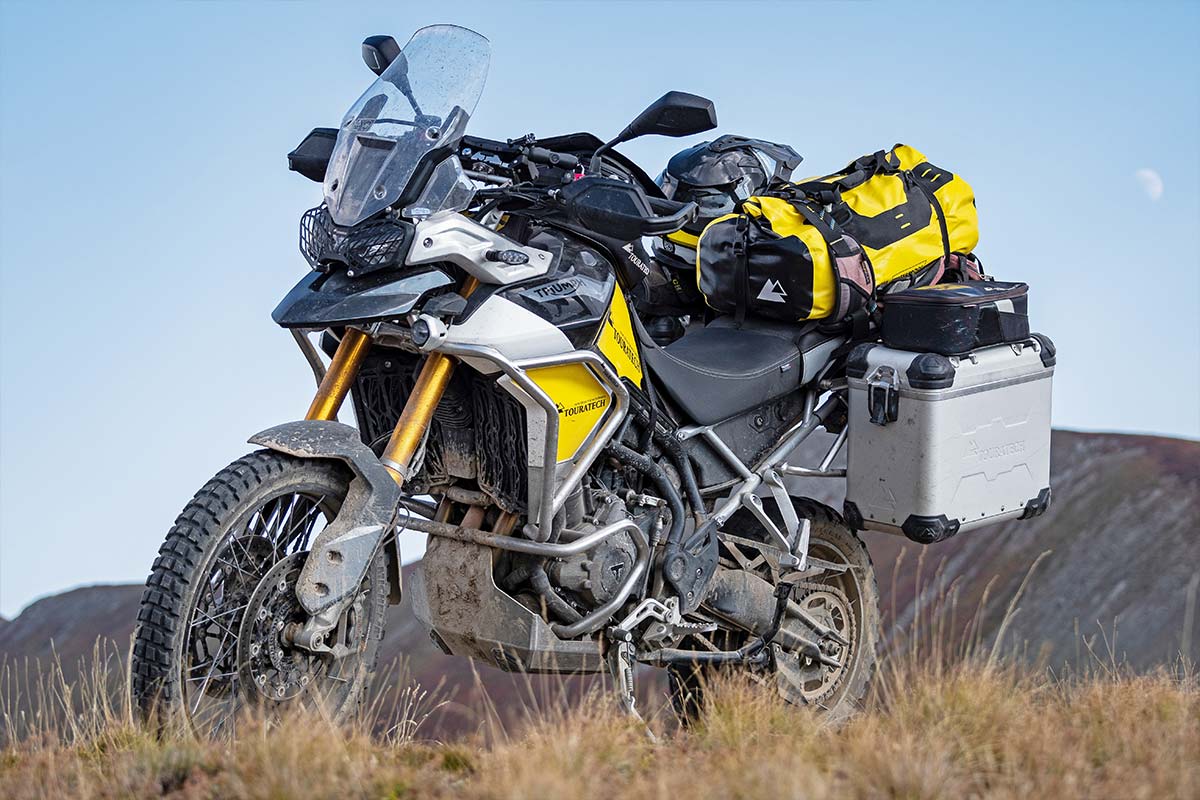 Martin Leonhardt made this journey, now covering more than 10,000 kilometres, many of them on gravel roads, on a Triumph Tiger Rally Pro equipped by Touratech. Preliminary conclusion.
"I was amazed when I picked up the Triumph Tiger Rally Pro at Touratech in Niedereschach this June. It was, of course, done up in typical yellow and black TT-World-Travel style.
Now, almost 10,000 kilometres later, I've ridden all over Italy and most of the Western Balkans. Enough time for serious assessment, and one thing I can say with certainty: "She's a great ride!"
To begin with, the electronic setup seems almost hyper-complex, but in real travel conditions it proves to be extremely coherent. The most common way to switch between riding modes and information displays is by "thumbing" the small joystick, which at some point becomes quite automatic. As an offroad-hungry traveller, the two adventure bike modes are particularly important to me.
Thanks to the height-adjustable seat, the ergonomics perfectly fit my height of 1.85 m straight away. On the road, you can also enjoy excellent wind protection up to 120 km/h, which is not always a matter of course when it comes to adventure bikes.
For on and offroad use in the Balkans, the adjustment options on the Touratech Suspension shock absorber have proven their worth. I was particularly impressed by the clear differentiation between low and high speed. With a relatively hard setup, the dampers provided excellent feedback on wildly winding stretches as well as safety in every situation. Offroad, the necessary reserves to compensate for the deepest potholes or boulders were always available.
Since the Tiger anyway comes with a wide range of extras, Touratech only had to add a few. Nevertheless, the engine guard, the robust crash bars, the ZEGA EVO case system and the holder for my ZUMO XT have once again proved very useful.
Anyone looking for a mid-range motorcycle between a Yamaha Ténéré 700 and a BMW R 1250 GS should definitely give the Tiger a chance. It's performance is absolutely adequate in all situations, and its weight is such that you can still lift it on your own. A distance of 400 kilometres is possible. With the Tiger, Triumph has created an independent motorcycle concept that perfectly meets the needs of long-distance travellers. And, incidentally, three cylinders are a real pleasure."
Travel information
General
A motorcycle tour in the Balkans is absolutely unproblematic. Many of the locals speak English, and you can often get by with German as well.
Security
The countries of the Balkans are considered safe, and generally, people are very friendly and welcoming. It is important to have good international health insurance.
Travel season
The temperatures in summer and in autumn are pleasant with very little rain. At higher altitudes there may be an occasional frost at night.
Arrival
Entry with a European passport is uncomplicated. A Covid vaccination certificate is required at the borders (status: 09/2021) as well as insurance for your motorcycle (green card). In Kosovo, you can acquire motorcycle insurance for one month free of charge. This is issued directly at the border.
Motorcycle
Because large-volume motorcycles are rare, it's advisable to make appointments for tyre changes in advance. Fuel is significantly cheaper than in Germany. In Kosovo and North Macedonia, one litre costs about 1.20 euros, in Albania about 1.40 euros.
Traffic
Paved roads are mostly in good condition. Nevertheless, you should always be on the lookout for potholes and ruts. You should also keep an eye out for rock falls and animals on the side of the road. When travelling to the remote mountain regions, be aware that help is hard to come by in an emergency. Gravel roads are often littered with larger stones and are not easy to ride.
Accommodation
There are official campsites in all the tourist areas. Cheap hostels cost between 20 and 40 euros. Flats, which you can easily find by asking around, are even cheaper. Wild camping poseses no major problems.
Provisions
Cash in local currencies is easily available at ATMs. In Kosovo, you can pay in euros. Payment by credit card is possible. EC cards, however, don't always work.
There are numerous restaurants offering simple meals at reasonable prices. In Kosovo, in particular, you can eat well and very inexpensively.
Equipment
In autumn, a thicker sleeping bag with ticking and a suitable mattress are still quite sufficient for campers. Screw-in gas cartridges (Primus, MSR) are difficult to find. It's better to bring them with you.
Very good quality standard map material is available at every petrol station. A GPS is a useful accessory away from major roads. The Garmin ZUMO XT with the Touratech holder has definitely proved its worth. It also allows topographic maps for the whole of Europe to be installed; OSM maps are even more detailed.
Info and tips
Further information on my travels and interesting facts about travel photography can be found at www.martin-leonhardt.de