Three guys, three bikes. The urge to do an offroad tour far from their previous destinations leads Dirk Schäfer and his mates to Bosnia. Time to marvel.
No one likes riding into the dark without knowing where they're going to be spending the night. And right now, we, Thorsten, Ferdi and I, are seriously busy not liking it. We'd entered Bosnia at Bihac, reeled off a few kilometres on the main route towards Sarajevo and then, following instinct more than actual knowledge, turned south at Petrovac. Somewhere around there, there's supposed to be a brilliant offroad track, which we have yet to find a way of joining. But definitely not today. Heavy darkness descends over the wooded bends that are grinding the tyre walls of our twin cylinders. Suddenly Thorsten stops: "Did you see that sign?"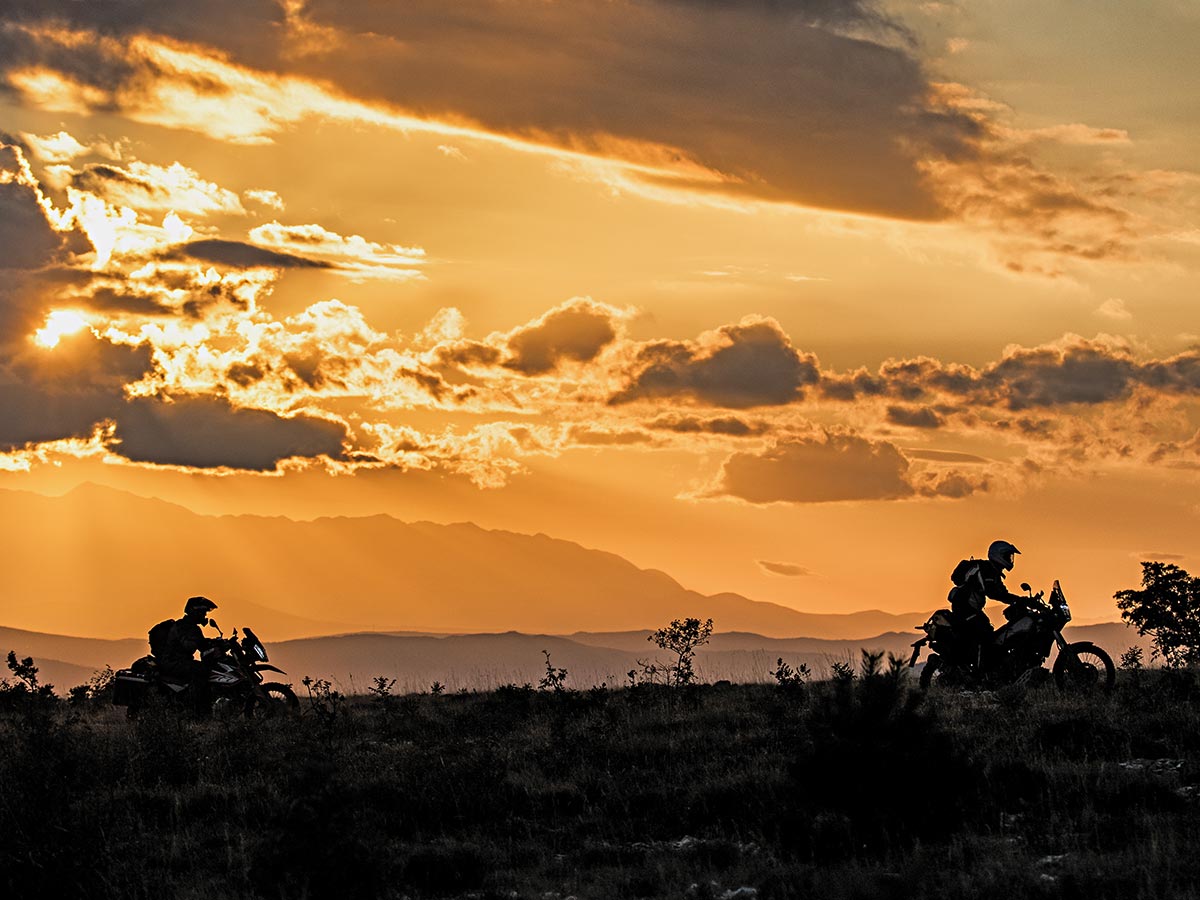 It doesn't get any better than this: sunset near Mostar
The reference to some kind of accommodation is as welcome as the information concerning the maximum permitted speed on the forest track we're about to set off along. Our headlights flicker between the tree trunks but everyone has seen the red circle with the 130 km/h sign – we're already pushing it at 30 km/h on this track. Ferdi stops his KTM and grins under his helmet: "Apparently, there are people here with a sense of humour. But where's the accommodation?"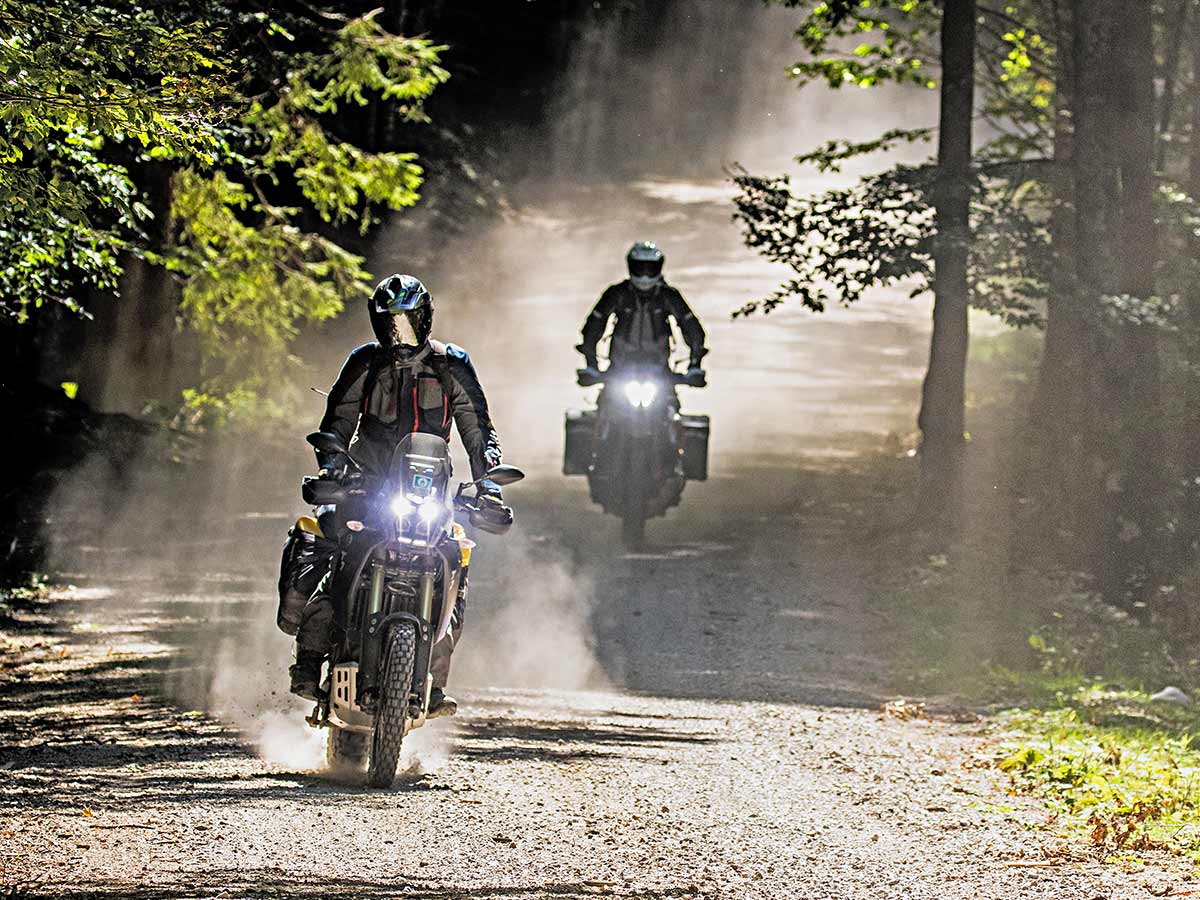 Wild forests: Bosnia has many of them
A cluster of homely huts, warm light from some kind of tavern: this is the right place! And the best thing is that Etno Selo with its huts is apparently well-known to motorcycle travellers in the Balkans, because we are not the only ones whose bikes are parked in front of one of the huts. The tavern serves a hearty meal. A luxury we have to do without the following evening. Involuntarily.
Amazing! This track through the karst landscape could be straight out of the new Avatar. To the right and left of the track, the earth has collapsed into funnel-shaped depressions. Sixth gear. Ferdi and Thorsten are kicking up plumes of dust behind them. We're on the track we were looking for. And this track now suddenly turns off to the east into a hilly forest area. Winding, tricky and already getting a bit dark. Ferdi stops his 790 in the middle of nothing. "What's up?" I want to know. He points to the front wheel: "Flat tyre." Thorsten joins us. "We'll have that sorted in a minute." We didn't.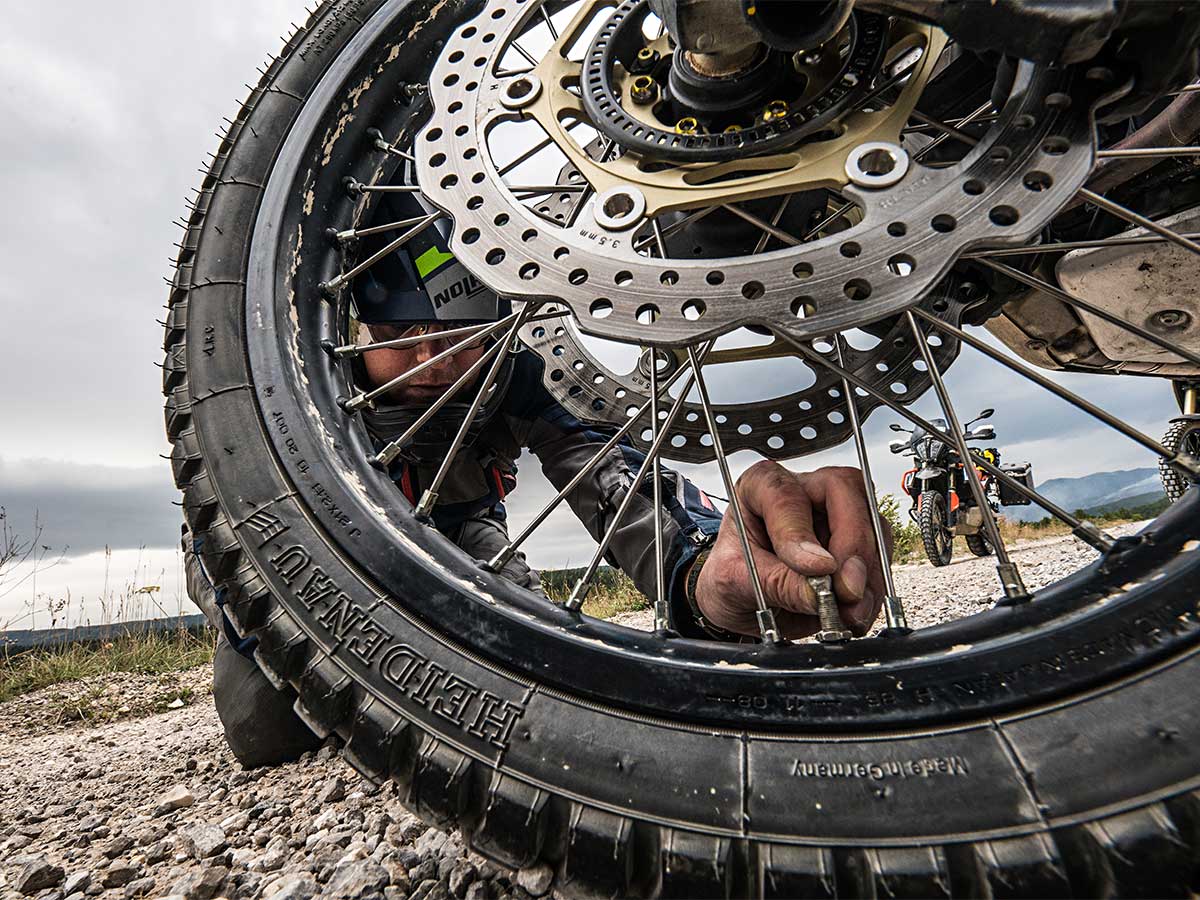 First, let out some air. Joining the track at Drvar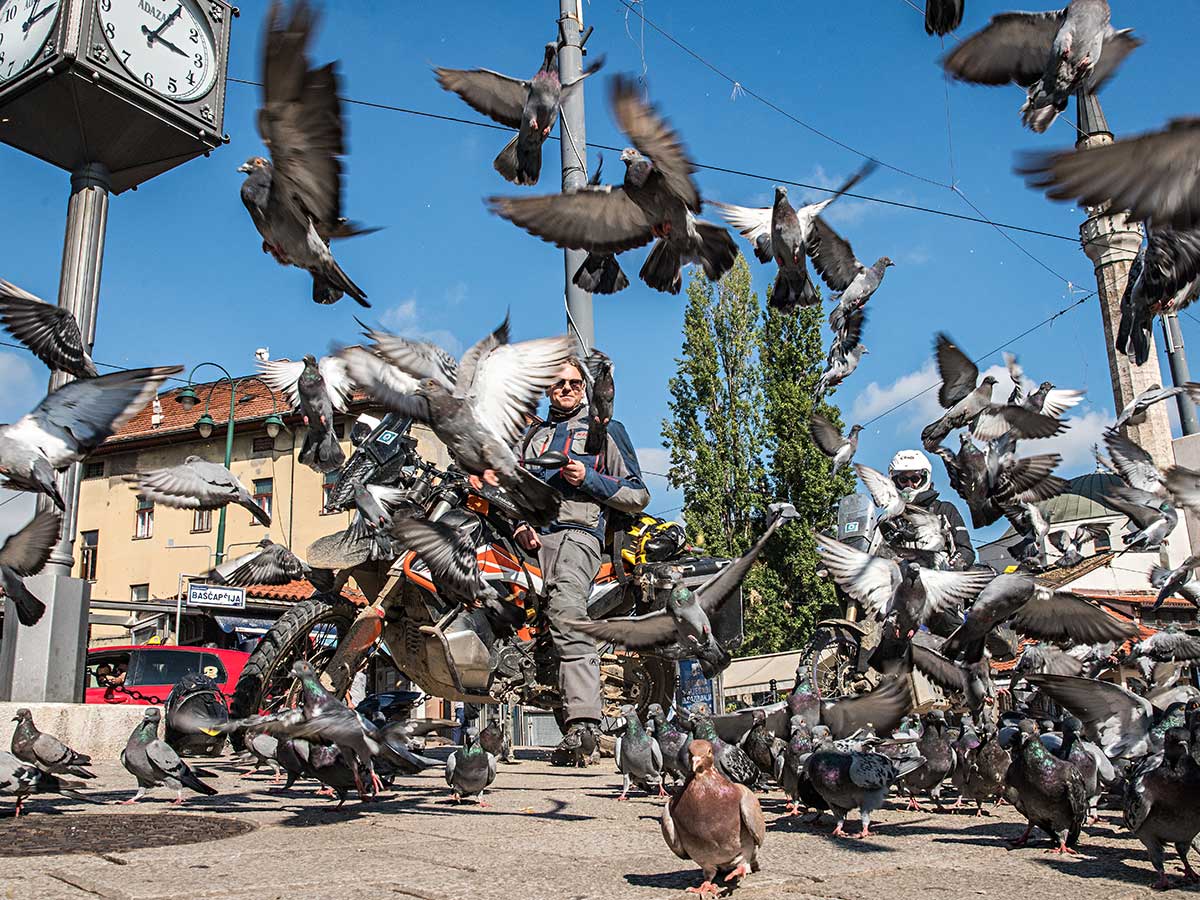 Flight show: in the old town of Sarajevo
If you don't travel with your own bikes, it's easy to forget about providing for exceptional situations. The right hexagon socket for the front wheel axle of the KTM is not to be found in any of our tool sets. Without it, no repair, no riding any further. Mobile phone? No reception. The next place? About 20 kilometres. Thorsten: "Someone could go and organise help." Me: "We could camp out here and see if we come up with a solution." Ferdi: "Are there bears here?" We put up the tents.
The droning of the diesel engine of a VW "Bulli" and the clatter of a trailer reach us through the woody morning haze. "Ay caramba! The whole road's full of bear shit!" Albert, the driver of the "Bulli", makes no secret of his observation, and Ferdi belatedly wrinkles his forehead into a few brief worry lines. We have every reason to rejoice. Only a few metres from our involuntary camp on the forest track there was reception, and we were able to reach Albert, the boss of Enduro-Spirit Bosnia. For him, it's a matter of course to help immediately. More than that: he's the personification of warm-heartedness, an enthusiastic adventure biker, and he speaks perfect German. Albert helps us to load the KTM: "And now we're going to my restaurant – to have something to eat!"
With a new tube in the KTM and the obligatory pizzas in our bellies, we take off again. But Albert doesn't let us leave without giving us some good advice. And we do take it seriously. Nevertheless, a while later, we decide to ignore it. Out of arrogance? No, because there was no turning back. But we only realised that when it was already too late. But first things first.
Albert calls it the "chocolate trail". What's wrong with chocolate? Perhaps we'd have been more suspicious if he'd called it the "chocolate mousse trail". Chocolatey mass. Creamy. Smeary. And now we're standing in the middle of the chocolate mousse, the treads of our "knobblies" are clogged with earthy cream. Thorsten's Ténéré helplessly kicks up pancake-sized patties of earth into the sky. Ferdi's KTM comes to a standstill. Zero propulsion. "Shall I push?" "How? Even standing on your feet, you slide" We imagine we're at the spot Albert warned us about. But that only turns up when we think we are back on safe ground. Until then: we footsie around, tugging, sliding.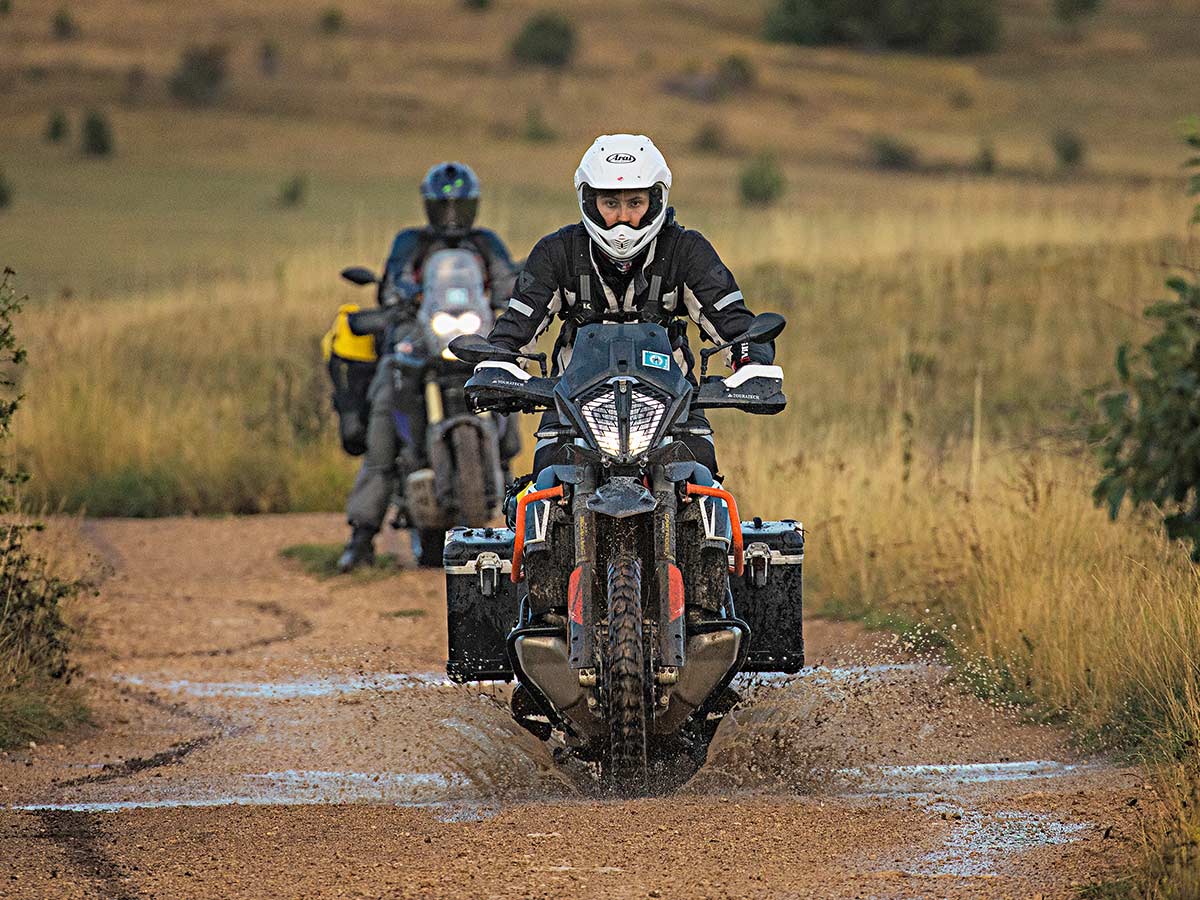 Motorcycle splash after the chocolate trail near the Ramsko Jezero reservoir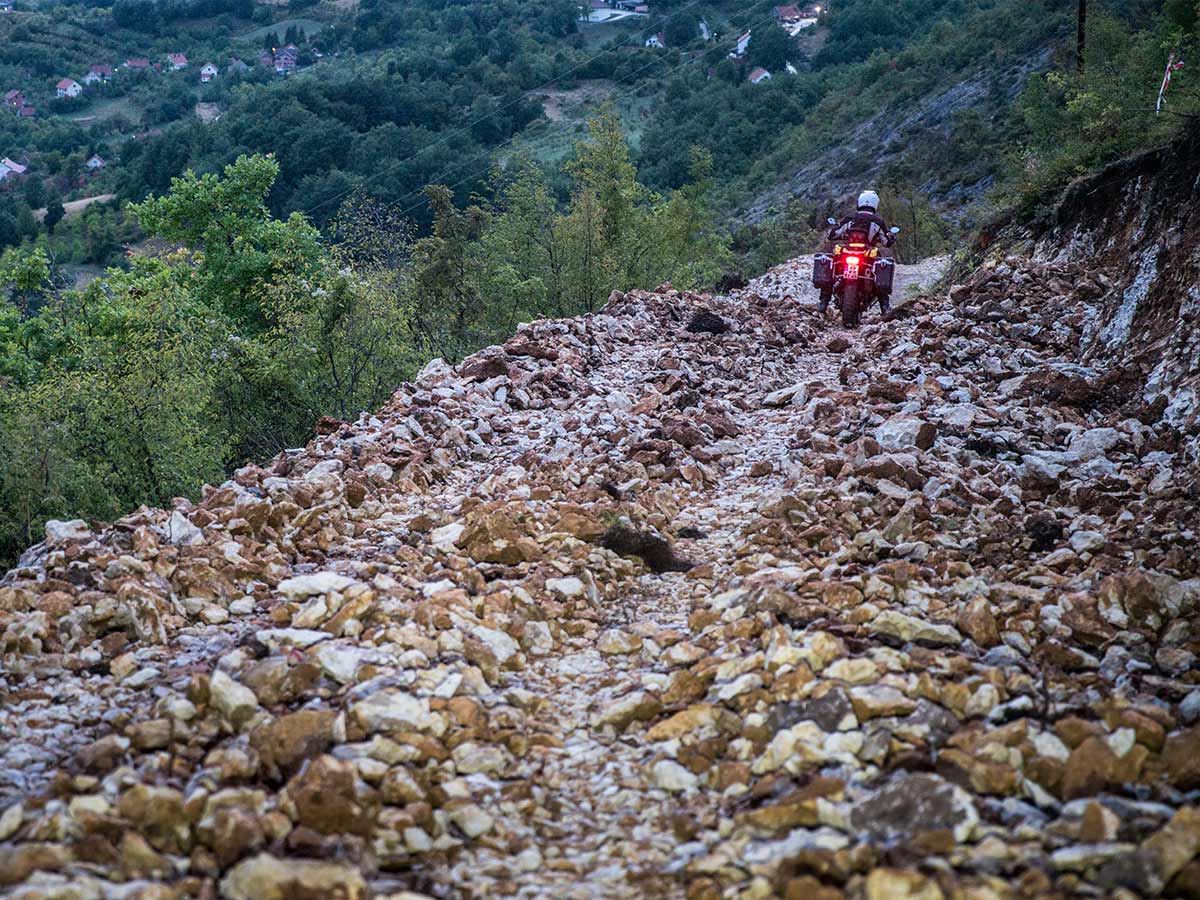 From the chocolate trail to the Ramsko Jezero reservoir
The turquoise water of the Ramsko Jezero has a magnetic attraction that I, in particular, can't resist. The stupid thing is that there's a row of bushes blocking the panoramic view over the magnificent lake. But about 100 metres further down there's a small viewing platform. "It's very steep and rough here!" Ferdi remarks. I have to admit that the alleged trail is made of boulders rather than stones. "Oh come on, it's only 100 metres. I'll take a quick photo and then we'll ride back up." It's still a mystery to me why he let himself be persuaded – and why we didn't realise that this was the place Albert had warned us about.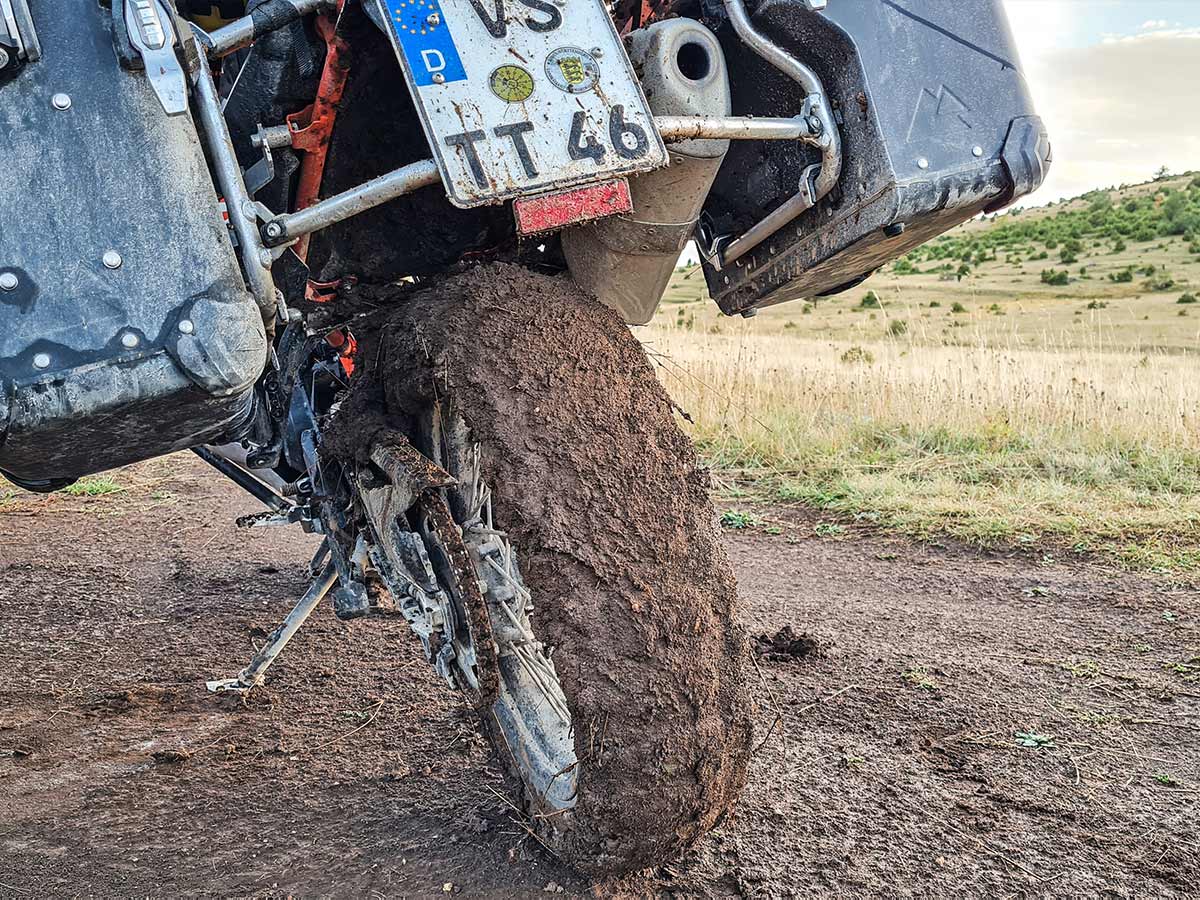 Completely clogged up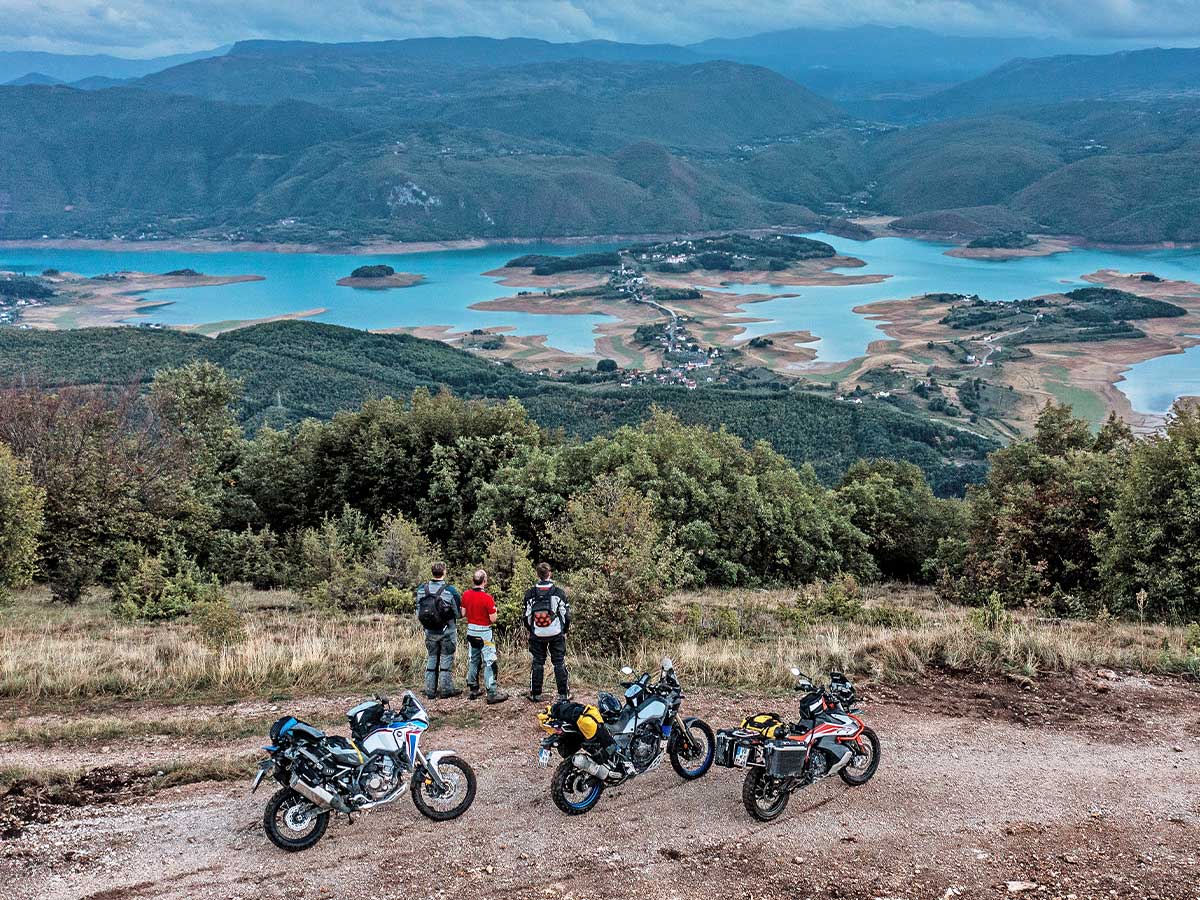 Everything is still fine: stopping for photos at Ramsko Jezero
The T7, with Thorsten on board, bumps nimbly over the rocks in a manner I can't help but call sovereign. Ferdi is trying hard with the 790 and is probably secretly cursing me for talking him into it. I myself am amazed by the stoic Africa Twin, which makes me look more confident than I actually am. But the 100 metres pass and the photo is quickly taken. Now we just have to get back up the 100 metres. Back? Impossible! "Isn't that the route Albert meant when he said: Don't go down there!" my pulse speeds up. "Oh, it'll be fine! Down is easier than up, isn't it?"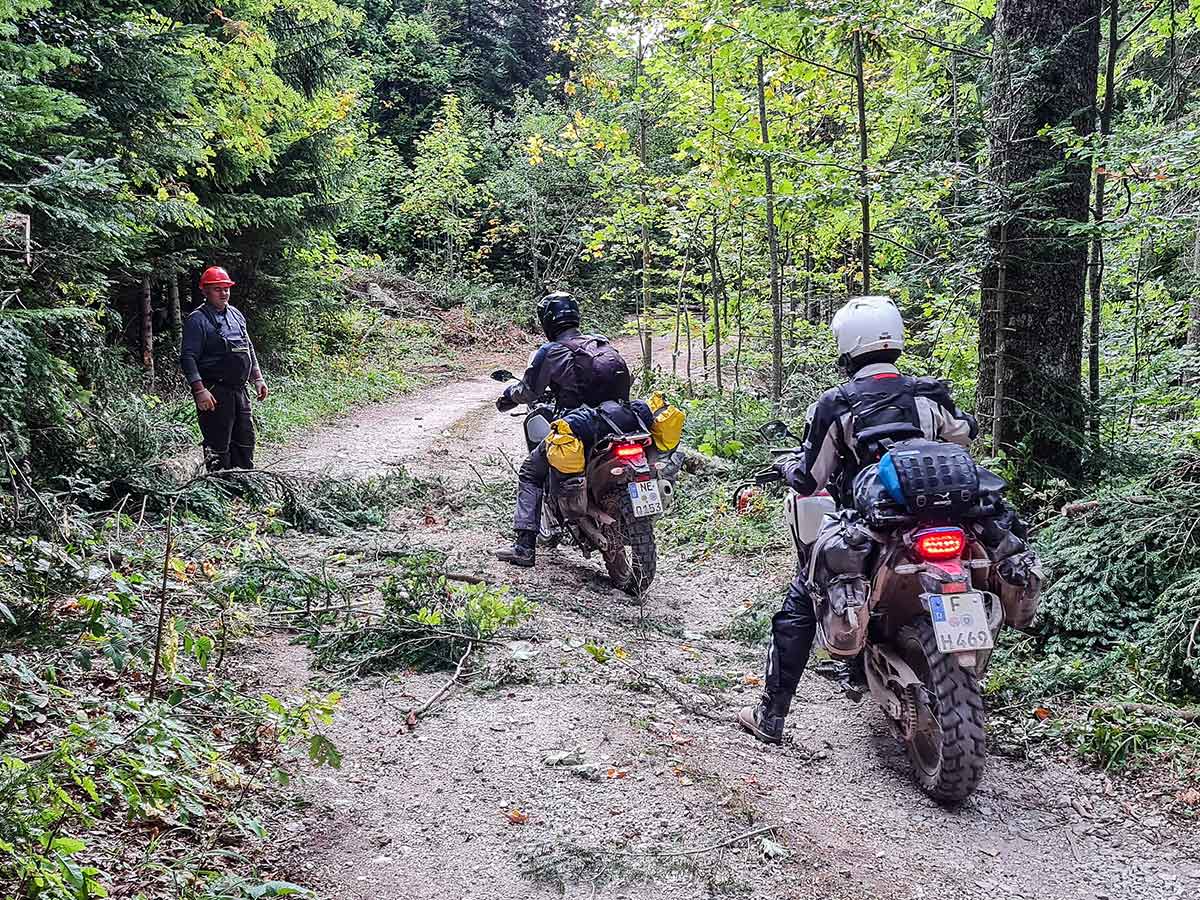 Forestry: Are we on the right track?
It's getting late in the evening when we pull into Albert's pizzeria again. "So how was it?" We hum and haw: "Well, it all started with the chocolate trail …"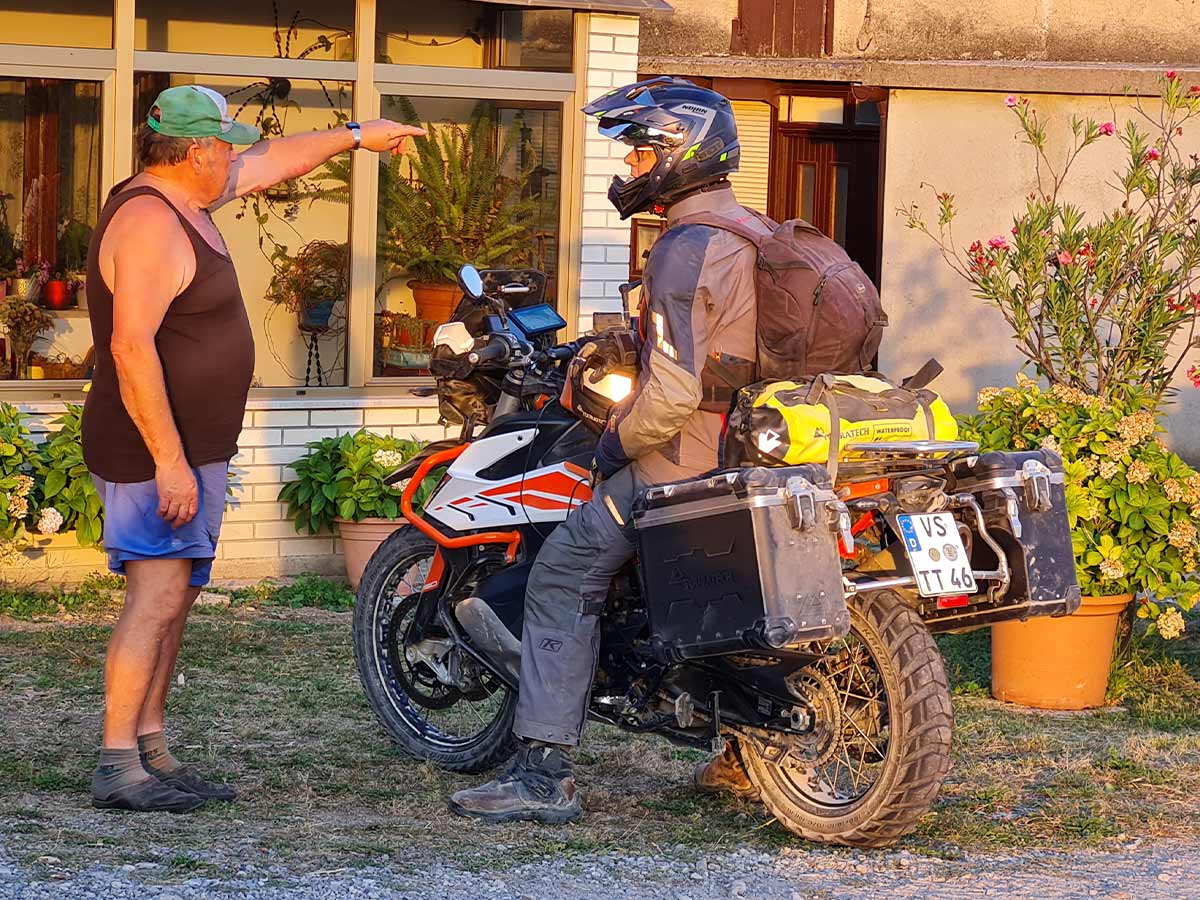 Which way? When the sat nav and Google are stumped, the locals are happy to help
Travel information
How to get there / travel time
Bosnia-Herzegovina essentially covers the high valleys of the Balkans. Travelling is possible from the latter part of early summer into autumn. From Munich, you ride 640 kilometres through Austria, Slovenia and Croatia until you enter Bosnia at Bihac. Tolls are charged on the motorways of the transit countries.
The route
The asphalt routes were all in good condition. There's still a significant amount of traffic using the tracks, so for the most part and they're well-maintained. The route from Gornji Vakuf-Uskoplje via Vaganjac to Ramsko Jezero Lake is only passable in dry weather. The descent from Rat to the lake is currently being upgraded and should be easily passable in the near future. Rough tread is definitely a must if offroad stages are planned.
Highlights along the route are the old towns of Sarajevo and Mostar, which are well worth seeing. Mostar in particular has an enormous influx of visitors during the holiday season. Signs of the Yugoslav war are still evident in both cities.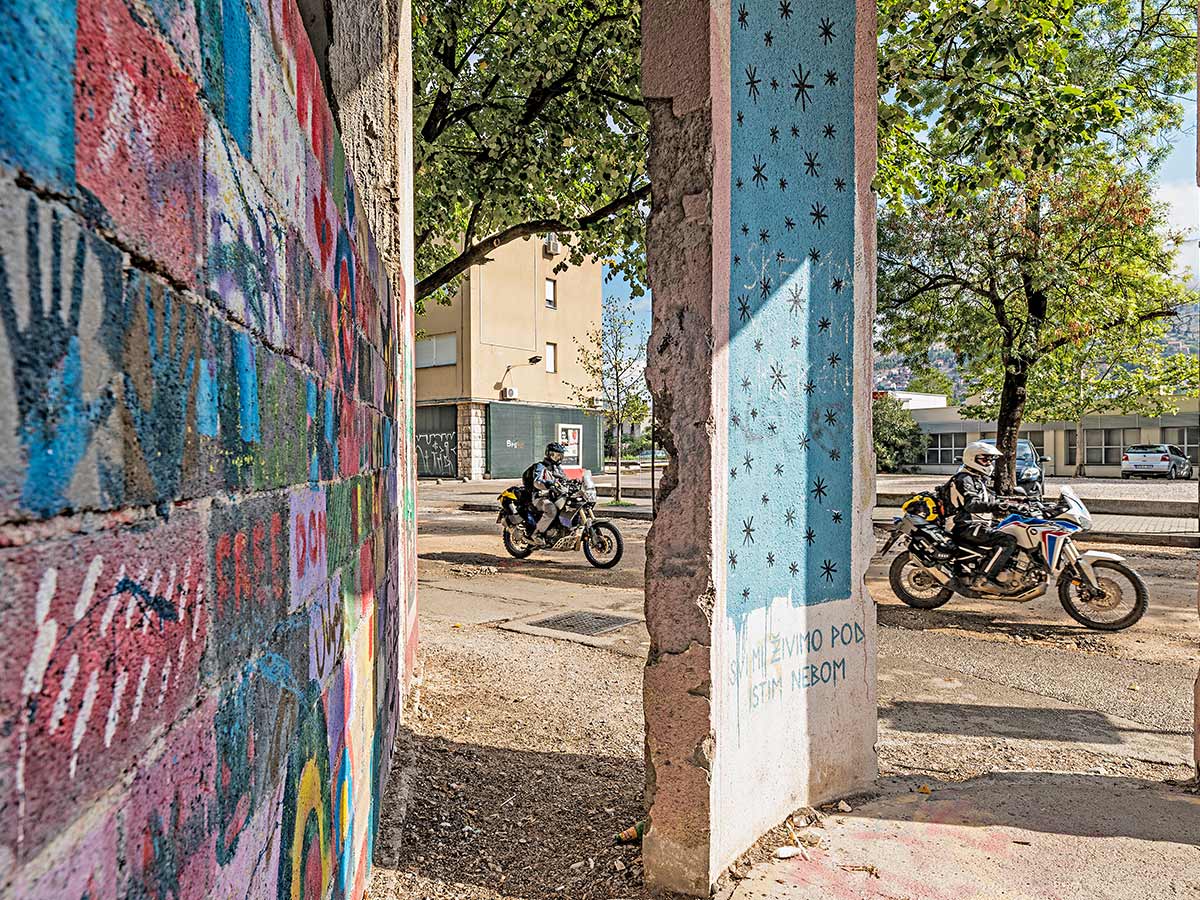 Remnants of the Yugoslav war in Mostar
A little east of Mostar, the trail excursion to the ruins of the Merdzan Glava fortress offers a good view of the city and the surrounding mountain landscape.
Accommodation
Only eight kilometres north-east of Dvar, the Restoran Etno Selo Dodig offers good food and simple hut accommodation. Very cosy! Tel. +387603242677, Address: Podovi bb 80260.
You can also eat well and stay overnight in Gornji Vakuf-Uskoplje at Restaurant Roma. There is a small hotel attached that often has riders as guests. The hosts are Albert and Ivan, who offer guided adventure bike tours in Bosnia. Tel. +38730495981, www.enduro-spirit.com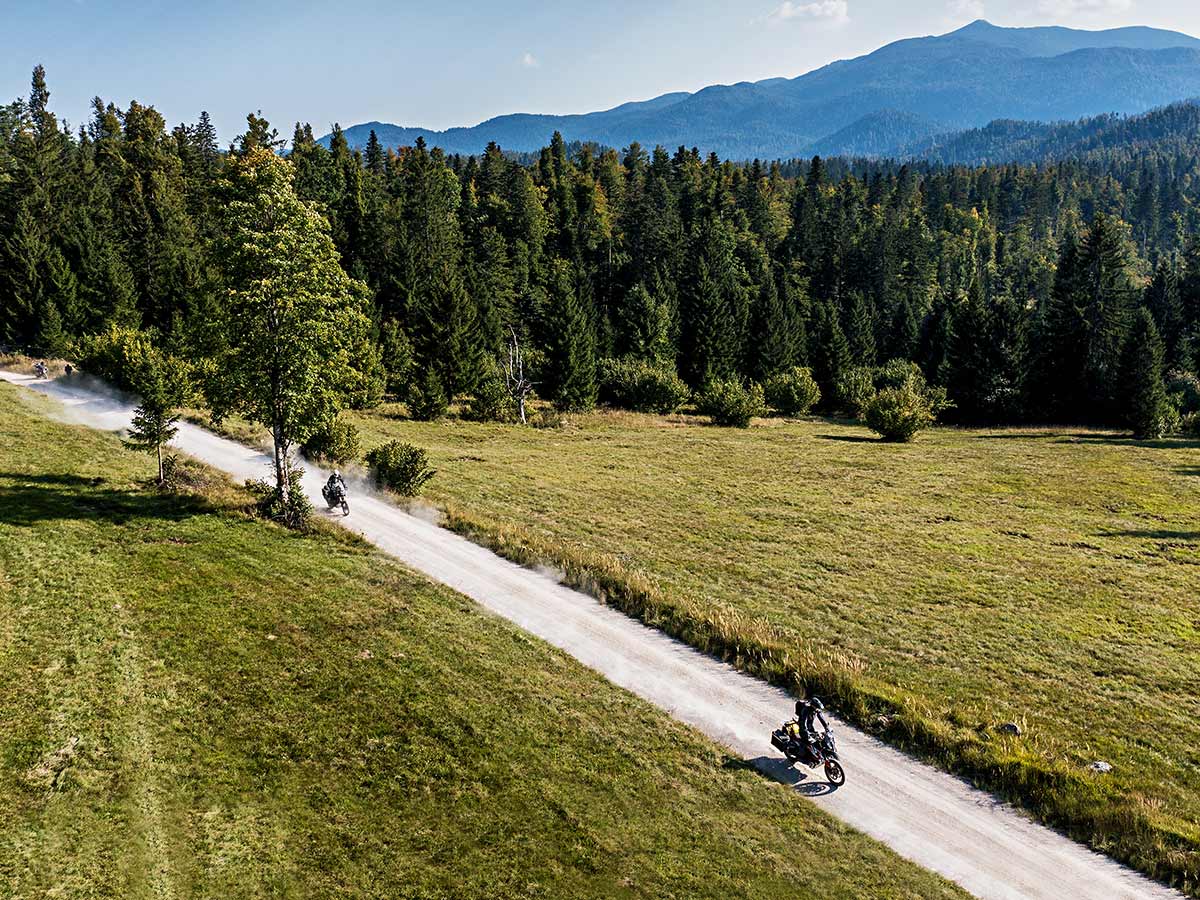 Trail over the Slovenian Schneeberg
Activities
Recent history has not always been kind to the Balkans. Sarajevo, among other cities, played a tragic role. A special and unique museum has been dedicated to the children who grew up during the war. The War Childhood Museum was awarded Best Museum of the Year by the European Museums Forum in 2018.