Globetrotters equipped by Touratech are on the road around the world, testing equipment made in Niedereschach under the toughest conditions. We introduce some of them and let these travellers take us to some of the coolest motorcycle destinations worldwide.
With two motorcycle/sidecar combinations Martin Brucker and Alyxmoto set off across the Canadian Northwest Territories. In winter. In temperatures far below minus 30 degrees, they gained a completely new perspective on a unique landscape.
In 2015, when I was travelling around the world, I visited Alex (Alyxmoto) in Seattle, at his motorcycle workshop, to get my motorcycle ready for the journey home. A few parts had to be replaced and a thorough inspection was also due. While Alex took care of my motorcycle, we got talking. Almost casually, Alex mentioned that his dream was to drive across Canada all the way up to the Arctic Ocean – in winter.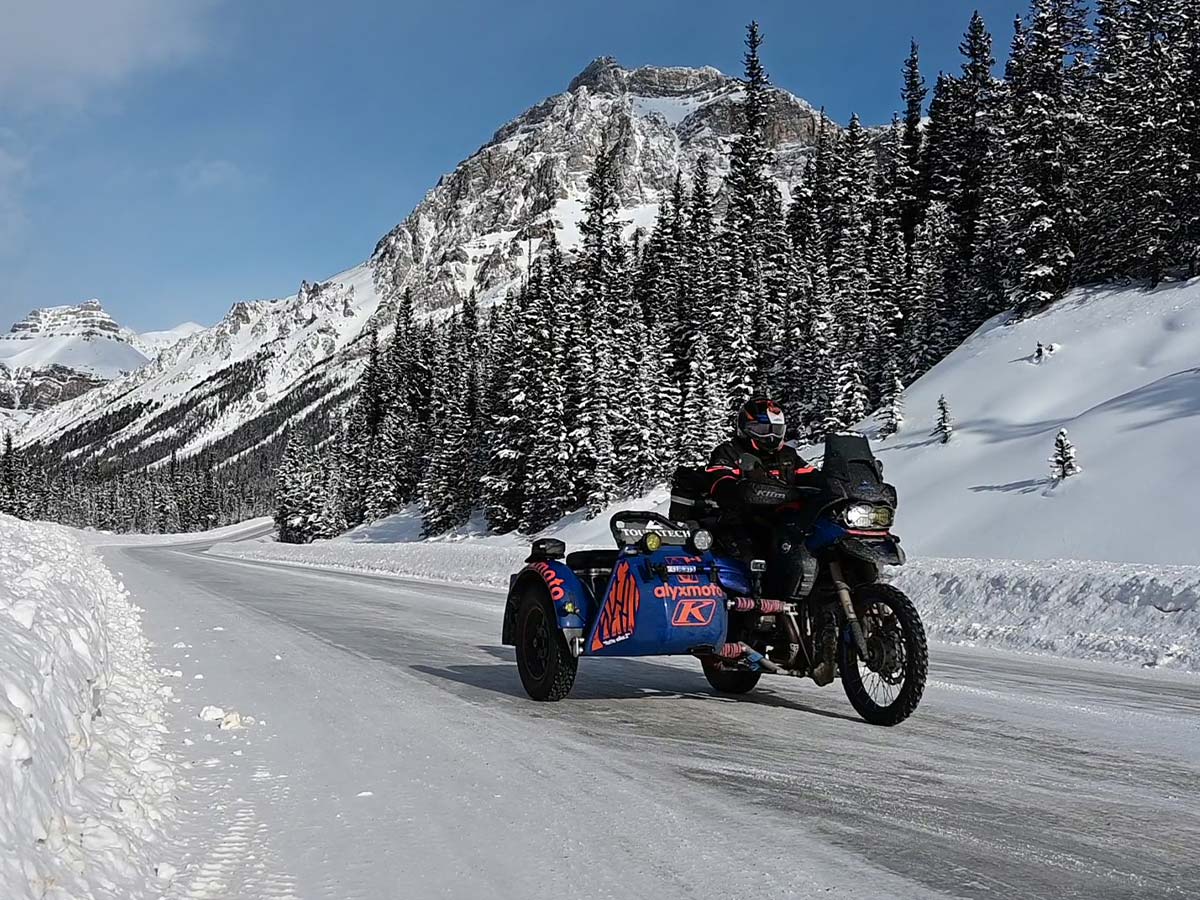 Somewhat recklessly, I replied: "Let me know when the time comes." Two years went by before Alex actually got in touch in 2017. I flew to Canada where we tried out the first pieces of equipment. The start of our winter trip was set for January / February 2020. Unfortunately, Covid intervened. For 2022, things were still looking good until shortly before Christmas 2021 when the news came that the Northwest Territories were closed to tourist travellers. But that was exactly where we wanted to go.
Alex persuaded me to come over anyway. Without my Ténéré 700, unfortunately, which would have been too expensive to ship. Instead, Alex offered me his wife's motorcycle combination.
I must honestly admit we had a great deal of respect for the cold that might well be expected. On the other hand, the thought of riding a motorcycle with spikes on snow and ice appealed to me enormously. After a time of familiarisation on a frozen lake, we initially made good progress. At the Liard Hotspring Lodge I met with trouble – a flat tire. As luck would have it, we were allowed to use the heated tool shed for tyre repair. But we'd somewhat underestimated how hard a tyre can become at temperatures below minus 20 degrees. It took all our experience to prise the tyre off the wheel rim.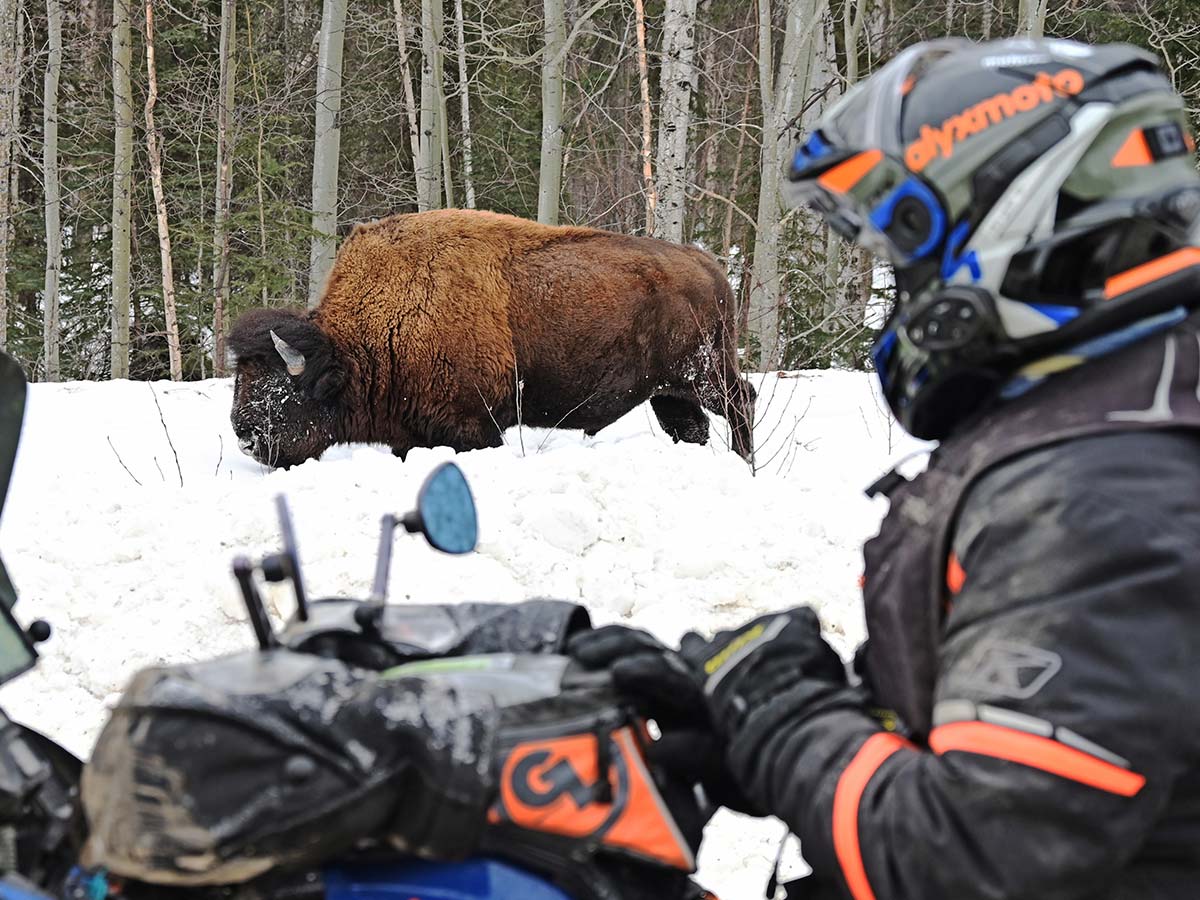 Even in the depths of winter, travellers in Canada encounter impressive wildlife.
Steve, a truck driver, had meanwhile noticed that we had a problem. He spontaneously offered to fetch spare parts on his daily drive from Edmonton to Whitehorse. No sooner said than done: two days later, Steve handed the replacement tyre over to us at our motel. The people in the Yukon stick together. In such lonely areas they lend a hand if anyone needs help.
The nights in our tents were also challenging. Our sleeping bags (comfort temperature down to minus 30 degrees) were pushed to their limits once or twice. We also had to collect considerably more snow than expected to get our morning cup of coffee. Because of the low humidity, the snow is extremely fine and airy.
We had planned to do the entire tour without heated clothing – after all, the locals get by without heated clothing. I admit it, it was a challenge. But after gaining some experience on how to combine our garments most effectively, we stuck with the concept right through to the end.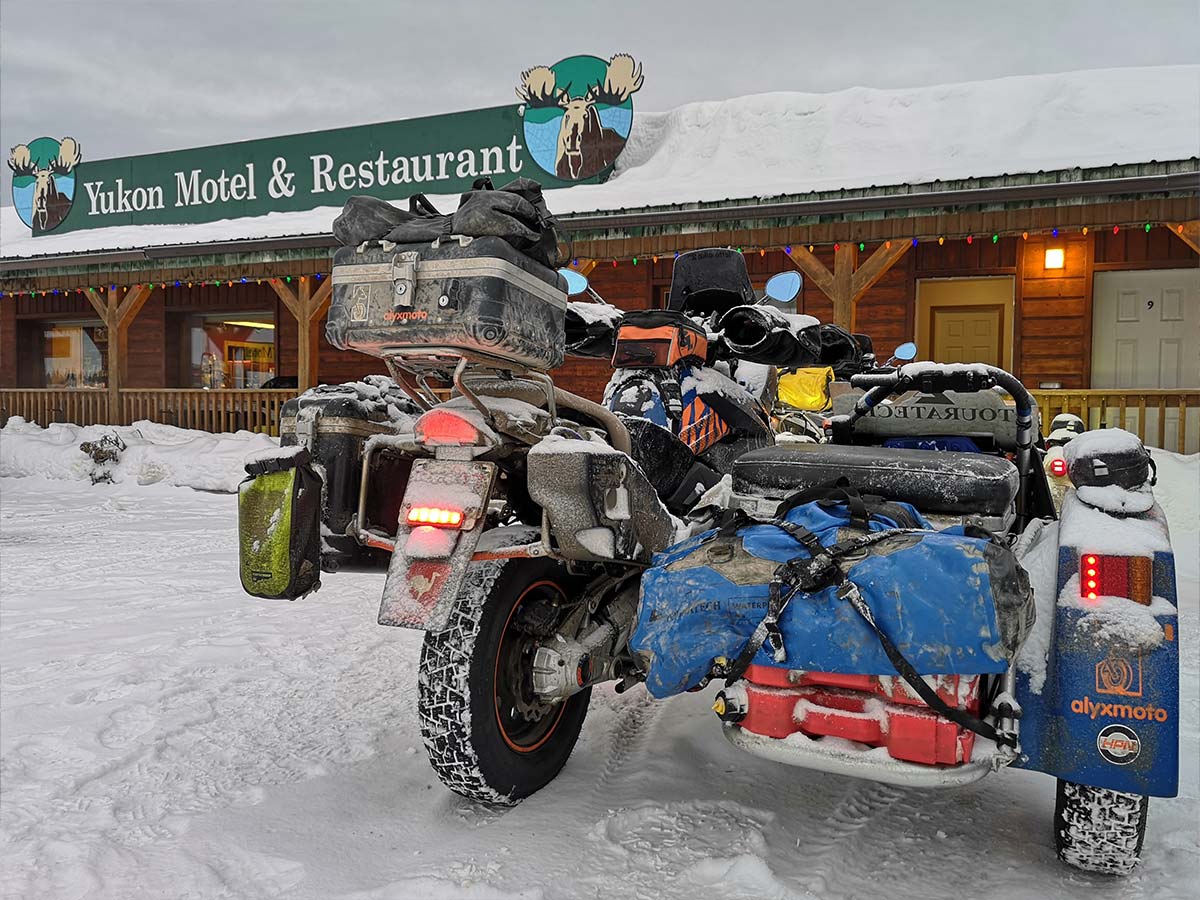 A highlight for us was our encounter with buffalo at Liard Hotspring Lodge. We were able to get within a few metres of these impressive animals and stood face to face with them for several minutes.
At Dawson City we reached the northernmost point of our tour. From there we headed south again back to Cochrane near Calgary.
We needed three and a half weeks to complete the tour and covered around 6200 kilometres on snow and ice. Daytime temperatures ranged from plus eight to minus 34 degrees Celsius, and it was correspondingly colder at night.
An astonished snow plough driver we met on our bikes summed it up: "You must be Germans". Maybe he's right. Anyway, Alex and I are planning to ride further north to the Northern Territories in 2023.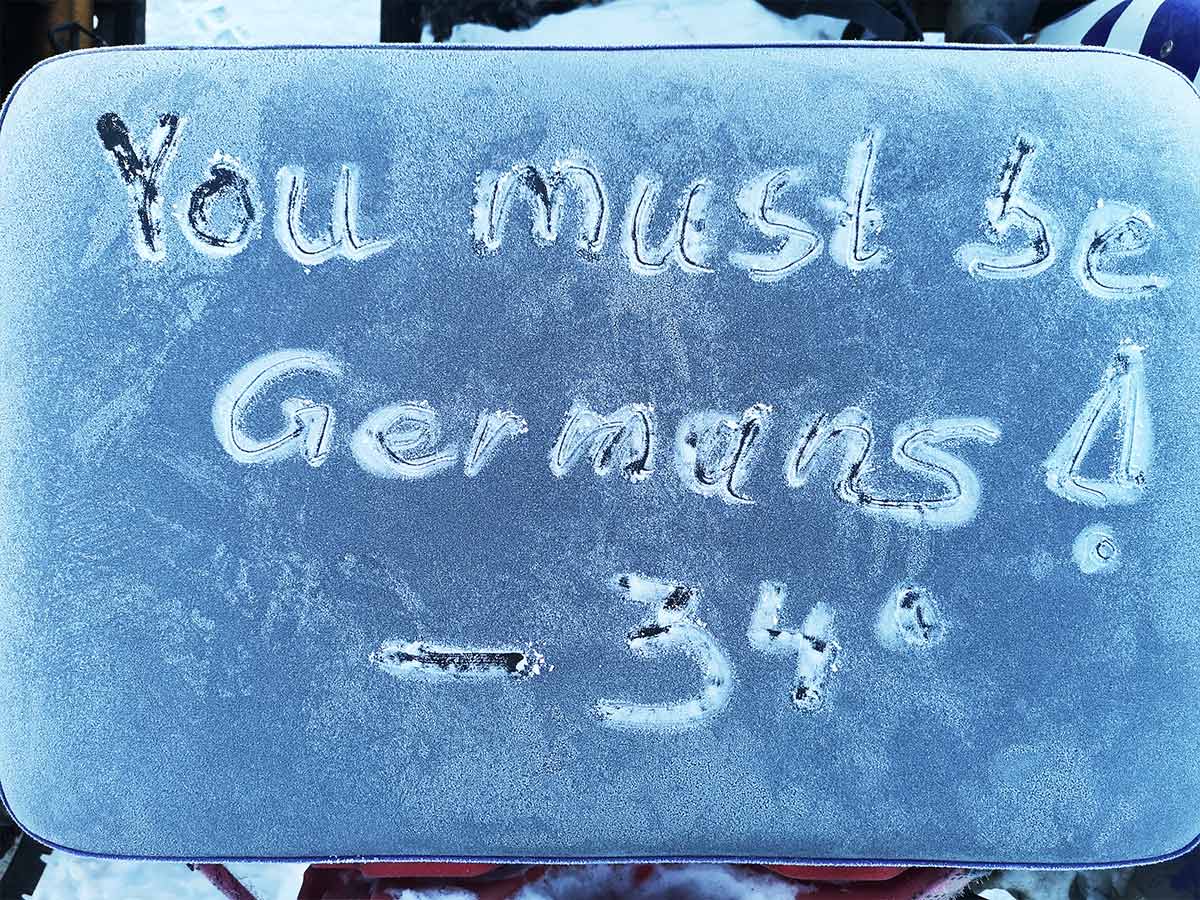 Equipment
ZEGA Pro2 case system with Top Case including accessories, Garmin Zumo XT with Touratech handlebar mounts, Desierto fairing, headlight guard, F 800 GS radiator protector, R 1200 GS and F 800 GS manifold guard, adjustable gear and brake levers
Martin Brucker und Alyxmoto
Martin Brucker, 54, rode his motorcycle as a development aid worker in Ethiopia for three years from 2006 to 2009. He travelled the world for six and a half years from March 2010 to October 2016.
Alex "Alyxmoto" Guth, 51, is a self-employed motorcycle technician and founder of Alyxmoto Inc. in Canada. He specialises in adventure bikes. The idea of travelling by motorcycle in winter arose from the desire to experience fascinating landscapes in a new way.
Contact
Martin:
Instagram: m.bru11
Alex:
https://www.facebook.com/alyxmoto
Instagram: alex.guth.121