Globetrotters equipped by Touratech are on the road around the world, testing equipment made in Niedereschach under the toughest conditions. We introduce some of them and let these travellers take us to some of the coolest motorcycle destinations worldwide.
This was the third time that Andreas Hülsmann was on the road in winter, together with Rainer Krippner. On their last tour, these two adventurers were lured, in ice and snow, to the northern end of Europe.
They obviously like it a bit cooler. Why else would MotorradABENTEUER editor-in-chief, Andreas Hülsmann, and Touratech Kassel's branch manager, Rainer Krippner, keep heading for frosty regions. After winter tours to the Arctic Circle and through Mongolia, the two "ice riders" were at the North Cape this year. It was the warmest winter tour ever, says Andreas Hülsmann, almost somewhat disappointed. After lowest temperatures of -35° Celsius in Mongolia, the thermometer "only" dropped to a low of -18° Celsius on the North Cape tour. But why are they always drawn back to the cold? "Riding in ice and snow adds a different dimension to being on the road with a motorcycle," Rainer Krippner explains.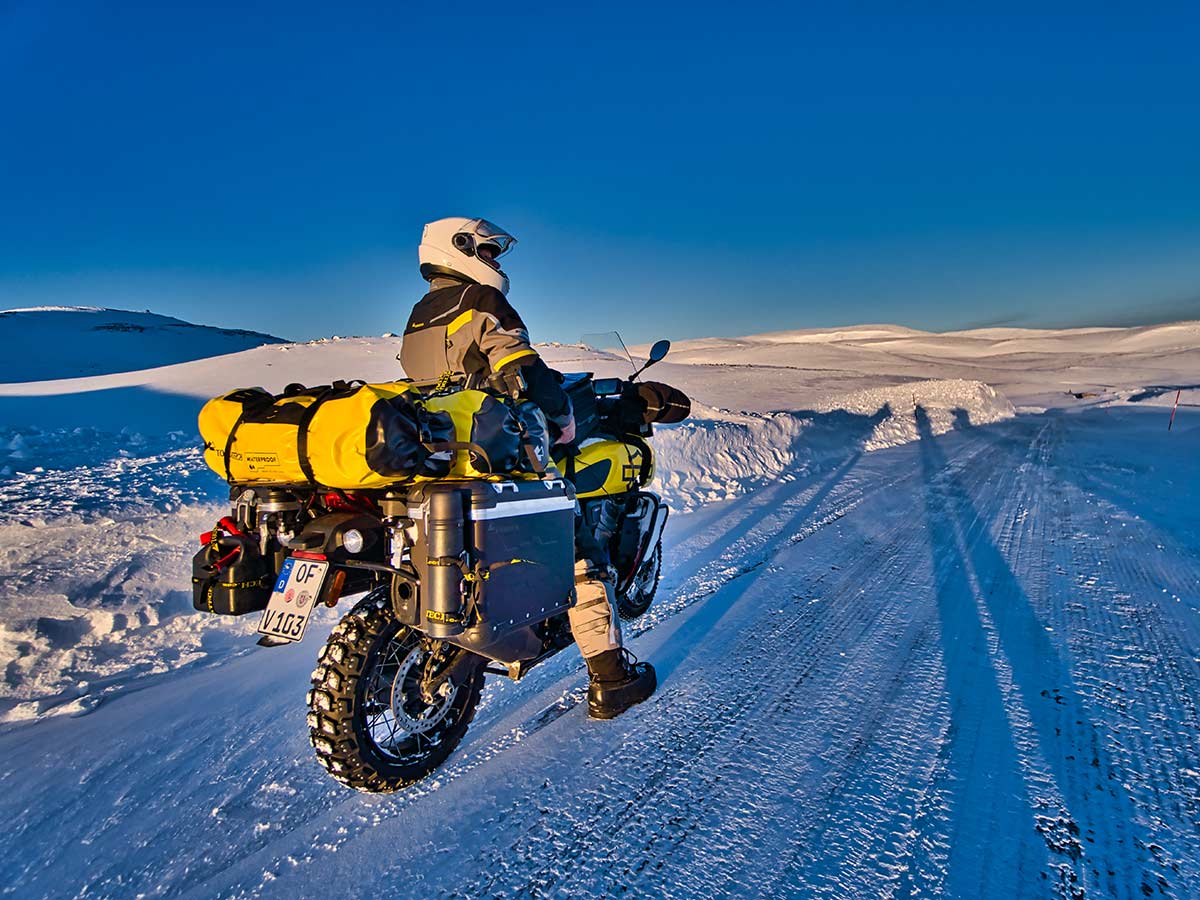 But before setting off on that kind of tour, some preparations have to be made that go beyond the scope of a normal holiday trip. About 1000 studs were screwed into the tyres of both the Harley-Davidson Pan America and the Yamaha Ténéré 700, the cooling water was frost-proofed to -30° Celsius, gauntlets were fitted and electrical connections for heatable clothing were laid.
The biggest challenge on such a tour is to stay in a vertical position on the icy roads with a solo machine, because, when it comes to friction, in winter the roads of the far north can definitely rival a well-polished bobsleigh track. "Without spikes, you're not going to get anywhere" the editor-in-chief of MotorradABENTEUER explains. As a reward for overcoming these adversities, you're presented with a fantastic winter landscape that is so very different from nature in summer. And the absolute highlight is the flickering of northern lights in the sky. Andreas and Rainer spent quite a few sleepless nights hoping to see this ethereal glow. Not all attempts were crowned with success. And even with weather and aurora apps, it takes patience and stamina to track down the aurora borealis.
Andreas and Rainer reached North Cape in a storm. Despite the blue sky, a fierce wind was blowing across the plateau with its globe. They were lucky, less than six hours later a storm blew up, trapping them on North Cape Island for three days. The complete report will appear in the MotorradABENTEUER 06-2022 issue, which will be available at newsstands on 19/10/2022.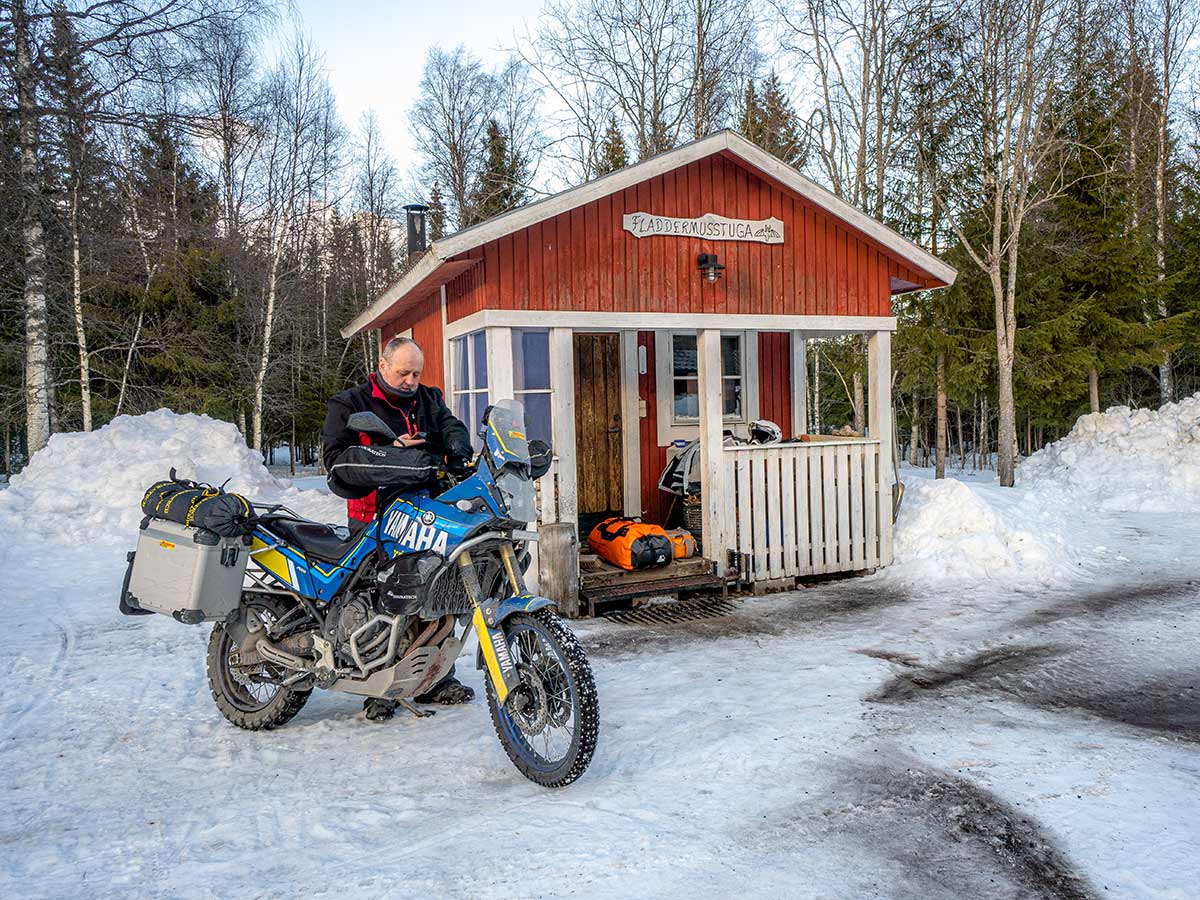 Equipment
For this tour, the two motorcycles were equipped with the ZEGA Evo luggage system (special system for Pan America) each with 38-litre panniers. Also on board:  Ambato Expedition (Ténéré) tank bag and Midi tank bag from the Extreme Edition series (Pan America). Touratech auxiliary luggage racks were strapped onto the Rack Packs. Additionally, on the Ténéré: Expedition engine guard, fairing and engine crash bar, handlebar riser, long-distance foot pegs, brake lever extension, comfort seat (low) windscreen adjustment, suspension system: Touratech Suspension Cartridge Kit Extreme, Explorer shock absorber
Andreas Hülsmann
Andreas Hülsmann (60), editor-in-chief of MotorradABENTEUER magazine, more than 40 years on the road with a motorcycle (approx. 1 million kilometres), freelance motorcycle adventurer for 36 years. Motivation: Enjoyment of riding and curiosity about foreign cultures, countries, ways of life
Contact
www.facebook.com/andreas.huelsmann.61
A motorcycle trip to wintry Scandinavia requires extensive preparation of the motorcycle as well as careful selection of equipment.