Joe and Renate Pichler have travelled the multifaceted country of Colombia in the saddle of their KTM 890 Adventure R from the icy heights of the Andes to the northernmost point of the South American mainland on the Caribbean coast.
We'd actually intended to set off on a trip through the north of South America in autumn 2020. But at the height of the corona pandemic that, of course, was not possible. A year later, things don't look much better. Most national borders in South America are still closed. But we receive an encouraging message from Jorge in Bogota. Travelling in Colombia is no problem, and he's sure the borders to the neighbouring countries will be opened soon.
Right, let's go. I fit the new ZEGA Evo to my KTM 890 Adventure, and a few days later the bike is on its way to Bogota by air freight.
Tent and sleeping bag are packed, and now only the photo equipment is missing. I have the feeling that getting the technical equipment together used to be easier: A camera, 30 films and a compass – you couldn't really forget anything.
Today: Two cameras, microphone, drone, sat nav, helmet camera, laptop and external hard drives. Plus a mobile phone, spare batteries, memory cards, various cables, chargers and a three-way adapter for recharging everything. Don't tell me digitalisation makes everything easier.
When we arrive in Bogota, our first stop is the cargo terminal to get our KTM through customs. But the entire customs computer system has crashed and nothing's working. However, "mañana" everything should be OK again.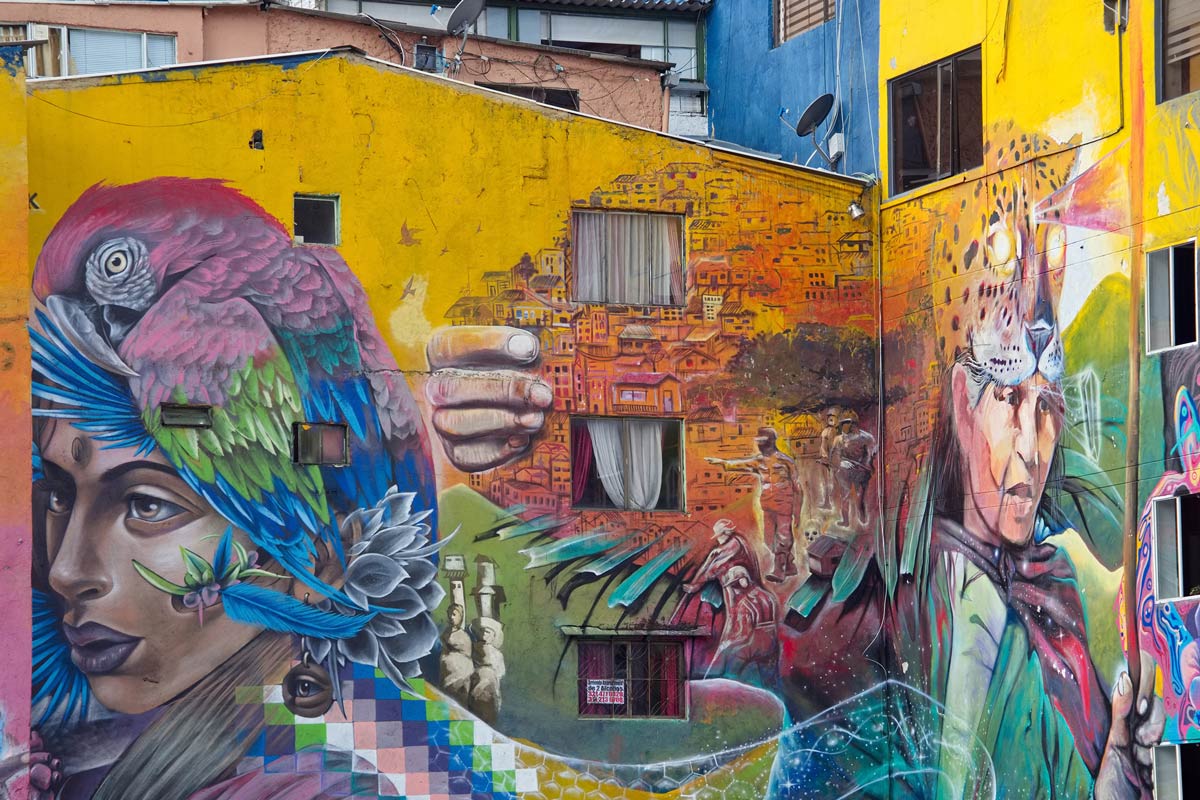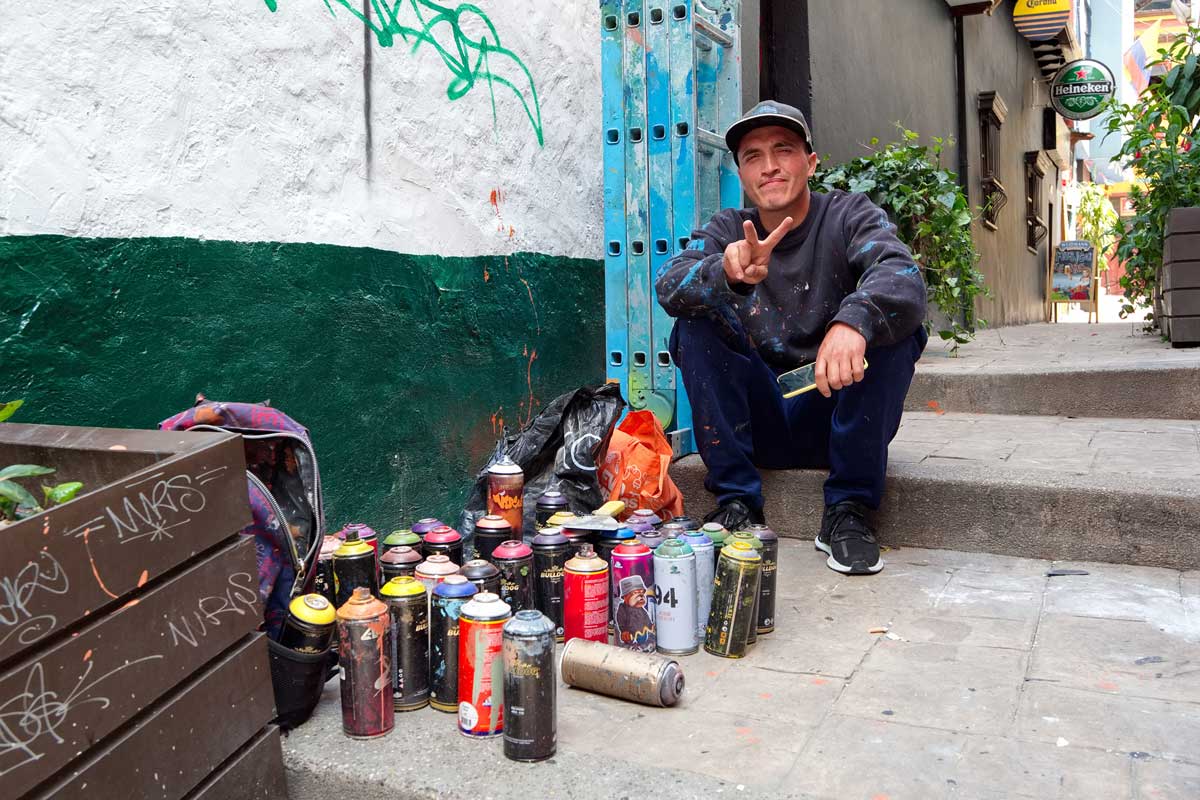 Colombia's graffiti artists produce house-sized works of art in the urban jungle.
We now have enough time to explore Bogota, the unofficial graffiti capital of South America. Around 6000 street artists bring colour to Bogota's sea of houses. Current political and social grievances are expressed in colourful graffiti.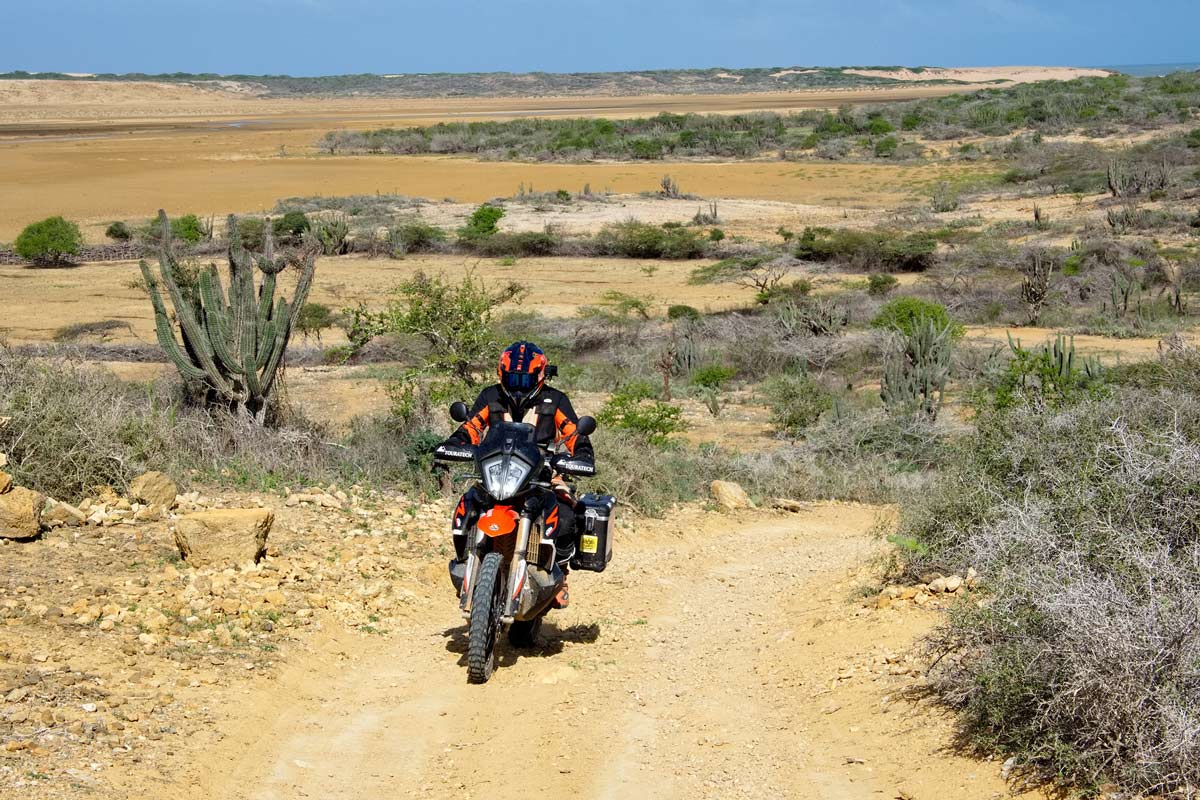 Offroad in Colombia, there are countless gravel roads.
After three days, the battle against bureaucracy has been won, and my 890 is now ready for adventure. Our first stage takes us to Muzo on the Rio Minero. Muzo is one of the oldest deposits of emeralds in the world and, even today, more than 50 per cent of all emeralds worldwide come from Colombia. The large mines are strictly guarded and no visitors are allowed. But there are thousands of guaqueros, as the illegal emerald hunters are called in Colombia. With the simplest tools, they rummage through the excavated material of the large mines or dig over the Rio Quebrada. This laborious work is definitely not going to make them rich.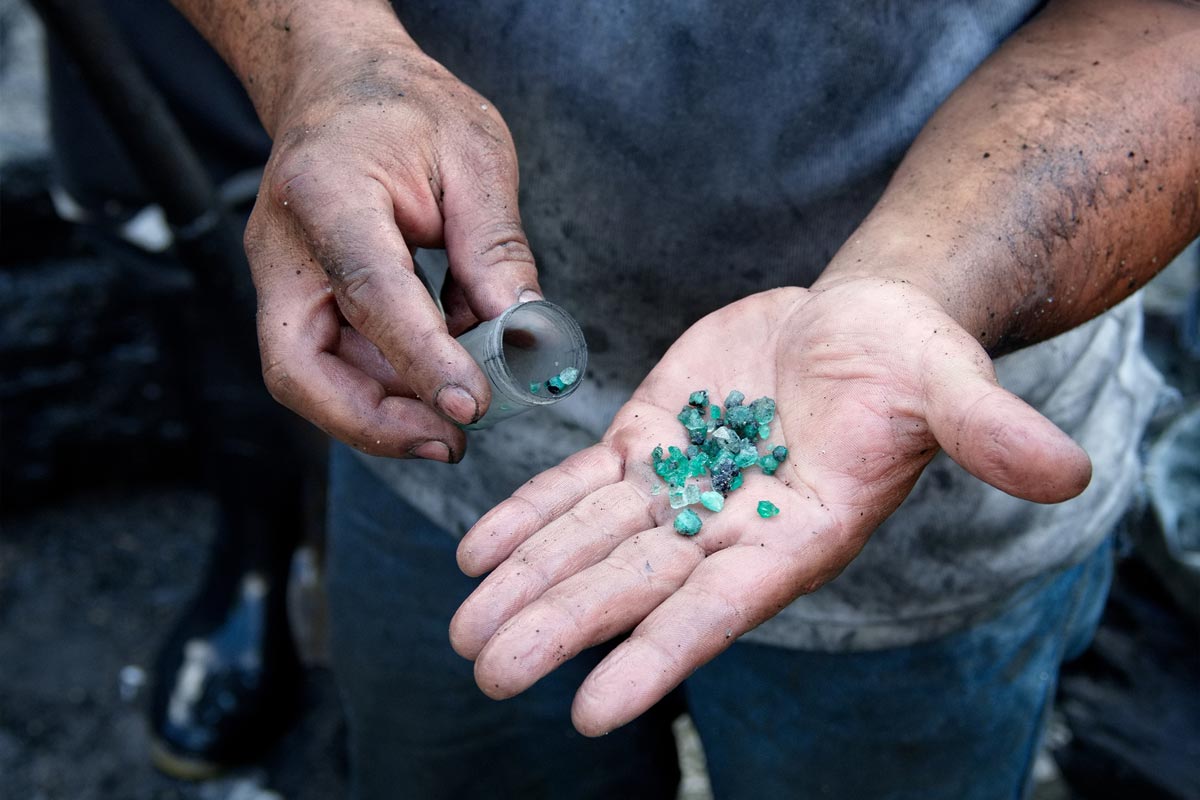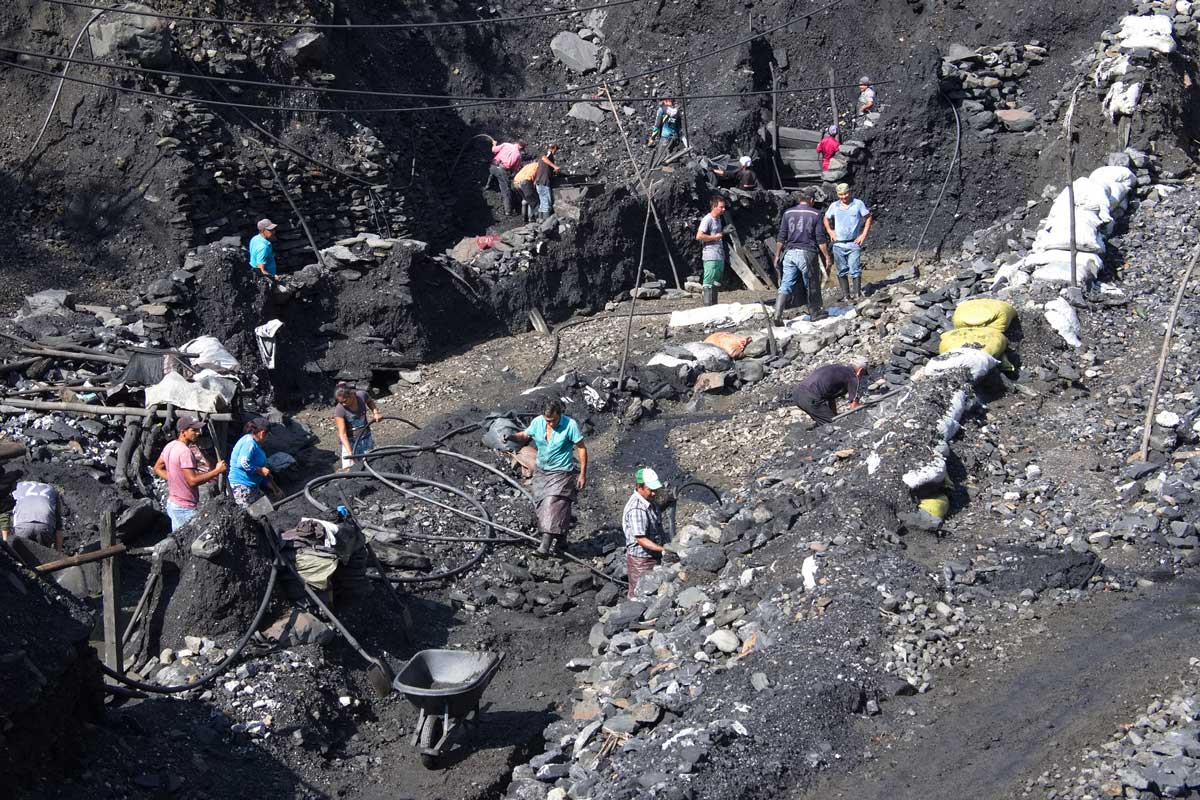 Fortune hunters from all over Colombia hope for the "big find" in Muzo. But the meagre yield of a week's hard work is only worth 20 euros.
Our next destination is the Sierra Nevada del Cocuy. In Belen we leave the main road to climb up a winding track to an altitude of over 4100 metres. A fantastic route from the point of view of riding technique, but unfortunately fog and light rain accompany us throughout the day. There's nothing to see of the allegedly spectacular landscape. At the top of the pass, we wait for over an hour for a break in the rain to enable us to take at least a few pictures.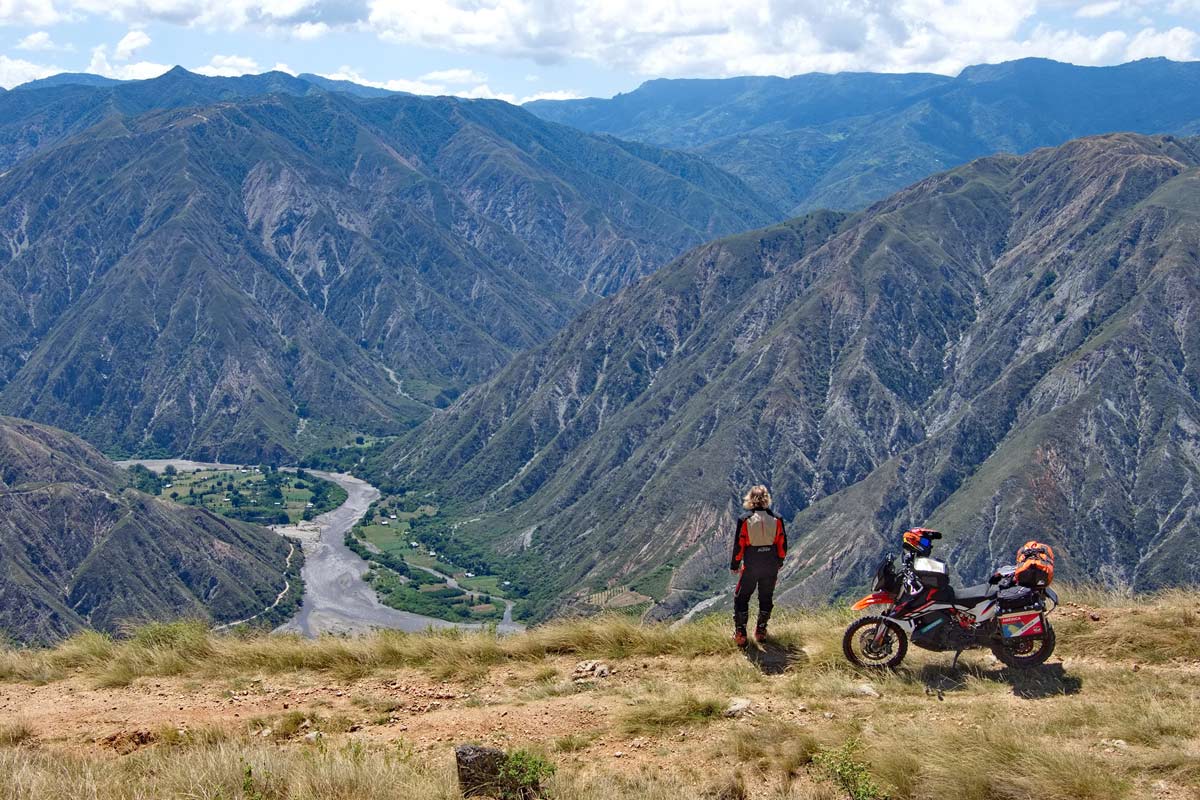 With a maximum depth of 2000 metres and a length of 227 kilometres, the Cañon del Chicamocha is the second largest canyon on earth.
Motorcycles are prohibited in the national park, but we can stay overnight on the edge of it at Cabañas Kanwara, 3950 metres above sea level. After a freezing night, the clouds part for a few minutes shortly after sunrise, revealing the snow-covered peaks of the Andes.
Back on the main road, we continue to Riohacha on the Caribbean coast. Here we meet Louis Emiro, a member of the Wayuu indigenous people. Jorge had recommended taking a local guide and organising an escort vehicle for the trip to La Guajira. Louis Emiro himself is riding a dilapidated Chinabike – without a helmet, wearing flip-flops. The escort vehicle booked , a Landcruiser, is also not in good condition. The side window doesn't open and the seat belt doesn't close. This is going to be fun.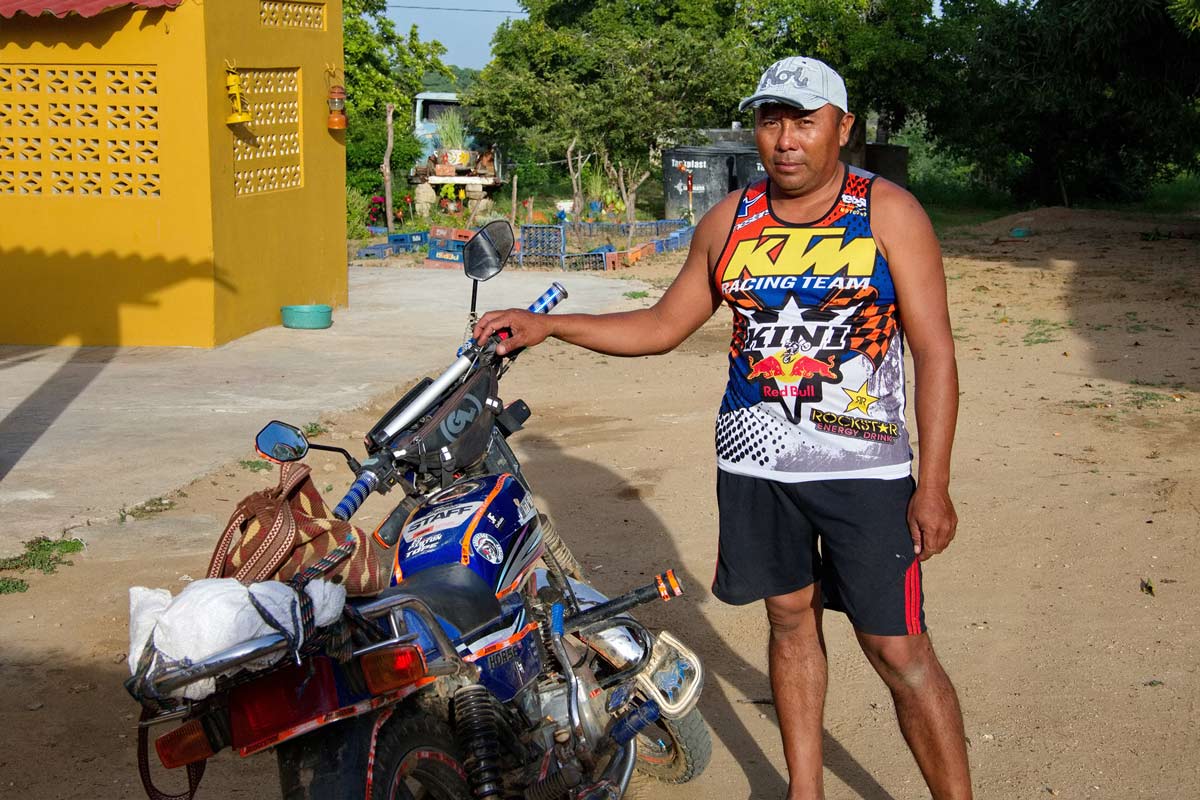 Louis Emiro himself is riding a dilapidated Chinabike – without a helmet, wearing flip-flops.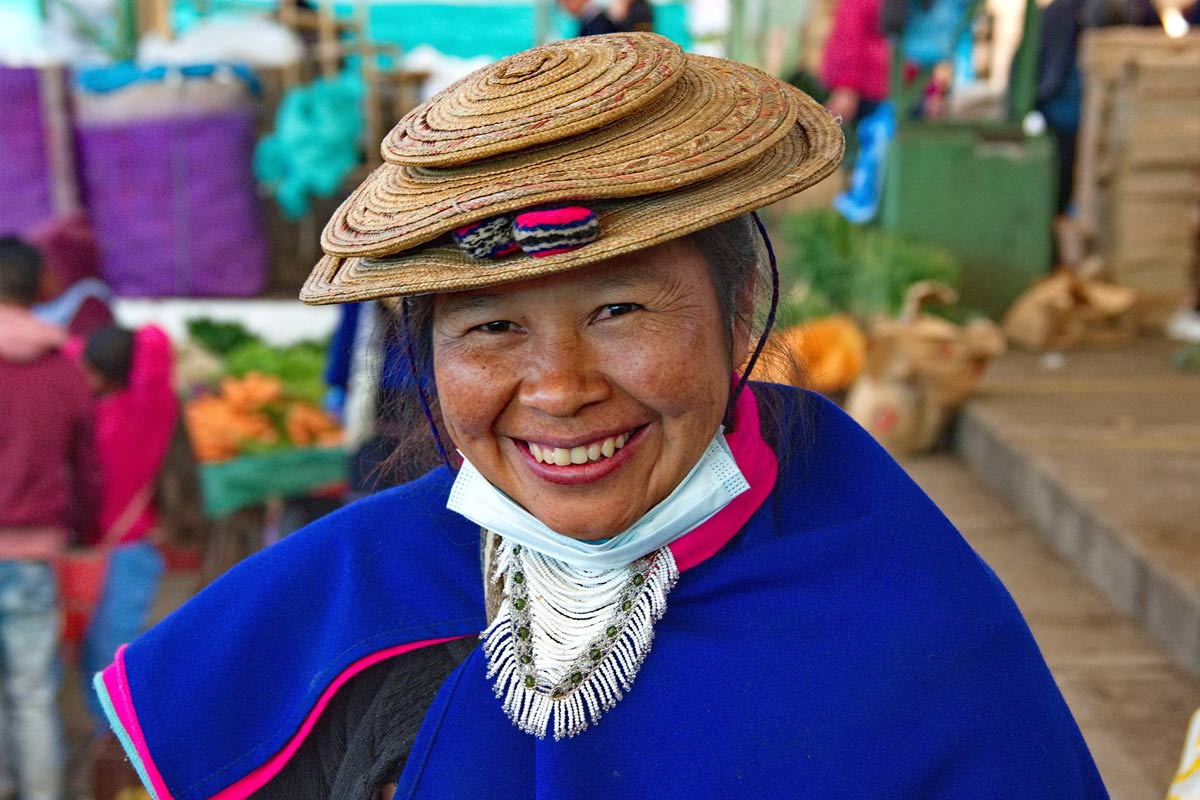 The indigenous people of the Guambiano tribe are known for their colourful costumes.
The track from Flor de la Guajira to Nazareth is very sandy, peppered with steep rocky passages and in some areas really muddy, surprisingly. The rough trails take their toll, and Louis Emiro has already lost his exhaust and front mudguard. Riding this trail with Renate and luggage would certainly not have been fun.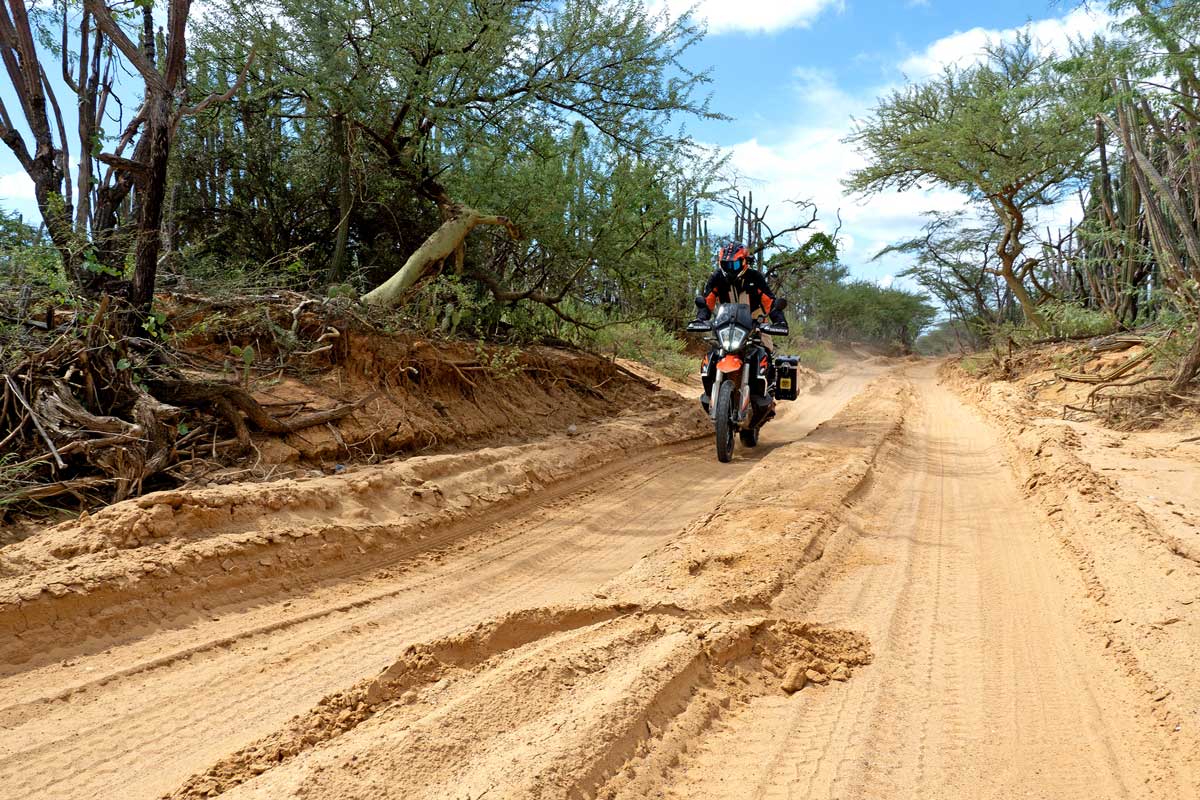 On sandy tracks, we ride across La Guajira to Punta Gallinas.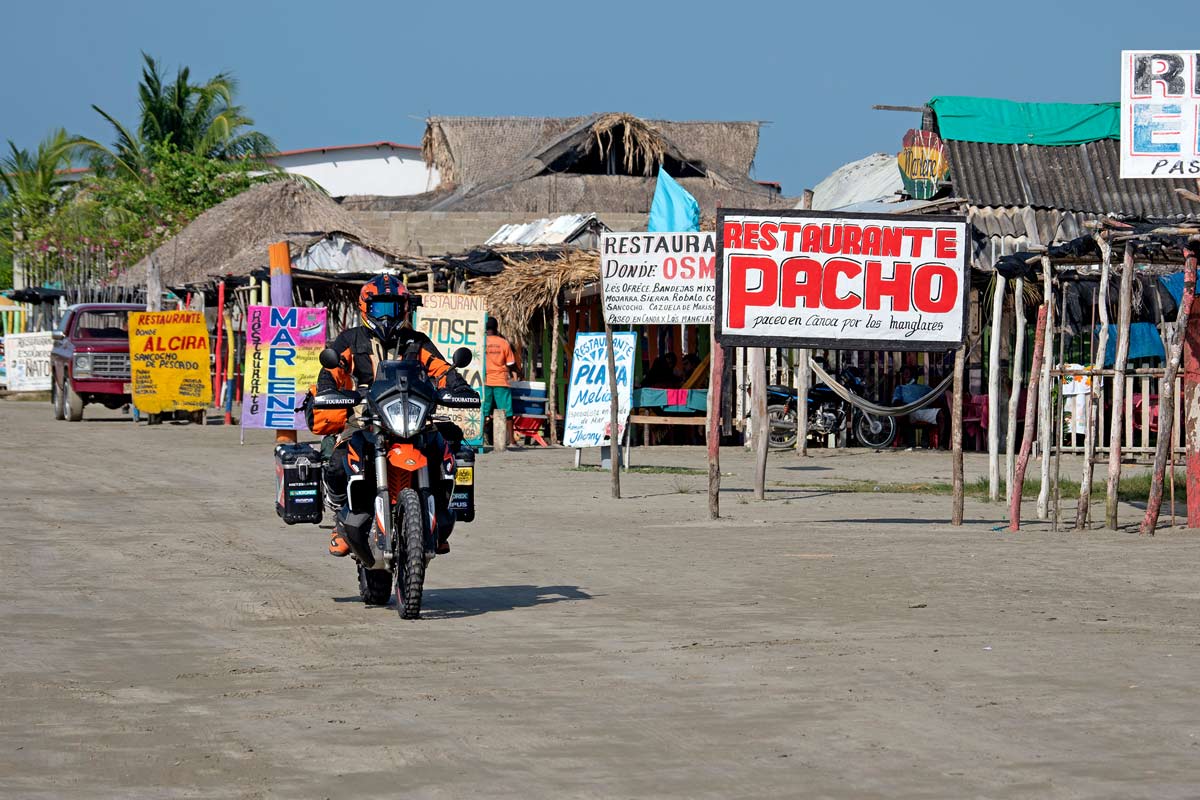 Simple fish restaurants on the beach of La Boquilla invite you to take a break.
On the approach to Punta Gallinas, the landscape becomes truly spectacular. Turquoise lagoons and mighty sand dunes lie before us. It's difficult to find the right way in the flooded area. In addition, there are countless roadblocks set up by the Wayuu. There are biscuits for the children – the adults want money. Usually 2000 Colombian pesos (just under 50 cents) for the bike and 3000 for the car.
In the dunes approaching Punta Gallinas, Louis Emiro, the self-proclaimed motorcycle king of La Guajira, gets stuck and has to push his bike. But it's still fascinating to see how nippy he is on his rickety Chinabike. Half an hour later, we arrived in Punta Gallinas, the northernmost point of the South American mainland. A small lighthouse marks this point, and we're the only ones here. No comparison to the tourist crowds at its southern counterpart in Ushuaia. The onward journey to Cabo de la Vela is now easier than expected and we say goodbye to our escort team.
The contrast couldn't be greater. From the solitude of La Guajira we ride straight into the pulsating life of Cartagena. Grilled fish is served in countless beach restaurants, and in the evening there's a party at Cafe Havana.
It's only 630 kilometres from Cartagena to Medellin, but riding a motorcycle on Colombia's main roads is no fun at all. With heavy traffic and endless traffic jams in front of countless roadworks, there's simply no riding pleasure to be had.
We reach Medellin with mixed feelings. After all, for years this city was considered one of the most dangerous cities in South America. In the early 1990s, Pablo Escobar and his drug cartel spread fear and terror. Murders were the order of the day. But times have changed. In the restaurants and bars in the Poblada district, there are carefree celebrations. Itagüi and Envigado are located in the south of the city and are known for their elaborate Christmas decorations. Crowds of visitors are out and about at the Christmas markets. We never feel unsafe, although in Medellin, as in any big South American city, there are areas it's better to avoid.
The "zona cafetera", the coffee zone, is one of the most beautiful landscapes in central Colombia. The typical Willys jeeps wait in the plaza of Salento and take countless tourists to the Cocora Valley. Here they can admire the Quindio wax palm at close quarters. These palms grow up to 50 metres high with a diameter of less than 40 centimetres. A wonderful landscape, but its charm is disturbed by the unimaginable crowds of tourists.
However, Jorge gave us a tip on how to experience the unique landscape without crowds of visitors. The road from Salento via Toche to Ibagué leads through a sparsely populated mountainous region: Wax palms as far as the eye can see, and curve after curve. Only the rain every day and the slippery slopes slightly spoil our riding pleasure.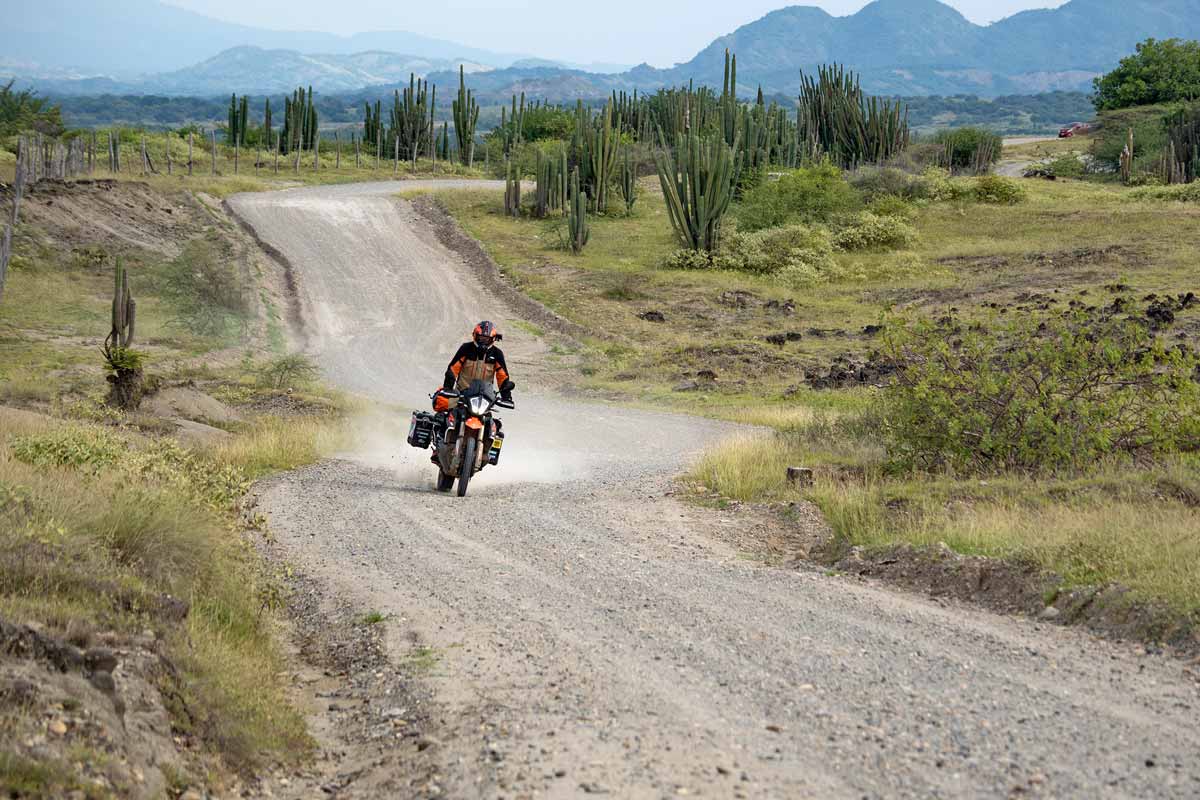 Candelabra cacti characterise the landscape in the Tatacoa semi-desert.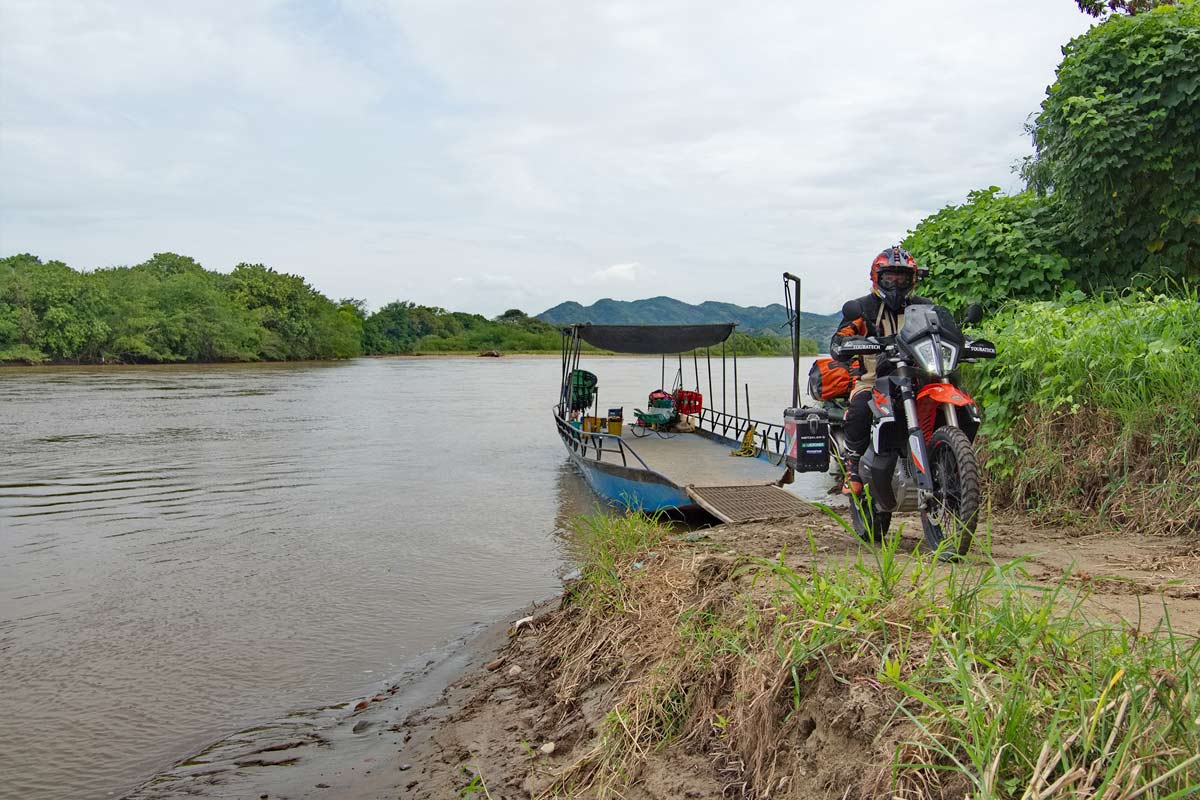 On the way to Villavieja, the Magdalena River is crossed by ferry.
Back in Bogota, there's good news. The borders to Ecuador and Peru have been opened. We can continue our journey south.
The Tatacoa Desert is only 330 square kilometres in size, but still worth a detour. A dusty track leads past huge cacti and impressive rock formations. After sunset, the planetarium "Observatorio Astronómico de la Tatacoa" opens. Far away from large cities, the Milky Way is clearly visible. For a small fee, we can use the powerful telescopes. We see Saturn with its rings and Jupiter with its moons. This starry splendour is breathtaking!
A well-maintained dirt road leads through the Puracé National Park in the Cordillera Central. We have arrived in the territory of the Andean condor. The majestic creature is, however, threatened with extinction. Experts estimate that there are only about 130 condors left in Colombia. Here in Puracé National Park they can still circle undisturbed.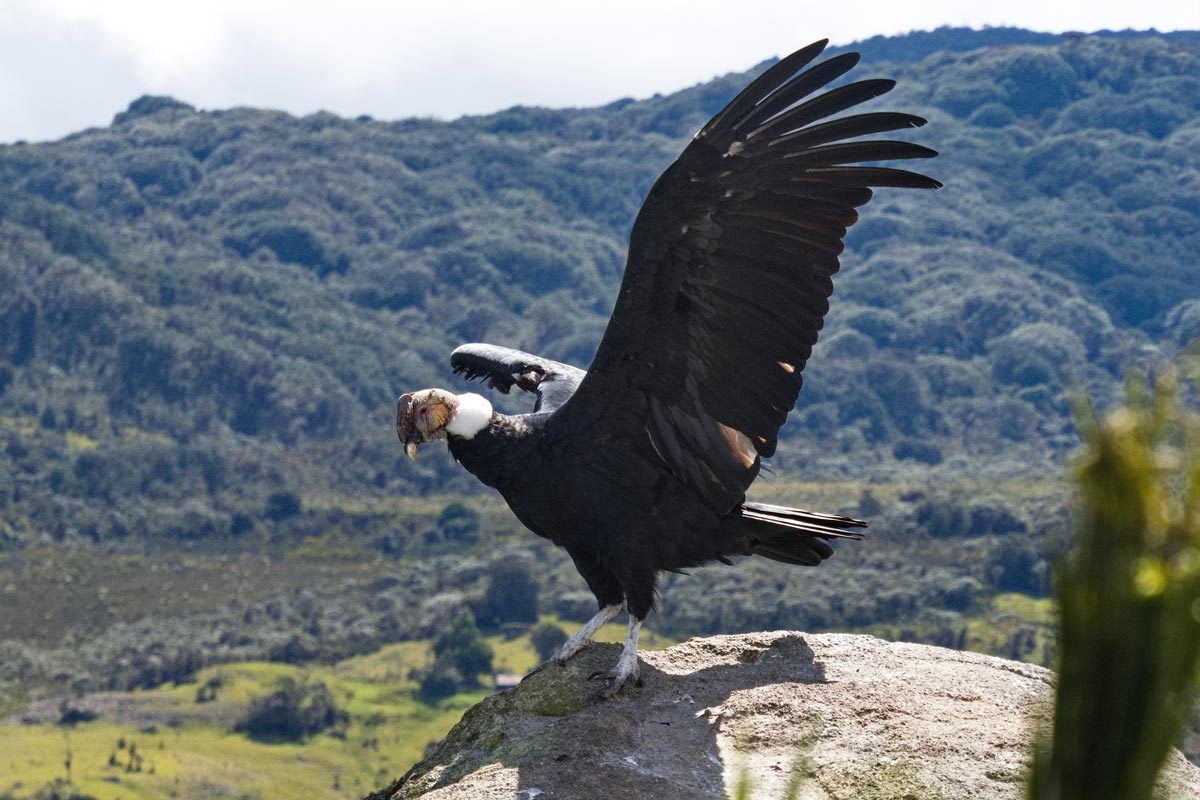 The Andean condor has a wingspan of three metres.
The small mountain village of Silvia lies only one day's ride away from Puracé on the western edge of the Andes. Visits to Silvia should definitely be planned for a Tuesday. Because Tuesday is market day, the highlight of the week for the farmers of the surrounding settlements. The majority belong to the indigenous Guambiano people, who are known for their traditional way of life.
San Agustin is our last destination in Colombia before we continue on to Ecuador. Around San Agustin there are over 300 mystical stone sculptures from pre-Columbian times, which have been declared a UNESCO world cultural heritage. The exact purpose of these statues is still a mystery today.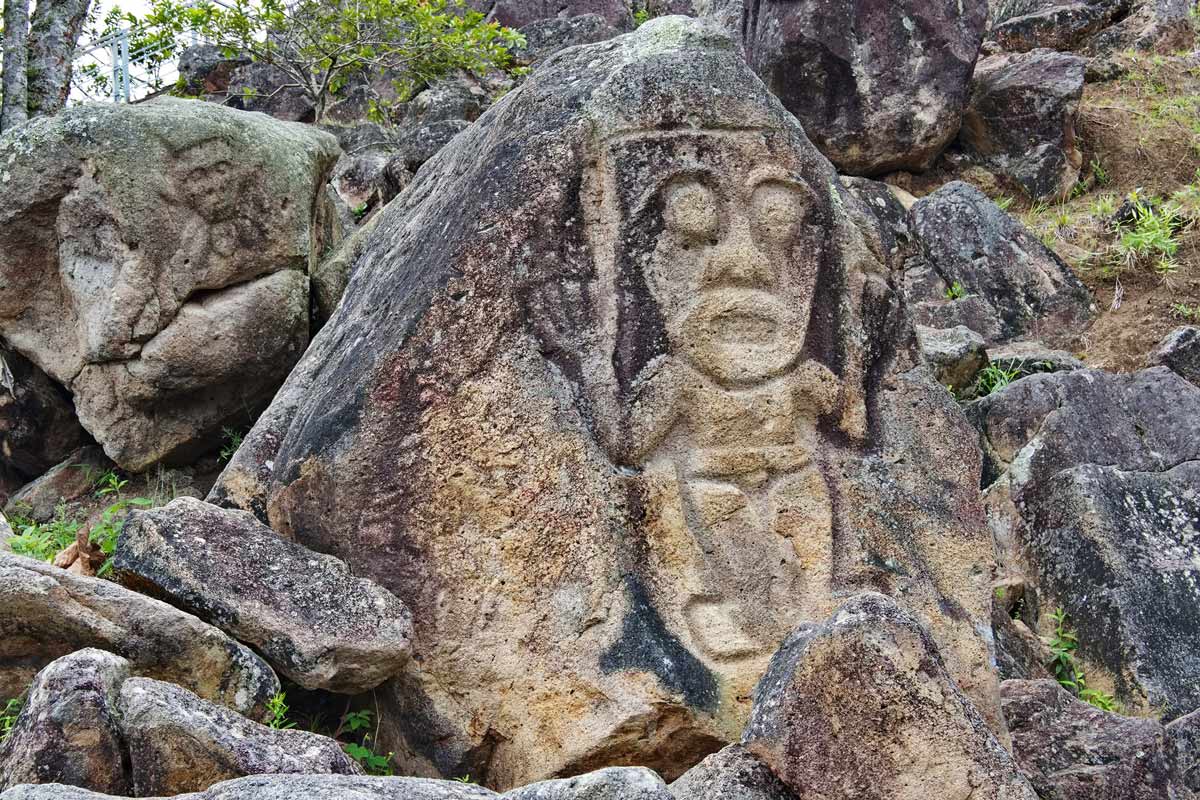 2000-year-old sculptures of the San Agustin culture.
How our journey will continue is also a mystery. Peru has closed the border again at short notice because of the new Delta variant. The way south is therefore blocked, and our mood is at its lowest point. Is our journey really going to end here? Completely demotivated, we ride back to Bogota. We meet Jorge and he encourages us once again. There's one last chance to reach our planned destination, São Paulo in Brazil. We have to fly to Leticia in the Amazon region with our KTM. It should be possible to enter Brazil there. Let's see.
Travel information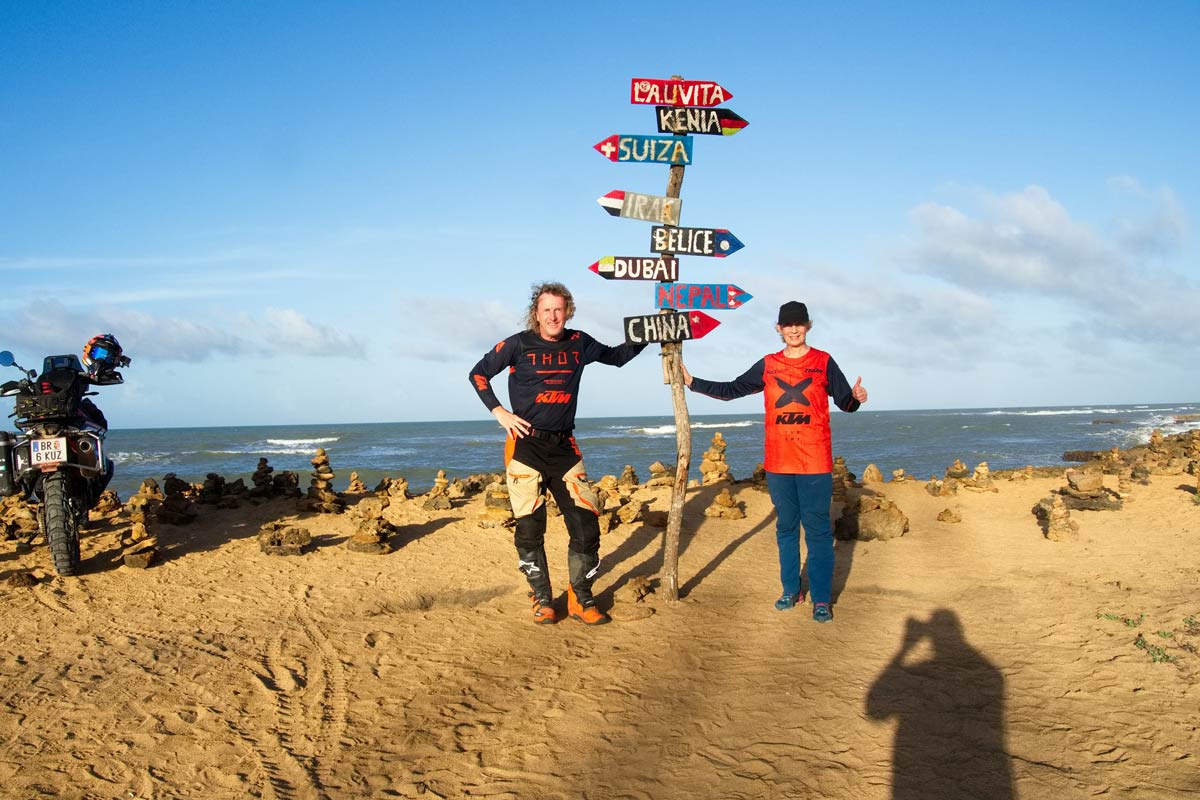 Arrival and entry
A valid passport, national registration and a national driving licence are mandatory. A Carnet de Passages is not required. A temporary import permit is issued on entry. The mandatory liability insurance "SOAT" can be taken out on site without any problem.
Travellers must register online with Migración Colombia within 48 hours prior to entry using the Check-Mig form. When leaving the country, the Check-Mig form must be filled out again.
Motorcycle transport to Colombia is possible via air and sea freight. It should be noted that freight costs have risen exorbitantly due to the global Corona pandemic. Transporting your own motorcycle is only worthwhile for a longer trip through several South American countries. Jorge Uribe from Motoraid Adventure rents out KTM Adventure models and offers guided tours.
Travel season
Travelling in Colombia is no problem all year round. The driest months are December to March and July to September.
Motorcycling
From motorways to lonely winding mountain roads and muddy tracks: everything is there, depending on the route you choose.
Petrol supply is not a problem, but you should have enough to cover a distance of 200 kilometres.
Security
The security situation in Colombia has improved considerably in recent years. There were no problems on the route we chose. The border area with Venezuela should be avoided at all costs. Information on the security situation is available from the Foreign Office. In general, it's important to find out about the local security situation from the locals. The situation can change very quickly in South America.
Health
It's essential to observe the current COVID 19 regulations. During our stay in early 2022, a full COVID-19 vaccination was mandatory. Vaccinations against tetanus and hepatitis A and B are generally recommended. In the Amazon region, malaria prophylaxis is advisable. Information on this is available from tropical institutes.
Finance
There are ATMs all over the country. We also had a supply of euros and US dollars in cash with us for emergencies. When leaving the country, any local currency no longer needed should be exchanged at the border.
Telecommunications
For phone calls within Colombia, it's advisable to buy a local sim card. Your own card will also work, but the roaming charges are very high. Wifi is widely available.
Literature and maps
The German publisher Reise Know-how has a travel guide and a road map for Colombia in its programme. For GPS, there are maps from Garmin and Open Street Maps.
Accommodation
Hotels can be found in all the larger towns. In La Guajira there are covered places where you can hang your hammock.
Food and drink
In Colombia, there are restaurants and snack bars everywhere. Your camping cooker can safely stay at home.
Web resources
https://www.migracioncolombia.gov.co
http://www.horizonsunlimited.com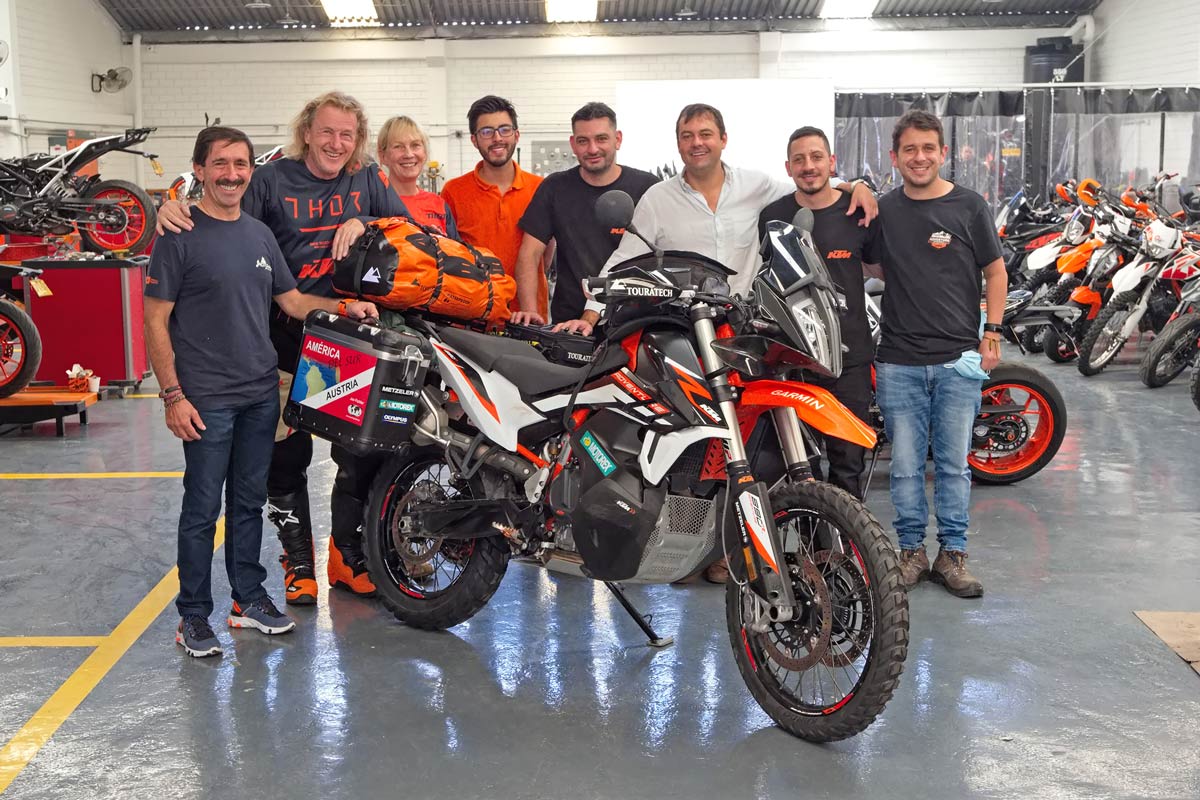 The author
Joe Pichler
Joe Pichler, passionate motorcycle traveller, and by profession, lecturer and author. His wife Renate accompanies him on the pillion seat, shoots all the riding sequences and is responsible for the videos. From autumn 2022, Joe will be touring the country with his new live report on his adventures in South America. There is a DVD of the trip as well, which will also be available from autumn.
 Info and dates at www.josef-pichler.at